Student develops mobile app to connect visitors to Sculpture Garden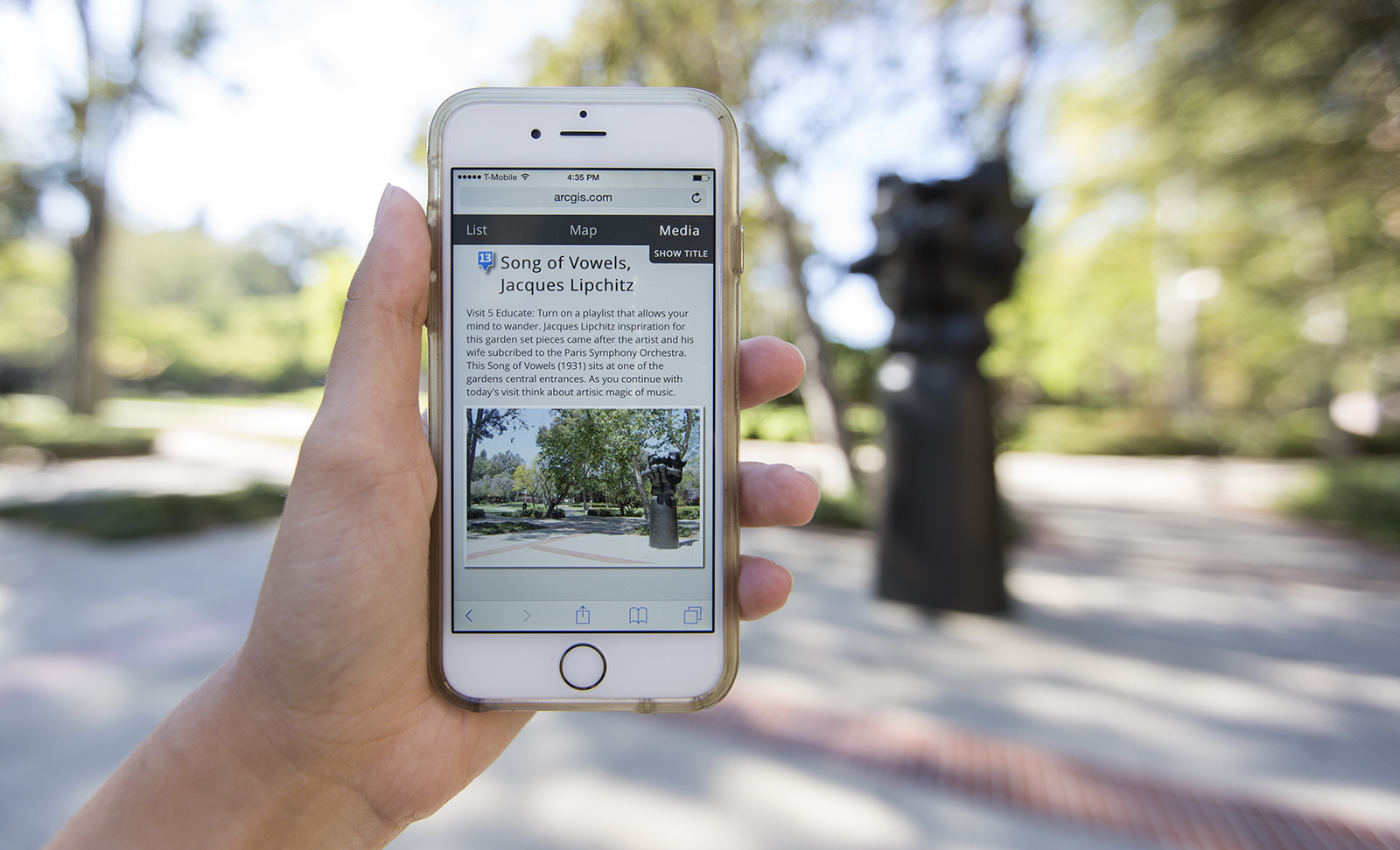 In her final quarter at UCLA, Victoria Edsell developed "FDM: In the Garden," an app designed to educate and inform visitors about the works in North Campus's Franklin D. Murphy Sculpture Garden. (Keila Mayberry/Daily Bruin)
UCLA Chancellor Franklin D. Murphy saw in 1967 the completion of 31 sculptures planted in UCLA's North Campus. Forty-eight years later, along with its installations, the Franklin D. Murphy Sculpture Garden remains, but as a spot teeming with movement of dancers rehearsing or students reading between class.
Inspired by the vibrant interaction between visitors and the sculpture garden, recent UCLA alumna Victoria Edsell spent the last few months of her fourth year creating the mobile application "FDM: In the Garden," with hopes of enhancing the relationship between the garden and those who visit it.
"(The garden) was always a space that felt so free and open," Edsell said. "And it was always a space where people could just breathe for a brief moment and decompress."
The application was the product of a year-long capstone project for a class called "Research Apprentice: Franklin D. Murphy Sculpture Garden," taught in partnership with the Hammer Museum. Led by Philip Leers, the Hammer Museum's project manager for digital initiatives, the class involved first researching the garden's history and then planning and executing a tool meant to facilitate the garden's interactions with visitors.
"(Edsell) took a more anthropological approach (with her project): going out to the garden and observing how people interacted with that space," Leers said.
What Edsell said she observed was a place where students and visitors alike came to enjoy and express themselves.
In the app, users are shown a map of the sculpture garden with drop pins at each sculpture location. Each drop pin includes a picture of the sculpture along with contextual texts and activities, such as making sketches, users can do to express ideas found in the work.
"The way I thought about it, the sculpture garden is like the performing stage," Edsell said.
With a background in theater, she said she soon began noticing the different performances that guests would give as though they were actors in a role. Day after day, the garden drew back its curtains to the students studying in the grass, performers standing by sculptures giving monologues and tour guides reciting rehearsed speeches to new groups of visitors.
"Just seeing how people moved – it was like blocking," Edsell said, referring to the directed staging of actors in productions. "Without them even realizing, this (garden) had become their space."
Striving to both educate users on the sculptures' backgrounds as well as encourage daily mental and physical health in creative ways, Edsell came up with the application's three main objectives: educate, motivate and rejuvenate.
Leers said trying to teach people about art can be a difficult balance as it is sometimes seen as elitist or even boring. But Edsell, he said, managed to find a way through her app to present art at a level demonstrating her unique understanding of how students use that space.
Edsell said her interests in horoscopes and custom Spotify playlists encouraged her to realize that she wanted the app to help users cultivate their own experiences with the garden. Like with playlists built around certain moods or themes, she said she wanted the app to allow users a mental escape when they needed it.
"That was my idea – being able to say, 'I need a boost of some sort because I'm overwhelmed and need to feel better,'" Edsell said.
For many UCLA students, classes such as the one she took may lead to many surprising opportunities seemingly out of the box, Edsell said. Backtrack to fall quarter of her final year, and a mobile app was still completely out of the question.
There are many cases like Edsell's in which people assume that they must choose between being strong in the humanities or having an interest in technology, said Miriam Posner, the digital humanities program coordinator at UCLA. But this misconception is not true, she said, as there are many opportunities like Edsell's app, which requires both fields.
In the future, Edsell said she hopes the app will allow users to appreciate the beauty in both the sculptures as well as the garden's surroundings and nature.
"It's important to have that little, simple reminder to just go be with art and be free for a moment," Edsell said. "Even when you walk in that space, you look up and it seems like there's just much more air."