English student to become full-time assistant manager at Bruin Plate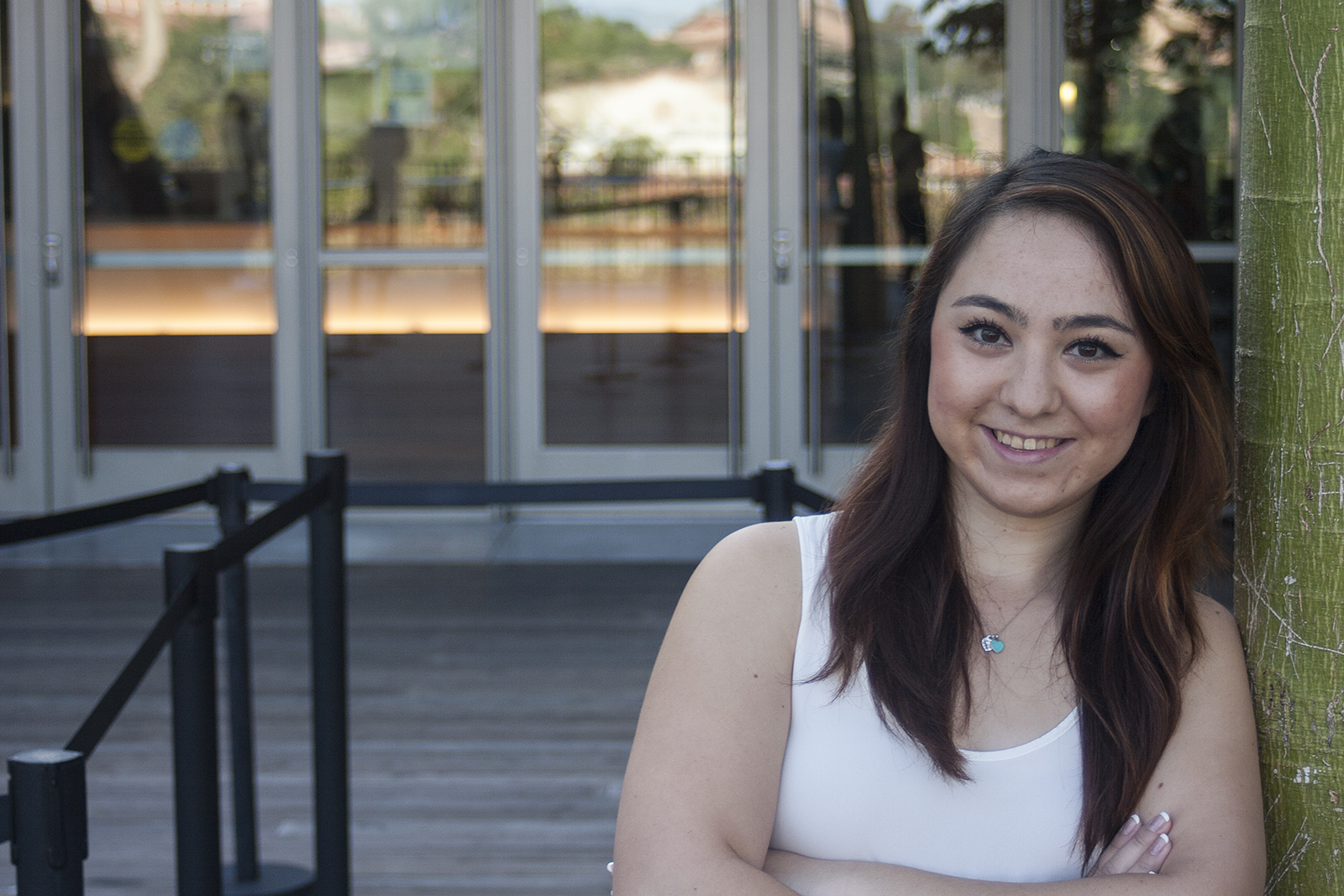 After graduation, fourth-year English student Kassie Leblanc will work full-time at Bruin Plate as an assistant manager, one of the first students to earn this position. In the future, she hopes to become a pastry chef. (Conor Cusack/Daily Bruin)
One Christmas, Kassie Leblanc received a small blowtorch from her mother. Leblanc, who has been baking since she was a child, said she cherishes the gift, as it's perfect for making crème brûlées.
"I love baking because you can touch people's lives that you may never see again and make them happy with what you bake," said Leblanc, a graduating fourth-year English student.
Leblanc said she dreams of someday studying French cuisine in Paris to become a pastry chef. In the meantime, Leblanc said she is excited to take on a full-time position with UCLA Dining Services next year as an assistant manager at Bruin Plate.
While Leblanc said she ultimately hopes to attend The Culinary Institute of America in New York, she's looking into different classes and programs in Los Angeles to jump-start her culinary education. However, people are often surprised she chose to study English at UCLA, she said.
"People always say, 'Why didn't you just go to culinary school?'" Leblanc said. "Although my main goal is to be a pastry chef, I also want to be able to write about food and possibly be a food critic."
Leblanc has worked with UCLA Dining Services since the spring of her first year, starting as a entry-level food service worker at Hedrick dining hall.
From there, she was promoted to a student supervisor, and now she is an assistant manager of Bruin Plate. She was involved in the development of Bruin Plate before its opening in the fall of 2013, training during the summer to prepare for the dining hall's opening.
When it came time to hire new assistant managers for the dining halls for the upcoming year, UCLA Dining Services did something it had never done before: It hired students.
Guadalupe Morales, the general manager of Bruin Plate, said there's been student supervisors for as long as she's worked here.
"But we've never had a set of employees that were just so good at what they do that that we've decided to promote them," Morales said.
Though she has already worked as a part-time assistant manager for almost two months, Leblanc said she looks forward to working more closely with the recipe coordinators of UCLA Dining Services and learning more about the food industry next year.
Leblanc said one great aspect of UCLA Dining Services is that it promotes from within. In her time rising from service worker to manager, she has learned how a dining establishment runs.
"I literally started at the bottom as a normal food service worker," Leblanc said. "But they've been training and teaching me all these really great skills so even if I were to leave UCLA Dining Services, they would still be really useful in the outside world."
Leblanc said that while she may be biased, Bruin Plate is her favorite dining hall, mainly because of its inventive healthy options.
"I love that we're not just introducing students healthy alternatives, but new food items that they might not necessarily encounter, like farro and barley," Leblanc said.
Morales, who has worked with Leblanc for three years, said Leblanc is a definite go-getter who works tirelessly to make things enjoyable for both students and workers.
"I remember I heard employees reference her, saying, 'Oh my gosh, she's going to be a great manager,' when she was a student supervisor," Morales said.
Vanity Guerrero, a full-time cook at Bruin Plate, said she's amazed to see such leadership qualities in someone as young as Leblanc.
"(Leblanc's) a fun person, but I know when she's at work, she takes everything very seriously, and I thank her for that," Guerrero said. "Because when everybody is stressed out, she somehow brings calm to everyone and puts a smile on their face, which is funny because her job is stressful as it is."
Morales said the workers at Bruin Plate often lovingly tease LeBlanc because she constantly motivates the workers over their radio headsets with one fixed expression that is signature of Leblanc's attitude.
"She's always saying, 'Remember, service with a smile!'" Morales said.