Trucking Around: India Jones Chow Truck falls short of satisfying cravings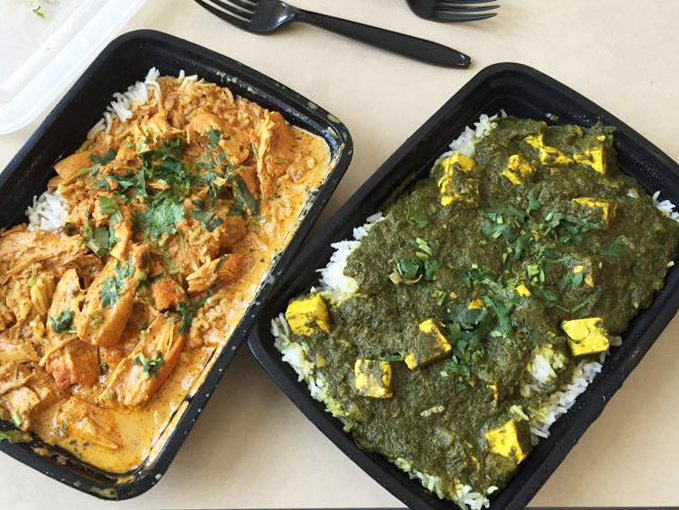 The truck serves curries such as butter chicken and saag paneer. The latter is a curry with creamed spinach and cubes of cheese.
(Alisha Kapur/Daily Bruin)
Food trucks are a vital part of the Los Angeles culinary scene, with many accumulating hordes of followers who aggressively pursue them around the city. The sheer magnitude of trucks can make dining choices difficult, but columnist Alisha Kapur has narrowed down 10 to try out and review. Join her as she goes across the city, experiencing everything from Korean barbecue tacos to gourmet ice cream, in an attempt to find the food trucks that are worth following.
When I was a kid, my parents dragged me to Indian restaurants, attempting to instill in me an appreciation of my culture that I would not gain until I was a teenager. In high school, I fell in love with butter chicken curry and saag paneer and constantly begged to go to my favorite eatery: Bollywood Grill in Glastonbury, Conn.
I had hoped to find a new haunt in Los Angeles, but instead I found many different foods I had not experienced such as Korean barbecue and chicken and waffles. However, when I read positive reviews on Yelp about the India Jones Chow Truck, I was determined to try its Indian food, expecting a meal reminiscent of dishes back home – authentic and spicy.
I brought along my friend who had never tried Indian food before, and we ordered my favorites from the extensive menu: butter chicken curry, saag paneer, garlic naan and mango lassi. The strong, authentic odor of onions lingered outside the truck, and we salivated as we waited for the food, which was quickly served.
We immediately dug into the butter chicken, which received the most praise on Yelp. The buttery, comforting curry was heaped onto a pile of rice and lived up to its acclaim, but the chicken was dry. However, we quickly polished off the meal, letting the curry melt in our mouths as we went on to the next dish.
After the chicken, we tried the saag paneer. Saag paneer is curry with creamed spinach and cubes of Indian cheese. When it's made right, the spinach tastes fresh and creamy, and the cheese cubes have their own delightful, distinct flavor. However, the truck's saag paneer was thick and salty with small pieces of cheese in it. I did not enjoy its chunky, strong taste.
We tried dipping the garlic naan, or bread, into the curries, but the bread was also too salty and dry. I did not finish my piece of naan, instead favoring bites of rice with the butter chicken.
We washed everything down with the mango lassi, a yogurt drink with mango flavor. At home, my favorite mango lassi is intensely syrupy and dense. The taste of the truck's was too subtle and not sweet enough for me. Fortunately, the chefs did not add ice to the thick drink, a mistake that can ruin it. It came in a very small cup and cost $5, half the cost of the $10 curries, which made me hesitant to even order it in the first place.
My friend and I could not finish all the food because of the large portions. I enjoyed its mildness, but my friend remarked that he had expected it to be spicier. Based on the lack of intricate seasoning typical of Indian fare, it was obvious that the truck caters to an American, rather than an Indian, audience. The meal from the truck made me miss Indian food from home instead of satisfying any of my cravings.
I'll probably go back to India Jones Chow Truck for its butter chicken, but I'm still on the search for a good Indian restaurant in Los Angeles to replace those at home.
Do you know any food trucks in Los Angeles worth sampling? Email Kapur at [email protected]