Movie Review: 'Tomorrowland'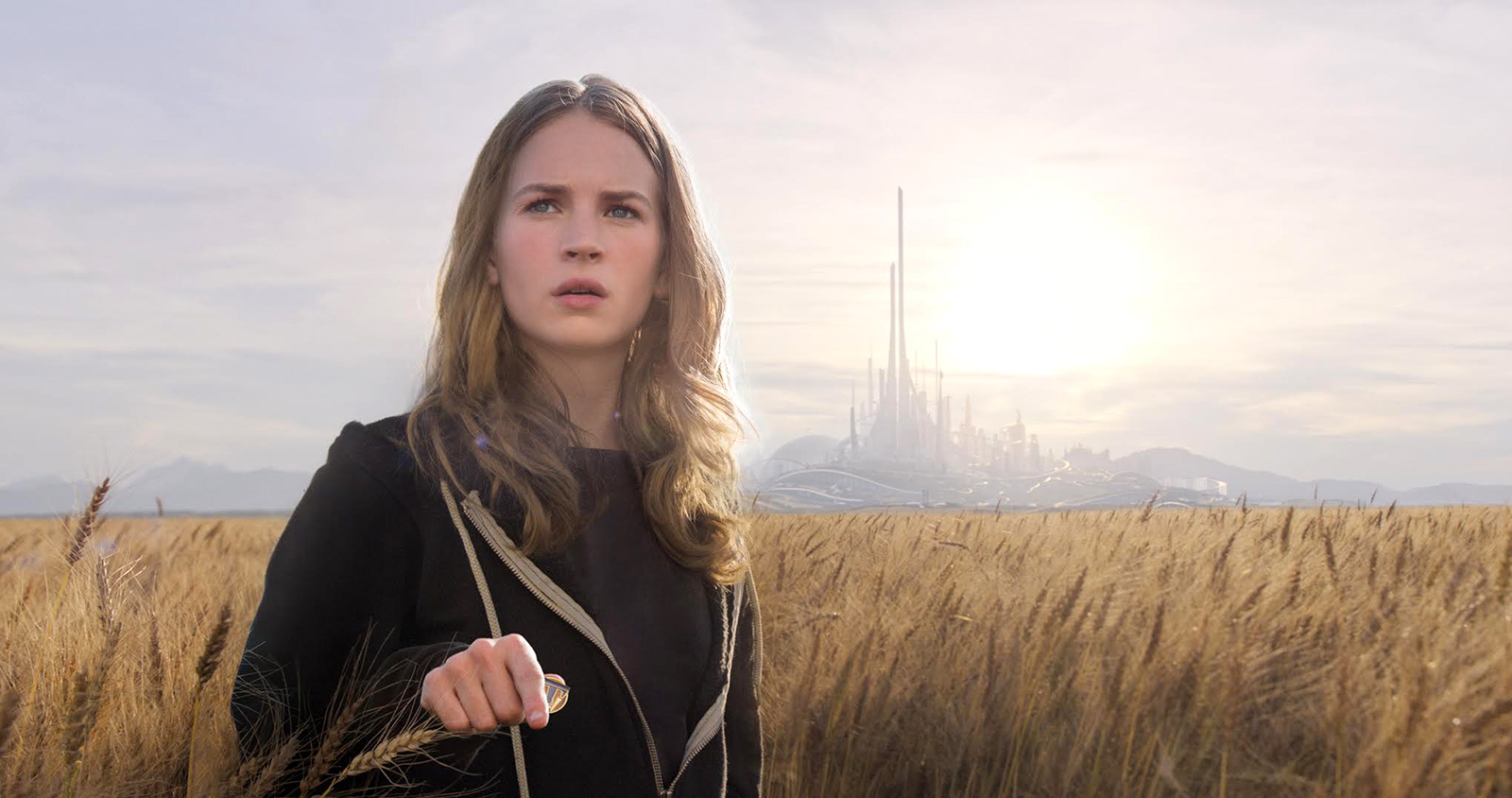 "Tomorrowland" Directed by Brad Bird Walt Disney Studios
One of the most clever scenes in Disney's heavily theatrical, big-budget "Tomorrowland" takes place in a bland-looking high school.
As the scene jumps from classroom to classroom, teacher after teacher lecture about resource depletion, unending wars and the overall futile fate of humanity. Their laments are laughably pessimistic, but mirror the stories played on the news every day in real life. The cycle of negativity is only stopped when one student asks what can be done to change the world's bleak outlook.
That student is bad girl and science fanatic Casey Newton (Britt Robertson). The film follows her journey – beginning when she receives a mysterious pin that transports her to a futuristic universe known as Tomorrowland, in which hovercrafts zip about and everyone is extremely happy. On her adventure, Newton, a hyper-curious self-proclaimed optimist, crosses paths with fellow pin-receiver Frank Walker (George Clooney), a cynical former boy genius. The two opposites must work together in order to discover why she was given the supernatural pin and how the fate of Tomorrowland determines the fate of mankind itself.
It is worth noting that "Tomorrowland" has a predominantly white cast, diversity solely lying in the fact that some of the main characters are British. Hugh Laurie plays the stereotypical curmudgeonly British mastermind accompanied by his unusually combative child assistant, Athena (Raffey Cassidy).
One of the only characters of color in this film is Hugo, played by Keegan-Michael Key from the TV show "Key and Peele," who has a short but hilarious cameo as an extremely eccentric shopkeeper.
The lack of diversity highlights the film's reliance on typical blockbuster conventions. While the movie aspires to be innovative and groundbreaking, it follows the Hollywood film prototype too closely. The dialogue is cheesy and a bit stereotypical of that found in an adventure film; its theme of believing in yourself is dependably heartwarming, but in the film's execution, the message fails to embark on new territory that other films have not already covered.
However, the characters' devotion to their mission, along with the actors who portray them, maintains some of the originality and power of "Tomorrowland." In spite of some cliche dialogue, the earnestness that Clooney and Robertson convey in their characters make them likable and charming as a team. At times "Tomorrowland" feels generic, but the characters are so invested in their world that the viewer cannot help but be invested as well.
The greater problem with "Tomorrowland" is that it tries to be too many things. There is a slew of action sequences that try to brand the movie as an adventure film, but it also emphasizes an unnecessarily complicated backstory that tries to tug at the viewer's heartstrings. On top of that, the film's apocalyptic but ultimately optimistic theme attempts to give the film a refined, philosophical message about the state of humanity.
But in the frantic two hours and 10 minutes of the film, none of these concepts are given enough time to take full effect. Instead, viewers are left with an overly elaborate plot to digest, but not enough emotional investment in the film to make sense of it all. There are movies where confusing storylines work, like Christopher Nolan's "Inception." "Tomorrowland" tries to be that type of movie, but fails in its attempt.
Still, it is difficult to completely dismiss "Tomorrowland." The film, despite its flaws, entertains while offering jaw-dropping special effects and visuals. While viewers may never become fully attached to the main characters, they will still desire to see what happens next. Though preachy at times, the message of "Tomorrowland" is meant to be inviting and inclusive, not pretentious.
In a flashback, Clooney's character asks an adult why everything must have a purpose and why some things cannot just be done for the sake of fun. Perhaps this question is also the best way to approach the earnest and flamboyant film. While "Tomorrowland" ultimately fails to achieve a story of great symbolic significance, it is undeniably fun.
– Rebecca Sarvady