Q&A: Pixar director sheds light on animation, upcoming movie 'Inside Out'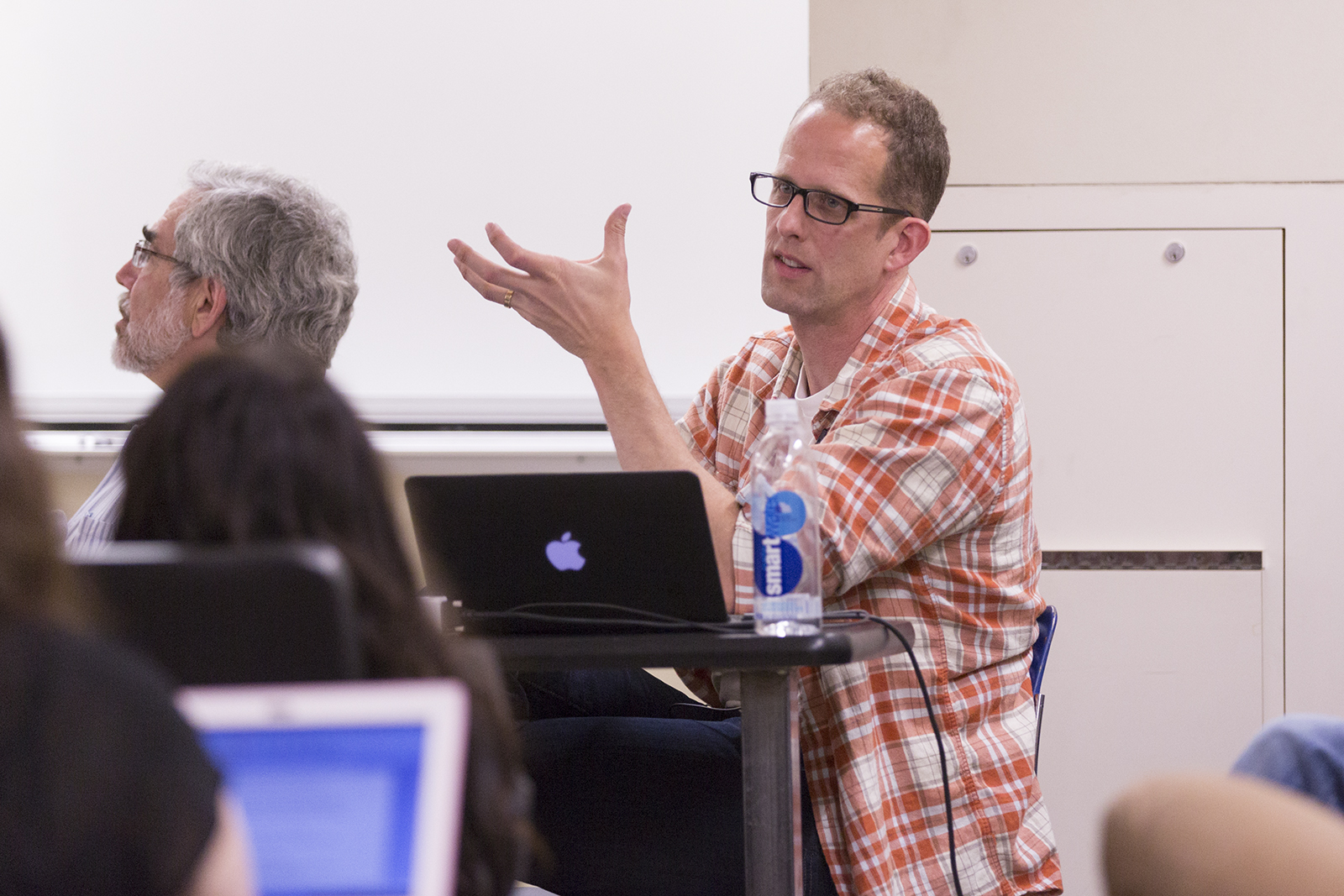 In a UCLA film class Wednesday, Pixar director Pete Docter discussed animation through the lens of his new film "Inside Out." (Jennifer Hu/Daily Bruin)
Anyone who loves Buzz Lightyear's signature line, "To Infinity and Beyond!," can thank Pete Docter, who contributed "and beyond" to the now-iconic phrase.
On Wednesday, Docter gave a guest lecture in a UCLA film class about the animation production process, particularly through the lens of his new film "Inside Out."
Docter has worked at Pixar since 1990, when it was a small company with no major pictures. Since joining, Docter has animated and co-written "Toy Story" and directed "Monsters, Inc." and "Up." Now, he awaits the June 19 premiere of his third directed film with Pixar, "Inside Out," which he has been working on since 2010.
Pixar's "Inside Out," which stars Amy Poehler, focuses on the five emotions that control a young girl named Riley's brain: Joy, Anger, Sadness, Fear and Disgust. When Joy and Sadness are sucked out of their headquarters, they must embark on an adventure through the brain to return to their control panel, lest Riley be stuck with only Fear, Disgust and Anger within her.
The Daily Bruin's Rebecca Sarvady spoke with Docter about the upcoming film and his work as a Pixar director.
Daily Bruin: How did you make a children's movie with such a potentially serious and dark subject matter?
Pete Docter: Kids are way smarter than most people think. On this film we had to simplify things for the adults, but the kids got it. In fact, we had the crew bring their kids in just to test the film because we were concerned – abstract thought and all these things in the film are pretty complex. The kids got everything – in fact, they explained it back to us better than I almost did. The next day, this is sort of a bonus, one of our technical directors said, "I got to tell you this story: My son has been taking swimming lessons, and he's been afraid to dive off the diving board. Yesterday, after watching the film, he finally did it and jumped off. I said, 'Wow, how did you do it?' and he said 'Well, I just felt like Fear was driving, so I asked him to step aside.'"
DB: How is "Inside Out" different from the other films you've worked on?
PD: I don't think it's a film I would have been able to do earlier in my career. It's so complex and even some of the issues that it deals with, like growing up, I'm not sure it would have been relevant to me at that time, so I'm really thankful that, at Pixar, we get to tell stories that are resonant with where we are as people, so they're more than just fluff.
DB: How do you stay sane and motivated while you work on a film for so long?
PD: It's really other people. We have the process, which I discussed in the class, which is working in these finite chunks of time and then forcing ourselves to go back and show other people. So (Pixar executives) John (Lasseter) or Andrew Stanton, who have not seen the film for a good four months, will now go and see it with a set of fresh eyes. A lot of the time they don't even have to say anything, already I know that didn't work, or I would have changed this, it's too long. And the other way to stay sane is that we have such amazing talented people. As I'm watching this thing progress downstream, here comes an animator with some brilliant piece of acting or here's a designer with, "Oh my gosh, I would have never thought to design the tree quite like that." The talent level is just astounding, and it's just exciting.
DB: Do you have any advice for any budding artists that want to enter this field?
PD: I'd say do it. There's always a way to find some way to do it. It's surprised me I know. The way I sort of visualized it was that some people were born talented and other people are not. The reality is that everybody needs practice. You'd never hand a kid a violin and say, "See ya at Carnegie Hall tonight for your big concert." They need to practice for years and years. And I think that any of the arts are the same way. The more you do it, the better it's going to get. The more you show other people and get up there in front of other people, as painful as that is, the more you're going to understand how to communicate to people, which is what it's all about.
Compiled by Rebecca Sarvady, A&E contributor.