Alumna's Spilt Arts offers creative outlet for underserved youth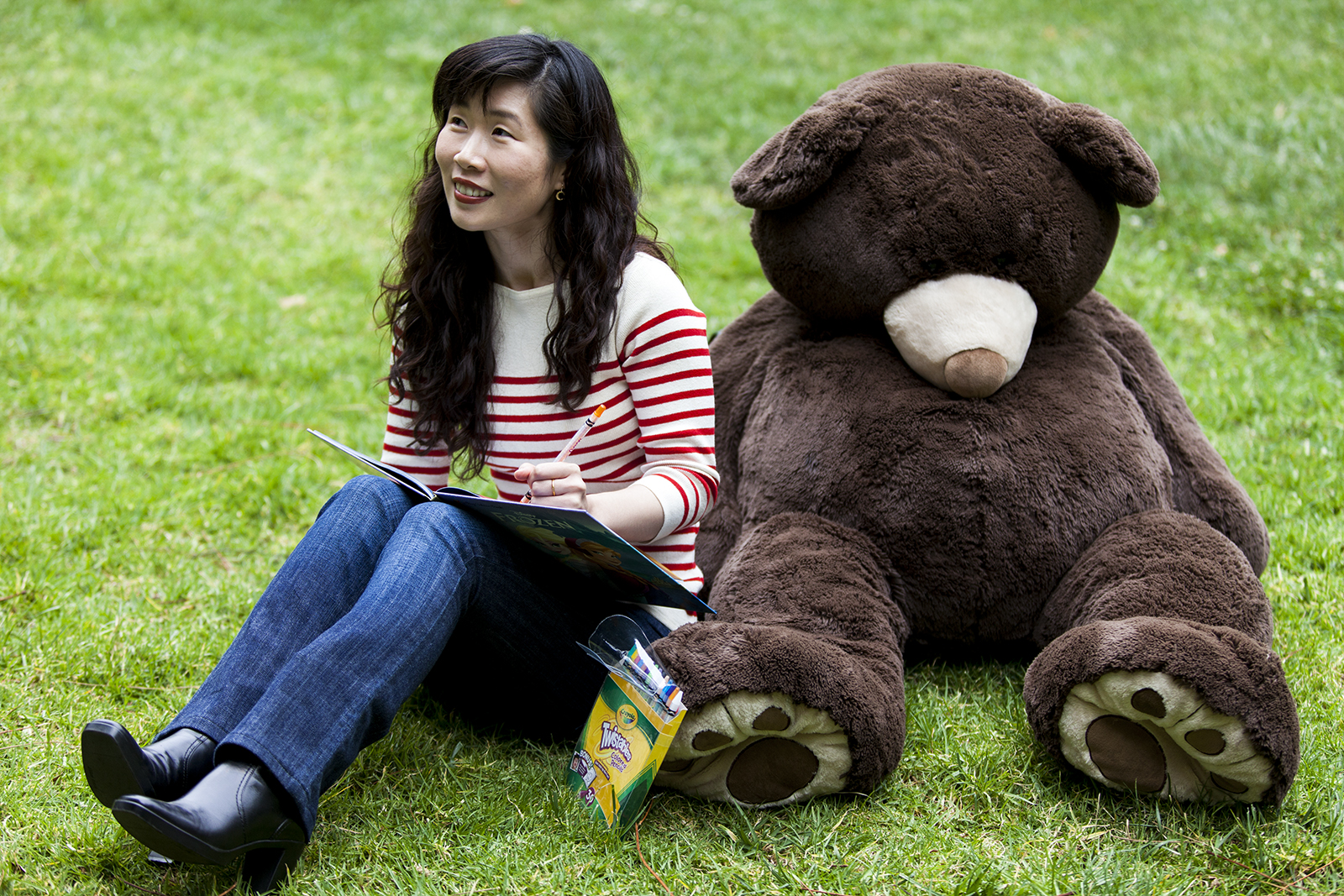 UCLA alumna Christina Han teaches creative writing, art and photography at the Central Juvenile Hall in Boyle Heights. Han also founded the nonprofit company and online art magazine, Spilt Arts, in 2013. Along with organizations, such as Project KnuckleHead, Han and Spilt Arts work to showcase the artistic talents of youth from underserved locations.
(Hannah Ye/Daily Bruin)
A 16-year-old juvenile hall inmate wrote her first poem, "My Lifestyle," in a creative writing class taught by UCLA alumna Christina Han.
"My lifestyle is a living hell. Wake up in the morning, knowing that I'm in jail. When I heard the sound of handcuffs, I thought I was tough. Thinking, thinking, thinking my life is really rough," she wrote.
For the past 18 months, Han has taught creative writing and art courses for inmates at the Central Juvenile Hall in Boyle Heights. She also founded her own nonprofit organization and online art magazine, called Spilt Arts, in 2013, to help children from underserved locations showcase their artistic talents.
"The name came from spilling or overturning the establishment when we were an alternative art magazine," Han said. "It seemed fitting because we want to help people view these kids differently and see potential in them whereas society may have dismissed them easily before."
Han teaches three classes each week for both female and male inmates, with students' ages ranging between 11 and 20.
"We really try to keep it within middle and high school range because we want them to use our program to go to college or to get a job, once they are out of the prison system," Han said.
Han's major focus is to work with girls who she said were trafficked and arrested for prostitution.
"Up until recently the law was that if (someone) was arrested for soliciting or prostitution, it would be considered a (felony)," Han said. "People are trying to change this system, so the girls (could) go into a more nurturing environment than prison, but this might take a very long time."
It is not easy to establish a connection with her students, Han said. As a child, Han herself was a victim of a violent crime, so she said she tells the girls her story to help them open up.
Han said the inmates she works with often have trust and confidence issues, so the topics assigned help them to think about their feelings. Han said many of the students write about their dreams of becoming social workers, lawyers and doctors.
After becoming interested in education, Han returned to get her master's at USC and organized her nonprofit, Spilt Arts, using the name of the alternative art magazine Han founded in 2002 as an undergraduate at UCLA.
"At that time I was 22 and not ready to start a business, so that didn't last long," Han said. "But in 2013 the project was brought back to life as a charity organization and an online magazine."
Fiction and poetry by students from the juvenile center are featured in Spilt Arts' online magazine, which publishes every six months.
Within Spilt Arts' first month, Han said, the team began plans for an after-school arts program with the Los Angeles Unified School District which took effect that year.
Amir Whitaker, civil rights attorney for juveniles and creator of the nonprofit organization Project KnuckleHead, has worked with Han since fall 2013. Project KnuckleHead works with youth through artistic, educational and mentoring programs.
"The youth crime risk hours are often the after-school hours," Whitaker said. "There are schools that don't even have newspapers, so we engage students in positive activities, (such as) organizing art festivals and making video game applications."
Whitaker hopes that in the future, Project KnuckleHead and Spilt Arts will create a curriculum for arts programs in other juvenile centers.
Han said within six months of its foundation, Spilt Arts began its creative writing program in the juvenile hall, and within eight months, it went international.
The program works with schools and youth organizations in the Los Angeles area, including Artesia High School, Justice Resource Institute and Project KnuckleHead. Spilt Arts also collaborates with orphanages in the Czech Republic.
Han said Spilt Arts is trying to set up a pen pal system between American and Czech children to publish the orphans' work in their native language with an English translation, in order to give them a creative outlet and help them work on language skills that can prepare them for jobs.
UCLA alumna Sandy Yang, a Spilt Arts literary consultant who joined in 2013, said she hopes that in the future the organization can reach out to more children and teens who may feel their voices and stories aren't heard.
"(Han) is the hardest working person I know, and she cares so much about children, especially the most vulnerable children who may not have access to art and mentors to encourage them to tell their stories," Yang said. "Many times, it's their stories that we most need to hear. "
Han said the Spilt Arts program already has some success stories, with one former student now on her school's robotics and dance teams and another enrolling in community college courses.
"I don't think I do anything extraordinary," Han said. "With resources, time and friends who are willing to help, anyone can make a change."