Trucking Around: Kogi BBQ taco truck offers unique, flavorful choices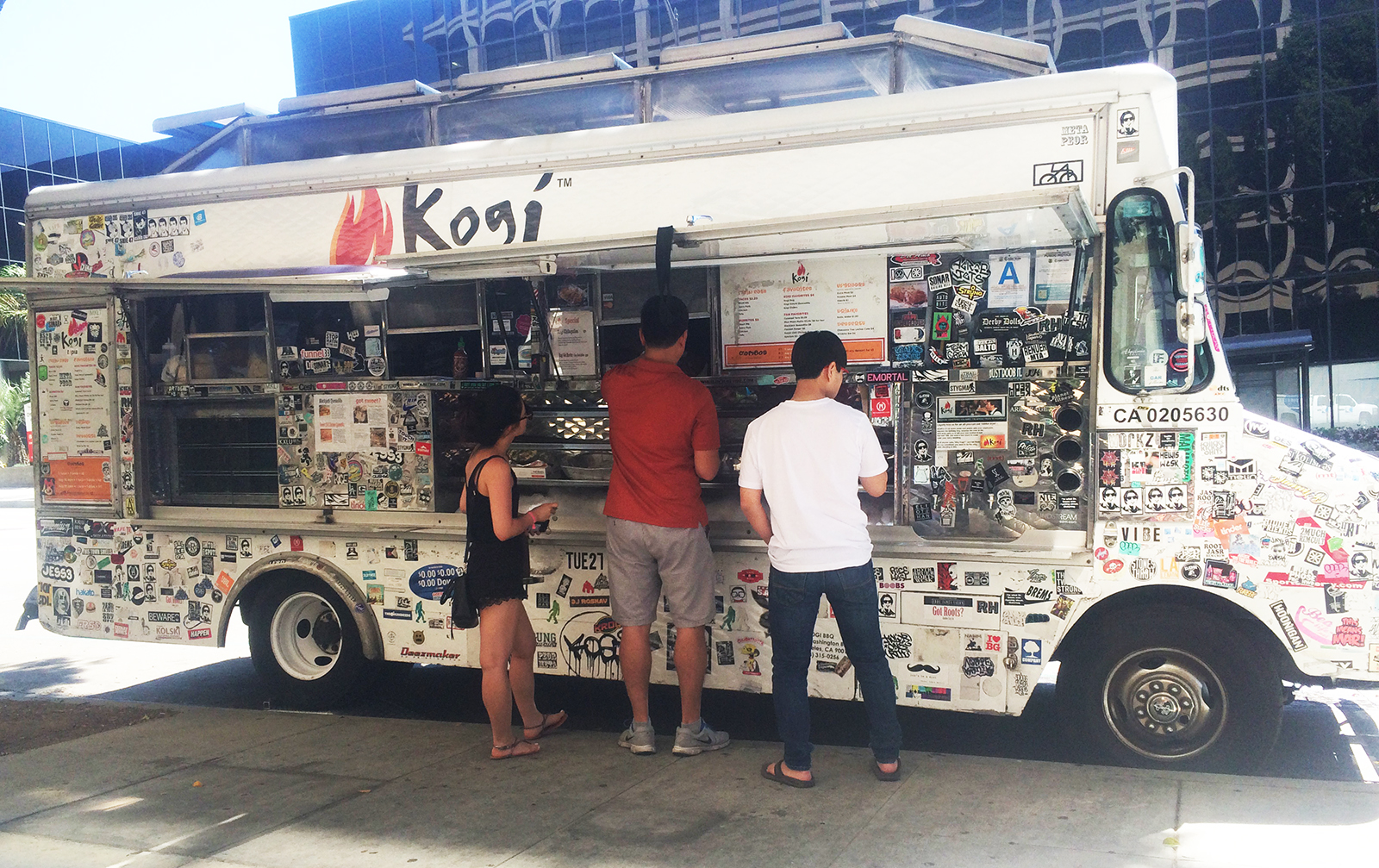 Kogi BBQ, a sticker covered taco truck, serves a variety of Korean barbecue tacos, burritos and quesadillas and is known for its long lines. (Alisha Kapur/Daily Bruin)
Food trucks are a vital part of the L.A. culinary scene, with many accumulating hordes of followers who aggressively pursue them around the city. The sheer magnitude of trucks can make dining choices difficult, but columnist Alisha Kapur has narrowed down 10 to try and review. Join her as she goes across the city, experiencing everything from Korean barbecue tacos to sushi burritos, in an attempt to find the food trucks that are worth following.
The first time I heard about the Kogi BBQ taco truck, I was sitting outside on a quiet, hot September day. I had just reached Los Angeles, and one of my new friends started raving about how it was her favorite food truck and how she occasionally tracked its whereabouts online when she was hit with a craving.
I finally tried the Kogi truck while visiting that same friend this spring break in Pasadena. The truck serves different Korean barbecue tacos, burritos and quesadillas and is known for its long lines.
I arrived hungry, so I was dreading the inevitable wait for my food. However, I did not have to suffer as long as I thought I would; the service was fast, and I got my three tacos less than five minutes after I ordered them. I decided to try the short rib, chicken and calamari tacos. I had read multiple recommendations and positive reviews about the short rib taco, and the calamari taco was listed underneath Fan Favorites on the Kogi menu.
I tried the chicken taco first. It looked very similar to the short rib taco. The calamari taco had a distinctive look, but the other two seemed to be the same. I was expecting the chicken to be dry, but it was very juicy and flavorful. The taco dripped a sweet sauce all over my fingers, and I used almost all the napkins the server gave me during my meal. The taco had a little bit of a bite, but I was able to eat it, even though I usually stay away from anything that is not extremely mild.
Because of the tacos' similarity in appearance, I expected the short rib taco to taste exactly like the chicken one. I was in for a surprise when I took my first bite and experienced a mouthful of tender, tasty meat. This taco lived up to its reputation, surpassing the first taco on all levels. Although the tortilla was a little crunchy, the meat tasted fresh and was marinated extremely well.
The calamari taco also had its own individual character, but I did not enjoy it as much. It was much sweeter and spicier than the other two, and I found it to be a bit overwhelming. Although the calamari itself tasted fresh and tender, it drowned in a strong salsa naranja, so I gave it to one of my friends to finish.
My friends had each gotten the short rib burrito, and although I enjoyed trying it, I thought that the short rib taco had more flavor. The burrito's ingredients were evenly distributed, though, as one of my friends pointed out, making for consistency with each bite.
Overall, the Kogi truck provided an enjoyable experience. The truck itself is covered with stickers from different brands and places, and the menu is simple, so it's easy to figure out what to eat. Although they do sell desserts, including a bar that incorporates a Sriracha ganache, I felt so content after my tacos that I did not feel the need to eat anything else.
The main draw of the Kogi truck is its Korean barbecue, and I wanted to experience that as much as possible. I did, savoring each bite's combination of sweet and salty flavors as sauce fell from the corners of my satisfied smile.
Do you know any food trucks in Los Angeles worth sampling? Email Kapur at [email protected]