Sounds of LA: Mini Mansions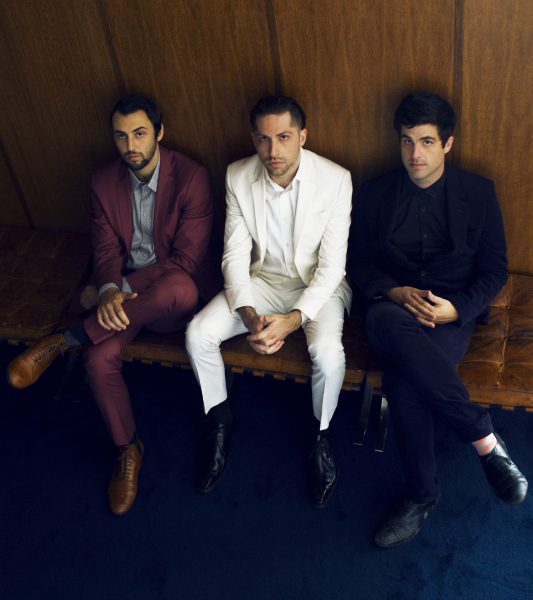 Michael Shuman (center) steps aside from his Queens of the Stone Age fame when performing with his side project, psychedelic pop trio Mini Mansions. (Courtesy of Mini Mansions)
Every year, new artists emerge, ready to be Los Angeles' next great musical discovery, making their rounds through small club tours across the city. Inspired by the hippie enclaves of Topanga, the backyard punk scene of East Los Angeles or the coastal grunge of Venice Beach, each act has its own distinct sound. For her final installation, A&E columnist Kristy Pirone discusses Mini Mansions, a Los Angeles psychedelic pop band and side project for Queens of the Stone Age's Michael Shuman.
Throughout the course of this column, Los Angeles musicians have been discussed and dissected in an effort to show the rich, diverse musical influences across the city. I've profiled the life and death of rock 'n' roll in Laurel Canyon, the struggles of female songwriters in the San Fernando Valley and the horrors of genre-labeling in the Greater L.A. Area.
In my column on White Arrows, the creative constraints of genre-labeling was presented as a problem with no easy solution, but in this final edition of "Sounds of L.A.," I think I've found the answer: side projects.
The reasons for making a side project can vary. Maybe a band member is sick of infighting within the group that made him famous, like Tom DeLonge of Blink-182's alt-rock supergroup Angels and Airwaves. Or a maybe member of the group just wants to jam with new collaborators, like Brian Burton of Danger Mouse and James Mercer of The Shins' indie collaboration Broken Bells.
Still, another common reason for the formation of a side project, even if it's not explicitly stated, is the desire to take a musical direction that a band member couldn't in his original act. It's a good explanation for why Ben Gibbard went from the mellow sounds of Death Cab for Cutie to the electronic pop of The Postal Service, or why influential rock band Queens of the Stone Age's bassist Michael Shuman chose to form the psychedelic-pop trio Mini Mansions with his longtime friends Tyler Parkford and Zach Dawes.
Mini Mansions will perform at Amoeba Hollywood on March 24 to promote the release of their third album, "The Great Pretenders."
Shuman and Dawes are San Fernando Valley natives who grew up sharing their love for punk music, while Parkford met Dawes after attending the University of California, Santa Cruz's film program. While Mini Mansions has a cinematic sound that matches Parkford's background in film, the influences of the Valley's punk scene is less apparent in the group's melodic style.
It's musical innovation like the electronic pop-rock, Devo-meets-Beatles sounds of Mini Mansions that fuels my love for side projects. It's this type of innovation that makes me a little excited when bands announce hiatuses, because it's then when side projects are most likely to surface.
Mini Mansions' most recent releases sound virtually nothing like Queens of the Stone Age's 2013 rock-god album "…Like Clockwork," the first album to feature Shuman on bass since he joined the band in 2007. The electronic beats in "Freakout!," cameos by Alex Turner in the slow-burn track "Vertigo" and Shuman and Parkford's mellow, breezy vocals are just the beginning of the differences between Queens of the Stone Age and Mini Mansions. Unlike Queens of the Stone Age's hard-rock sensibilities, Mini Mansions is reminiscent of The Shins and fellow successful side project Gorillaz.
Although still involved with Queens of the Stone Age, Shuman stretches different musical muscles in Mini Mansions. He branches out both in genre – from hard-rock to psychedelic pop – and in role, playing multiple instruments such as bass, keyboards and drums and singing. The enthusiasm he has for his new musical direction is apparent in inventive tracks like "Sherlock Holmes" and "Geronimo."
Side projects are good for a musician's soul, letting members of long-lasting bands like Queens of the Stone Age – which was founded in 1996 – to explore new musical avenues and encouraging creative expansion. They allow success to not be creatively stifling, with side projects functioning as an outlet for music-loving artists to span genres and remain inspired without giving up on the bands that came before.