International Games Day livens up Powell with entertainment, music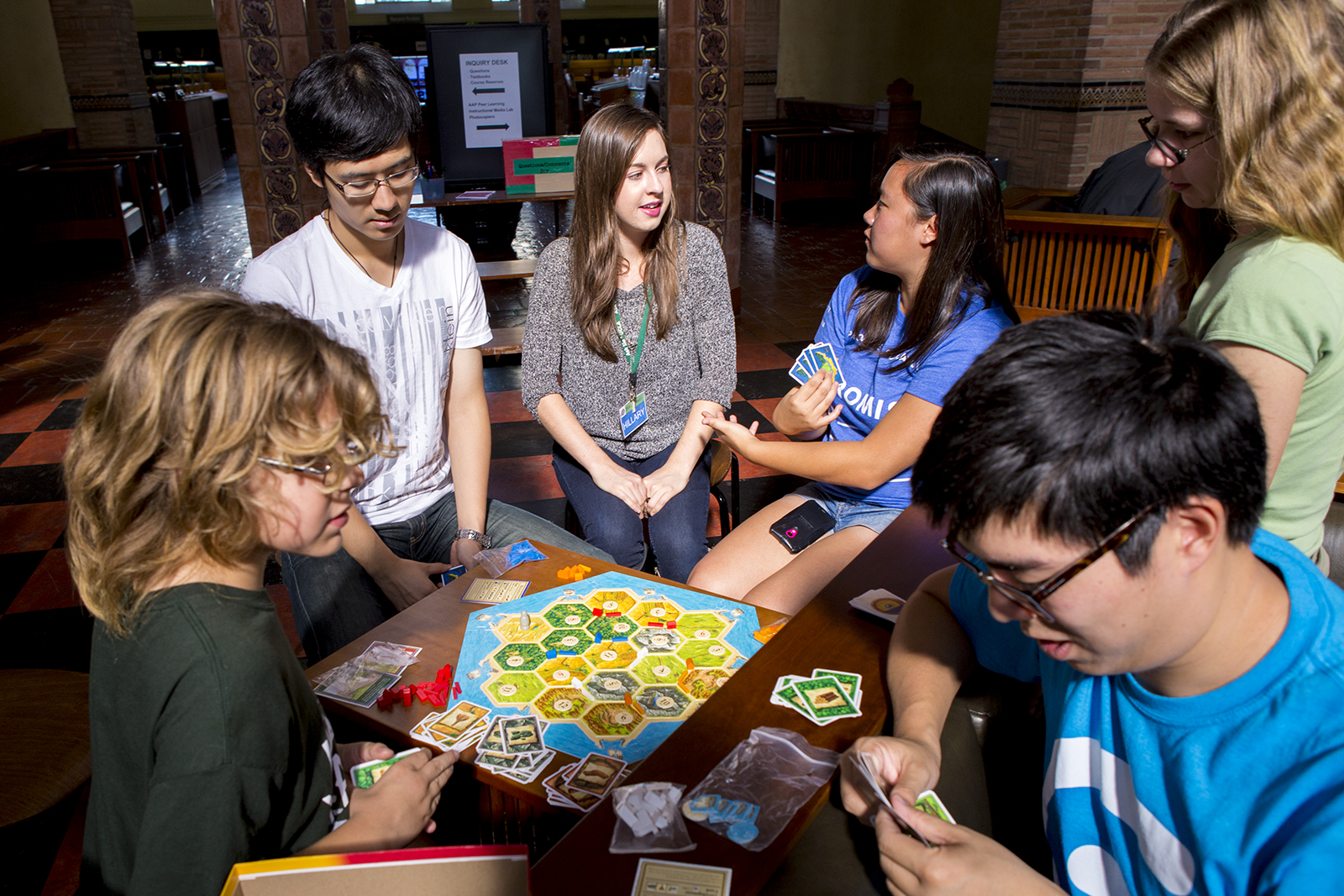 The third annual International Games Day at UCLA returned Saturday to the Powell Library rotunda with brand new games and old favorites, such as The Settlers of Catan (above). In addition to board and card games, the Design | Media Arts department and UCLA Game Lab featured games created by UCLA students and alumni.
(Jintak Han/Daily Bruin)
By
Daily Bruin Staff
Nov. 17, 2014 2:12 a.m.
Students poked cacti and put on virtual reality goggles to go to class, while librarians encouraged loud noises.
All of these were part of UCLA's third annual International Games Day Saturday in the Powell Library rotunda. Attendees played video and board games new and old, popular and experimental, set up for the event. The American Library Association puts on International Games Day at libraries across the world.
The UCLA Game Lab brought a number of prototype games by UCLA students and alumni, with half the space devoted to showcasing these pieces. Simon Lee, who coordinated the event, said that the Game Lab was involved from the beginning. In one part of the rotunda, students played video games that created unique experiences, like "Clasroom Aquatic," "Perfect Woman" and "Sneaky Cactus," along with experimental fare on arcade cabinets and table tops.
In the other section of the rotunda, board and card games were played. Children, students and adults traded wood for wheat in The Settlers of Catan, constructed railroads in Ticket to Ride and planned vast international conspiracies in Illuminati.
Along with the games, entertainment was provided in the form of musical accompaniment. The UCLA Video Game Orchestra performed orchestral versions of independent and classic video game soundtracks. Songs from games including "Aquaria," "F-Zero" and "Sonic the Hedgehog" filled the hall. The sound of guitar and flute overwhelmed gameplay.
In "Sneaky Cactus: Cactical Espionage Action," players moved their cactus on-screen by squeezing four prickly, potted cacti in front of them. Players must choose between their need to move fast and win the game and their desire to avoid pain from sharp cactus nettles.
Designer Nick Crockett, a recent Design | Media Arts alumnus now working at the UCLA Game Lab, said his goal with "Sneaky Cactus" was to use interfaces that directly tie the player's action to the game.
"How can I use this to make people do something that's a little uncomfortable, that breaks some kind of boundary," Crockett said. "What's a funny thing to have to touch?"
"Classroom Aquatic," created by a team of UCLA and USC developers, was a popular favorite at the event. The game uses an Oculus Rift virtual reality headset to put players in the situation of a pop quiz they haven't studied for, while surrounded by hyperintelligent dolphins. Players cheat by looking at their dolphin classmates' answers, while avoiding the notice of their dolphin teacher.
"We designed it around what we felt were the strengths of the Oculus Rift (virtual reality)," said Adeline Ducker, a UCLA alumna and art director of "Classroom Aquatic." "Moving around can cause motion sickness, so the team made a game where you're just sitting and leaning around – cheating!"
In the far corner of the rotunda stood the upcoming Xbox One title "Perfect Woman," developed by mathematics graduate student Peter Lu and German artist Lea Schoenfelder, which uses a Kinect body position sensor to make players contort their bodies into enforced positions.
Powell Library outreach coordinater Alicia Reiley said International Games Day provides a collaborative occasion for the increasingly active library.
"It gives us the opportunity to collaborate with other departments and let people know that they exist," Reiley said. "The wonderful thing is getting people into the library and seeing it as a social space in addition to being a study space."