UCLA alum creates music, light show at Walt Disney Concert Hall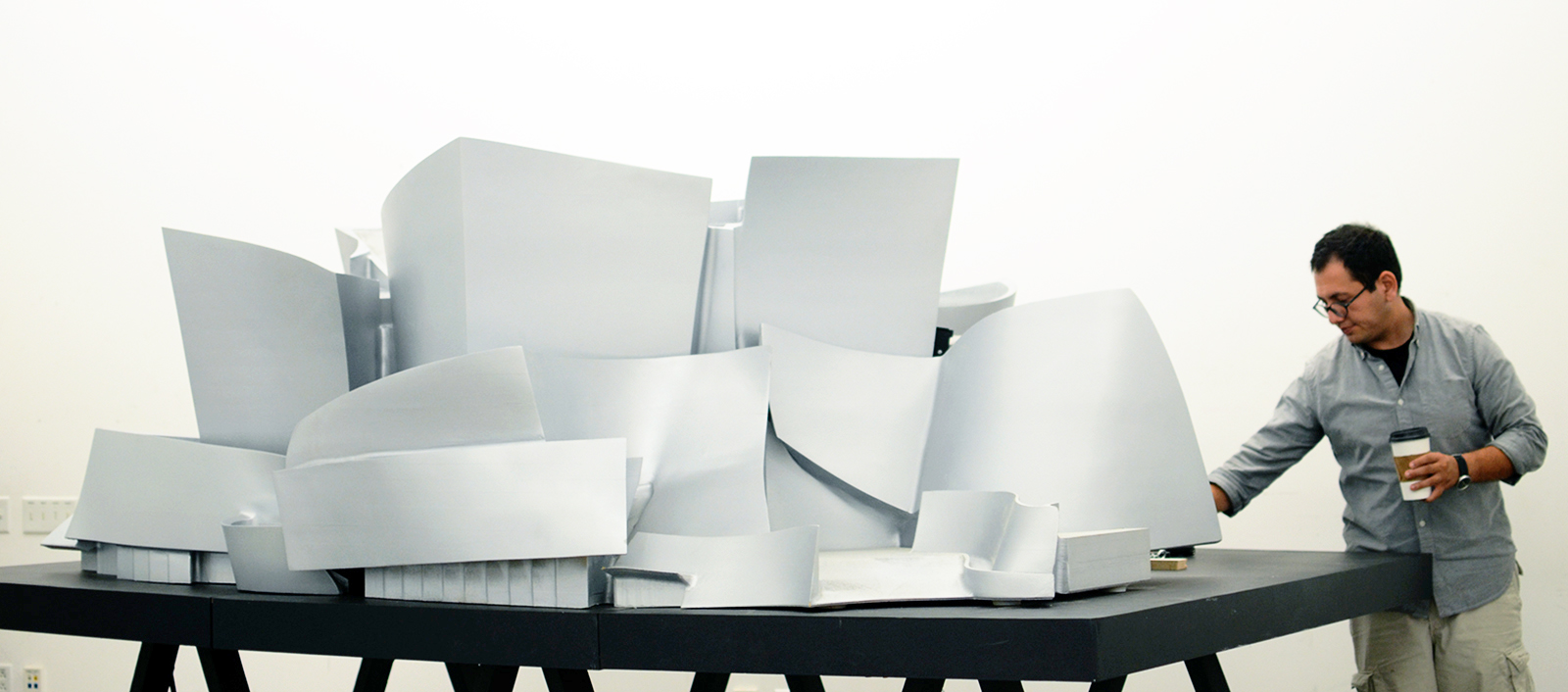 UCLA Design | Media Arts alumnus Refik Anadol eyes the geometric precision of his model of Walt Disney Concert Hall, housed upstairs in Broad Art Center. (Agnijita Kumar/Daily Bruin Senior Staff)
Sept. 28, 2014 12:00 a.m.
The original version of this article contained an error and has been changed. See the bottom of the article for more information.
During the day, as the sun glints off its steel curves, the silver sails of Walt Disney Concert Hall reflect light from each panel. But, at sunset, the structure darkens.
In October 2003, architect Frank Gehry unveiled Disney Hall as a new center to Los Angeles and home to the Los Angeles Philharmonic, hoping to invite visitors in with the futuristic "body language" of the concert hall.
With Gehry's support, recent UCLA Design | Media Arts alumnus Refik Anadol combines the existing architecture and music with elements of visual art and technology to provide a new light to the building at night.
The Prelude
Born in Istanbul, Anadol was studying visual communications design at Istanbul Bilgi University when he began to experiment with motion graphics and rethink conventional tools.
"I've always been interested in perception," Anadol said. "How we are actually limited to that concept and how everything is developed and designed around perception … and its barriers."
Beginning with an undergraduate project at Istanbul Bilgi University in 2009, Anadol began to merge his interests in using architecture as an art form and light as a material. He wanted to make a building – a static form – move.
"(I wanted) to make a communication between a space that is frozen and make it dynamic and kinetic," Anadol said.
Anadol's undergraduate project, "Quadrature," projected light images on a single side of a contemporary art museum, making the building's structure and visuals appear to morph by the minute. Once "Quadrature" went viral, Anadol received attention throughout Europe, and in 2011, his projects began to incorporate music. In Barcelona, Anadol was asked to project visuals onto the Arc de Triomf, reacting in real time throughout a 40-minute performance with Spanish composer Javier Navarrete.
Movement I: Transitory
After creating compelling architecturally based visual projects all over Europe, Anadol said he found himself uninterested in the commercial world, preferring the freedom of complete creative control.
"I was limited," Anadol said.
Instead, Anadol said he wanted to research and discover new ways of employing his art form into a whole new concept. He said he wanted to make the art world different.
After being accepted into UCLA's Design | Media Arts MFA program for 2012, Anadol said he was excited to work alongside and learn from UCLA faculty, professional leaders whom he had followed for years online. Anadol said he wanted to find the impossible.
Movement II: The Dream
As a fan of architecture, one of Anadol's first nights in Los Angeles was spent in true Angeleno fashion: driving. Not aimlessly, but with a purpose, Anadol drove to Disney Hall to see the building lit up at night.
"That night I saw the dream," Anadol said. "It was one of the most solid dreams I have seen in my life."
Anadol said he was moved as he imagined the building lit by projections before his eyes.
Entering the graduate program, Anadol said he took a critique-based class shaped around open discussions with faculty members as students brought forth their ideas for their graduate theses.
Anadol was one of the first to pitch his idea, and thought, 'Why not bring my dream to the table?'
The result was a myriad of reactions: Anadol said some were positive, others skeptical and some outright negative.
"The most positive feedback I got was more how impossible it was, but if it happens, how beautiful it (would be)," Anadol said.
Anadol said his idea was something never done before, in terms of technology and in terms of architectural challenge.
"It is a concert hall designed for the perfect musical experience. Why not take this beautiful function and think towards the future?" Anadol said.
Design | Media Arts professor Casey Reas spoke with Anadol on how to visually synthesize music and the architecture of Disney Hall.
"(Anadol) stands out for being so young, so ambitious and being able to get other people excited about what he's doing and find support for it," Reas said.
Movement III: Into Reality
In the 2013 Microsoft Research Design Expo, a competition and showcase for leading universities in arts and design, UCLA's Department of Design | Media Arts was invited and selected Anadol to present. His project and senior thesis, entitled "Ethereal," worked with a software his team is creating to transfer, in real time, the motions of Los Angeles Philharmonic conductor Gustavo Dudamel into an exterior visual light display on Disney Hall.
Selected by Microsoft Research to receive grants, technology and mentors, Anadol said his project was the first-ever chosen that, despite an overlap with technology, is actually grounded in pure art.
Anadol said his presentation and backing from Microsoft Research helped him reach the attention of Gehry and the Los Angeles Philharmonic. With Gehry's support, Anadol obtained 3D images of Disney Hall, which he said were essential tools to open up research and the creation of a miniature replica of the concert hall, currently housed in Broad Art Center. Using this model, Anadol and his team were able to practice projecting onto a geometrically accurate figure.
Raman Mustafa, who recently received his master of architecture from UCLA, worked with Anadol throughout their graduate studies on concurrent projects in art and architecture. Mustafa first helped Anadol with the Disney Hall model and has since been the resident technical designer with Anadol's team on campus. Mustafa compared their work to that of the movie industry and the transition from green screen to the visuals seen by theatergoers; Mustafa's job is to help carry the projects from the digital realm to reality.
"To do the fantastical art creation and creative generation we have actual geometry that correlates between the real world and the ephemeral world," Mustafa said.
The Finale
"Ethereal" transitioned from a dream to Anadol's thesis and finally into a real entity. Having received his master's degree this past June, Anadol, with the support of the Design | Media Arts department, set up his workspace, research area and studio on campus for the summer.
Fourth-year Design | Media Arts student Toby Heinemann first had Anadol as a teaching assistant in his motion graphics class but later became a part of Anadol's team after speaking with him during the graduate department's MFA show last year. Throughout the summer, Heinemann has mostly been working with generative animation to help Anadol create a computer program able to react to music.
Thanks to a team of undergraduate students, graduate peers, faculty members and mentors, Anadol said everybody in the department helped from conceptual discussions to technical actualities.
"It was something that needed to be academically supported to be honestly perfect," Anadol said.
The upper level of the Experimental Digital Arts room in Broad Art Center hosts computers, while a few steps down, huge, blank walls are covered with moving images from mounted projectors that mysteriously react to the music filling the room. This room has been home to Anadol and his team for the past few months, Monday through Friday, 11 a.m. to 6 p.m.
Anadol's preliminary and purely interior project, a prelude to the debut of "Ethereal," is scheduled for Nov. 6 at Disney Hall. "Visions of America: Amériques" will feature Anadol's projected video for the Philharmonic's performance of "Amériques," an orchestration which follows the emigration of young composers Igor Stravinsky and Edgard Varèse in the early 20th century.
"They were musicians who moved to the United States and then created a whole new world of visions," Anadol said. "Which is perfect for this project."
And, from a world of visions, the future of the Disney Hall's silver curves move with Anadol's light projections.
Correction: Mustafa received a master in architecture from UCLA.