Bruin pursues music, dance curriculum with Fulbright Program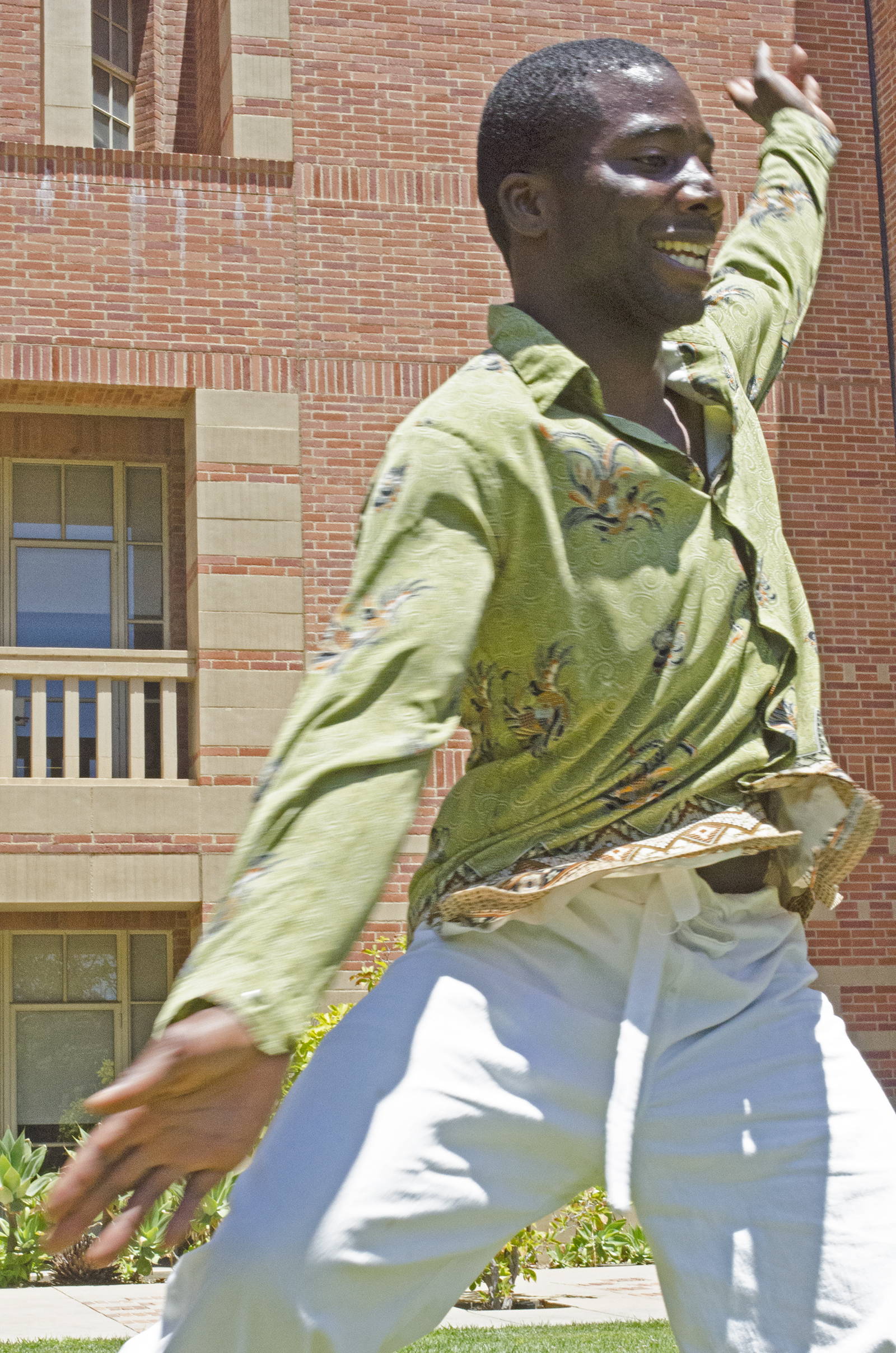 Samad Guerra, a graduating fifth-year world arts and cultures student, discovered a few Gnawa CDs at the music store where he worked. On June 19, Guerra leaves for a six-week program in Morocco to research Gnawa culture. (Jennifer Lin/Daily Bruin)
Samad Guerra was initially convinced he had been rejected by the Fulbright Program in Morocco.
Guerra said he was so nervous during his interview that he felt quite pessimistic about his acceptance. However, in February, the fifth-year world arts and cultures student received word that he would be traveling to Morocco in summer despite his worries. After he found out, Guerra said he immediately called his mother and they exchanged mutual expressions of excited disbelief.
Starting June 19, Guerra, along with eight other students, teachers and faculty from various universities and institutions, will travel to Morocco to research the culture of the Gnawa, a Moroccan ethnic minority. Their research will be conducted through an overseas research and curriculum development grant provided by the U.S. Department of Education, called the Fulbright-Hays Group Projects Abroad Program. Along with attending workshops in Arabic and Gnawa culture, Guerra's six-week program will examine the Gnawa's elaborate music and dance traditions. His research will eventually be made into a curriculum for youth in Los Angeles.
After the program, Guerra will also be spending a month with his mother in Senegal, where he said he hopes to research Senegalese dance and sabar drumming. Sabar drumming is a type of music played with a large drum, a stick and one hand that was traditionally used in Senegal to communicate with other villages using rhythms that correspond to phrases. Although this research is more informal, Guerra intends to include the information in his final curriculum.
Guerra said he became interested in Gnawa culture after discovering a few Gnawa CDs at a music store where he worked. The Gnawa are internationally known for the music involved in the complex rituals that they believe can cure physical and psychological ills. Guerra said that his research goal is to be invited by the Gnawa community to observe lila or derdeba, a ceremony in which the community recreates its universe origin story using intricate costumes, music and dance rituals.
The world arts and cultures/dance department counselor, Hayley Safonov, said she is proud of Guerra's artistic and academic accomplishments.
"It's just kind of obvious and it seems so right that he's (going to Morocco)," Safonov said. "He now has the opportunity to put his education into practice, to research people in a cultural setting around dance and how that dance … creates and defines the Gnawa community."
Along with his academic work, Guerra is also an arts educator, an activist and a dancer who primarily performs Afro-Cuban, West African and modern dances. He said he hopes to combine his passions by eventually teaching the healing capabilities of dance to incarcerated youth.
Guerra said he credits both a class he took at UCLA called "Arts Programs in Correctional Institutions" and his personal work with a youth in a probation program for sparking his interest in working with incarcerated individuals. He reflected on the powerful effect a dance teacher who came into the program had on the participants and said he hopes to have a similar effect with his own work.
"It was just amazing to see how comfortable they became with their bodies … when they were taking that class," Guerra said. "I think that can be transformative if you are able to appreciate and feel confident in your own body."
When he's not dancing, Guerra also works to motivate his peers. Natsha Siiri said that Guerra inspires her to pursue what she's passionate about. Guerra encouraged Siiri, a fourth-year ethnomusicology student, to create the World Music and Movement Festival at UCLA the first time they met outside of their Cambodian dance class.
Siiri says she admires Guerra's fearlessness and his desire to explore the world around him.
"I think whatever he ends up doing, he's going to be successful," Siiri said. "And success isn't making lots of money or doing what other people want you to do … but what he's doing; if he's enjoying it, then he's successful. And that's what I see, he's (pursuing) what he wants to do."
While in Westwood, Guerra said UCLA has allowed him to expand immensely both artistically and academically. He said his education has introduced him to dance theorists, encouraged him to include activist causes in his art and enabled him to see how dance both generates and reflects culture.
"(Art) is a way to change the society we live in for the better," Guerra said.