Graduate student's film earns best animation at Shorttakes festival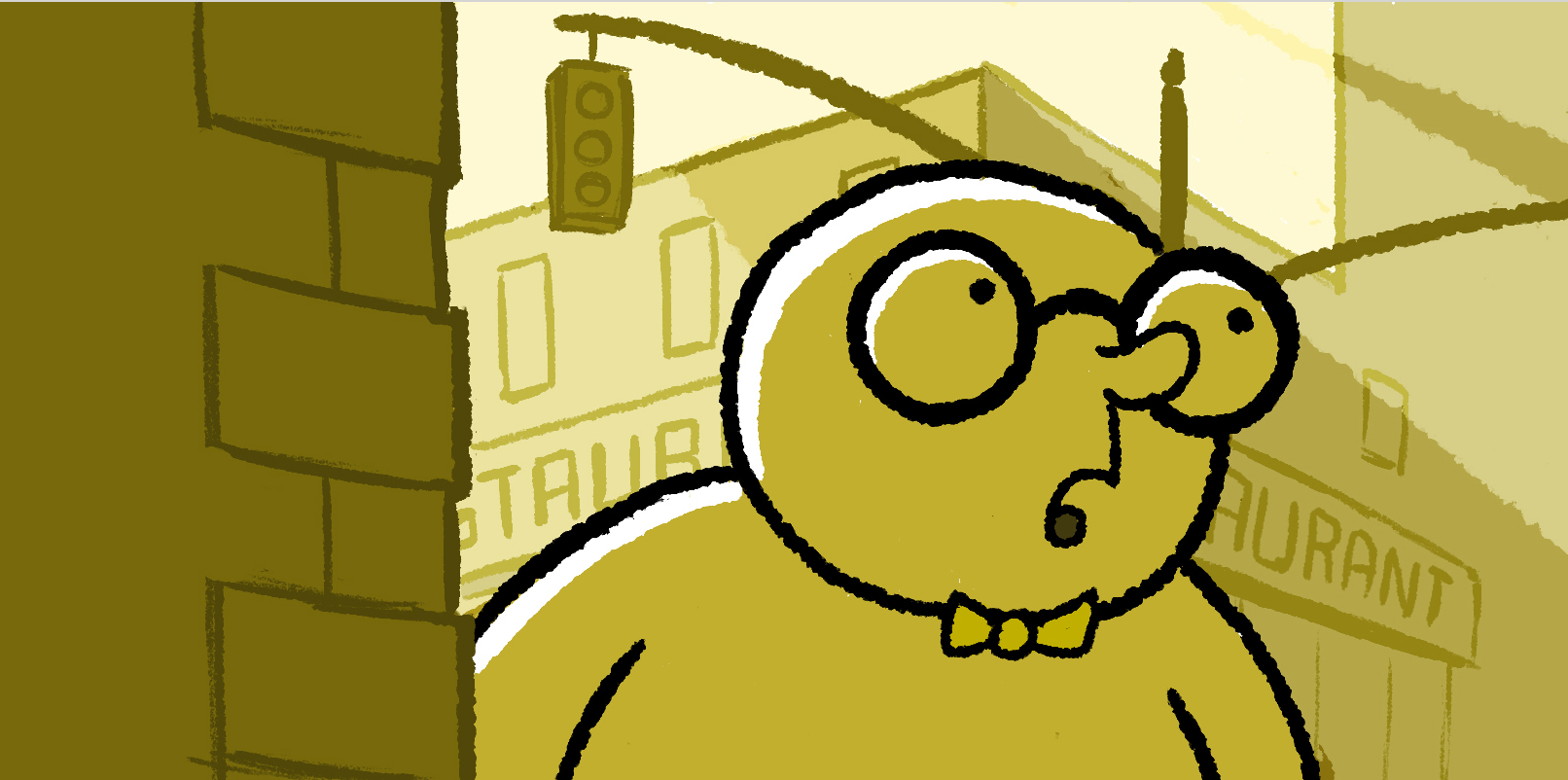 "How to See New York in One Day" follows Melvin, a tourist returning to New York after many years, and his journey to hunt down his beloved red hat, which floats around the city because of a harsh wind.
(Courtesy of Ben Haist)
For Ben Haist, a future in animation was not always clear. Little did he know the same storyboard he used for his UCLA School of Theater, Film and Television application would bring him substantial recognition at one of the school's most well-known film festivals.

A graduate student in film, Haist's short film "How to See New York in One Day" took home the award for best animation at the Campus Events Commission Shorttakes Student Film Festival on May 15. It was one of four UCLA student short films honored.
Written, directed and produced by Haist himself, "How to See New York in One Day" follows the journey of tourist Melvin, who is excited to see New York City many years after his first visit. After losing his beloved red hat to the harsh wind, Melvin is forced to go running through the city in order to retrieve it.
Haist's award-winning short film endured several months of production before its screening at the Shorttakes festival. Haist said its completion marks a monumental accomplishment for him.
"It was the first legitimate animated short that I actually made and that I'm really proud of," Haist said. "This is the first thing that I felt that I had complete control over from start to finish, and it solidified my love of animation, my love of this career (and) my love of this industry."
Though the film was completed in May 2013, the idea for "How to See New York in One Day" first came to Haist in 2011 after he watched a DVD of Pixar shorts in which Pete Docter, director of "Monsters, Inc." and "Up," describes his filmmaking experience during college.
"Grounding the comedy from an honest place, infusing your film with a lot of heart and finding that one emotional core for the comedy to spring from is important," Haist said. "Having that drive in the story was the inspiration for (my) main character."
Haist said visual notes, such as maps and old photographs, are his sources of inspiration in evoking a strong emotion through his filmmaking. These visual notes are not only essential to coming up with story ideas, but also in driving the central characters as well.
"A lot of the films that I make are very nostalgic and are about cherishing your past while trying to create a new future for yourself," Haist said. "I always tend to go off of one visual note that I can craft a whole story out of."
"How to See New York in One Day" encompasses several different eras that take place within New York City – going from the 1950s all the way to the present day. Doug Ward, a lecturer in the UCLA School of Theater, Film and Television, said this aspect is a standout quality in Haist's work.
"As a filmmaker, his compositions are very well-designed and his animation style reminds me of the great animated films from the 1950s," Ward said. "(Haist) is a super talented guy with great art skills and sense of timing and character acting that (come) from his theatrical background."
Despite being well-versed in several artistic areas, including art, theater and music, Haist said animation was something he was drawn to because of its ability to encompass all of the things he loved. After watching the films "Up" and "Wall-E," he was further compelled to pursue a career in animation.
"The storytelling in 'Wall-E,' how they were able to tell such a rich narrative without saying a single word, really compelled me to consider animation," Haist said. "With live-action films, you have to worry about not breaking that sense of reality. With animation, there is no frame of reference, so you have ultimate creativity and ultimate freedom."
While Haist handled most of the filmmaking process, the musical aspect was left up to Josh Rodriguez, a graduate student in music composition, who said collaborating with Haist was a pleasant experience.
"One of the most frustrating things for us as film composers is when the director is unsure about their own story. (Haist) knows what he wants, but is open to suggestions," Rodriguez said. "This made it a particularly rewarding collaboration."
Haist is currently working on a number of projects, including a film called "Cat Lady," about an old woman who breaks out of a nursing home to rescue cats. With these projects, Haist said he has one significant piece of advice for those who wish to follow in his footsteps.
"The best advice that I could give someone is to make a film," Haist said. "You'll learn a lot about the process and about what you like and don't like just from going out there and getting the experience."