Trending Now: Students leaps ahead of stores in high-waisted trend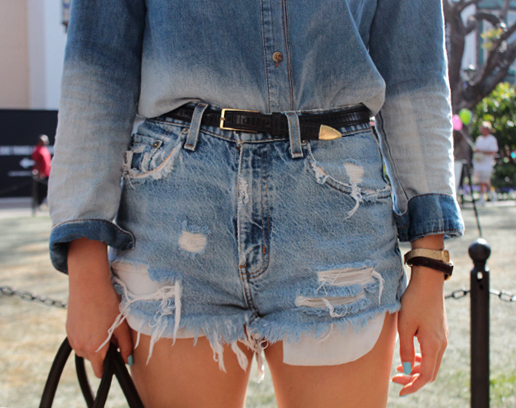 Courtesy of Amy Lee
A trend most prominent in the 1980s, high-waisted shorts have made a revival both on the fashion runways and on campus today.
Like history, fashion trends tend to repeat themselves.
Wearing high-waisted bottoms is simply one of the many trends that continues to resurface over time. High-waisted bottoms first came to be in the 1940s, when more women gradually entered the work force and traditional pants as well as skirts were seen as too revealing. In the 1950s, the trend made a reappearance with pin-up girls. However, it was in the '80s that low-waisted bottoms became virtually nonexistent, as high-waisted jeans, shorts and skirts became most prominent in this decade.
Now I spot at least one female student on campus wearing a pair of high-waisted bottoms every day. Within the past five years, we've seen the revival of high-waisted bottoms on runways by designers such as Saint Laurent and Calvin Klein, as well as on celebrities like Katy Perry and Taylor Swift.
I don't know exactly when or why I personally decided to make the change from low-waisted to high-waisted bottoms. But as an avid collector of high-waisted bottoms with more than enough pairs to last me an entire month, I find them to be some of the most flattering pieces in my closet.
The extra fabric adds some length to the body and gives off the illusion of longer legs. The bottoms also tend to cover a large portion of the stomach area, allowing for maximum comfort when eating a hearty meal. Overall, the aesthetics of high-waisted bottoms remind me of an era I wish I could be a part of: An era of iconic musical heroines like Blondie and Cyndi Lauper and some of the best romantic comedies, like "Pretty in Pink" and "The Breakfast Club," the '80s just seem like the place to be.
Simply put, like with the majority of my closet, I wear these shorts because I like them.
Aishwarya Malunjkar, a second-year chemical engineering student who I encountered last week wearing a pair of Free People leather shorts, said she is a fan of the trend because of its versatility.

"Anyone can wear them because they essentially look good on everyone," she said. "They make your bottom look great, and your waist look small."
Despite the rising popularity of the trend, I also found that there are still a few students on campus who have mixed feelings toward the trend.
"I think some people can pull high-waisted shorts off really well, but for others, it can just look a bit awkward," said Jeffrey Tai, a second-year computer science student.
Second-year biology student Joel Inciong said although he doesn't personally like the trend, he thinks the shorts grab attention.
"When I'm walking on campus, I notice them more than I would a regular pair of shorts," Inciong said. "But for the most part, I don't think they're particularly too great or too ugly."
For some students, it's just a matter of exploring the trend. Second-year economics student Emily Dinh said although she can understand why many are flocking to the high-rise trend, she personally hasn't looked into the trend.
"A lot of my friends wear them, but I don't know if I'd personally like them just because I haven't gone out and tried them on or anything," Dinh said. "I just haven't jumped on the bandwagon yet."
I asked why Dinh hadn't hopped on and she said it had to do with the trend's lack of availability in stores. Although high-waisted shorts are indubitably one of the biggest trends at the moment, they have not necessarily integrated into the mainstream fashion world just yet.
For students looking for a pair of their own high-waisted shorts, I would recommend looking at retailers who cater to a vintage aesthetic. Although many fast-fashion chain stores such as Forever 21 and H&M; carry them from time to time, high-waisted shorts have been known to be a staple at stores like Urban Outfitters, Anthropologie and American Apparel. If you're feeling crafty, an easy and affordable way to make shorts is to grab a pair of men's jeans from the '80s at a local thrift store and cut the length off.
"The only thing I don't like about them is that they're hard to find in stores because each one has a different fit," Malunjkar said. "But I believe there is a pair of high-waisted shorts out there for everyone."
Indeed, I, too, believe there is a pair out there for everyone. Regardless of gender, pattern or style, high-waisted shorts have been able to withstand time, transcending into several eras and decades, and will continue to do so. It's all a matter of personal preference. And for me, well, I certainly do prefer the high-rise trend.
Would you ever wear high-waisted shorts? Email your thoughts to Lee at [email protected]