Mixology: Beer cocktails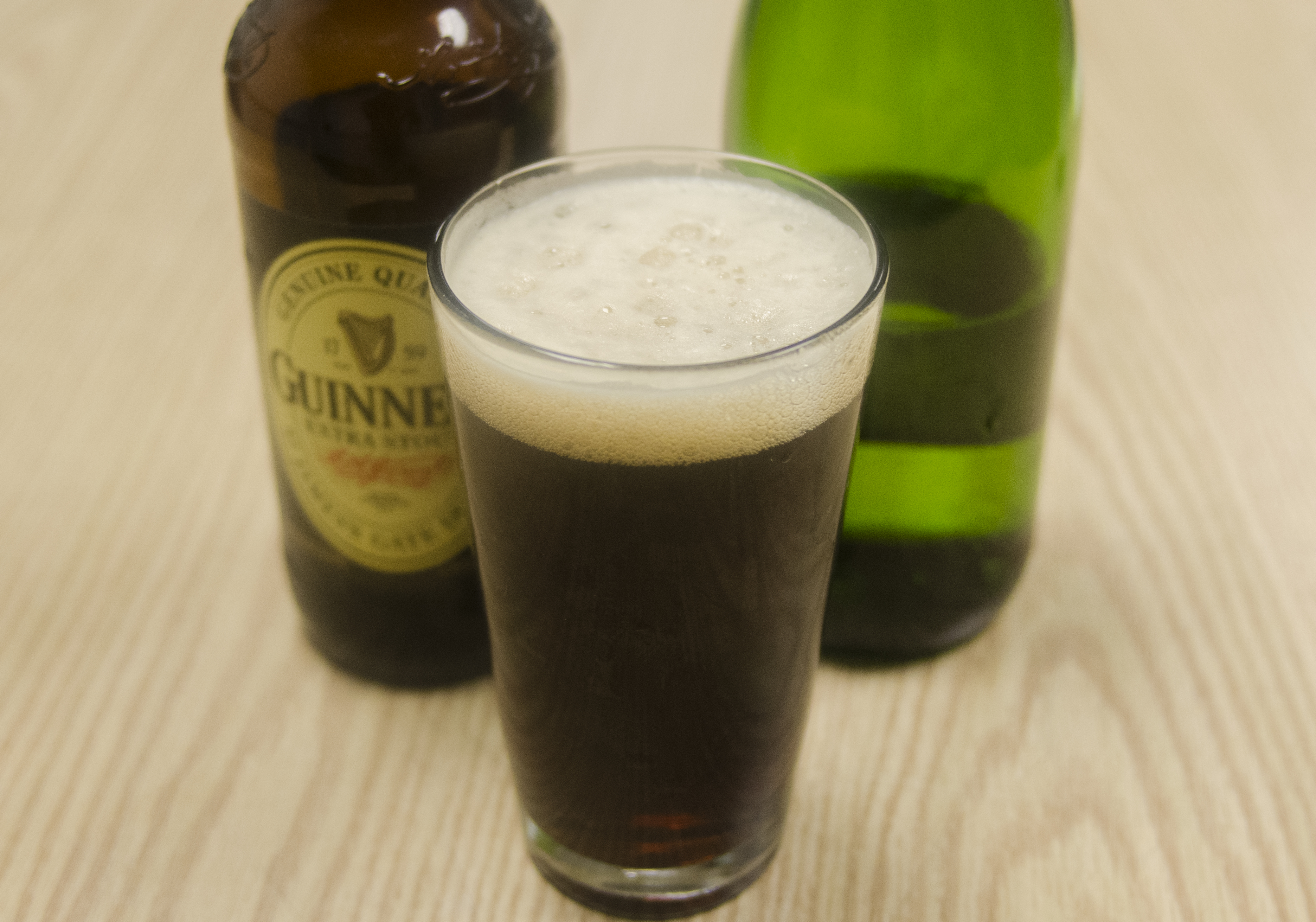 The Black Velvet is a beer cocktail made out of Guiness and Champagne or cider that can easily be concocted at home in both alcoholic or non-alcoholic versions.
Celebrating a special occasion by dining in Westwood can be exciting – especially when you're ordering your first drink. But even if there's a limited menu, alcohol is a cuisine riddled with flavors that can be complex and confusing. You know what you're eating – shouldn't you also know what you're drinking?
Each week, columnist Ashley Jakubczyk will talk about a new mixed drink, where to get it in Westwood and how you can concoct your own version at home.
– – –
Last spring, a friend of mine decided she wanted to celebrate her 21st birthday by heading out into Westwood for dinner. We all met up at BJ's Restaurant and Brewhouse, excited to celebrate in style by ordering my friend her first mixed drink.
When we opened the menu, however, we were disheartened to realize that the Westwood location doesn't have a full bar, but instead serves only beer and wine. What could we order to satisfy our craving for a cocktail?
Contrary to what you may think, a beer-and-wine-only menu doesn't mean that your options are as limited as they initially seem. It might sound strange at first, but many restaurants, like BJ's, put their own spin on things by creating mixed drinks from beer and wine – two things that generally stand alone.
Take, for instance, the Black Velvet, which falls under the family of beer cocktails – or, mixed drinks that cite beer as their main ingredient – and is one of the few mixed drinks on the restaurant's menu.
A traditional Black Velvet uses a stout (usually Guinness) as its base with a light, bubbly Champagne as its counter.
BJ's, however, puts its own spin on the drink by substituting its own brew, PM Porter, for the stout. Though a heavier ale, it makes the perfect backdrop for a cocktail because its smooth, roasted flavor of caramel, molasses and chocolate are strong enough to serve as a base, but not so strong as to overpower the rest of the drink.
Instead of Champagne, BJ's counters the porter with a berry burst cider, a drink with a sweet, almost dessert-like taste.
If you're going to make a Black Velvet at home, it is important to use the right type of beer. Generally speaking, a stout with a dark, rich flavor is ideal, as light ales (like Bud Light ) are too watery and will not provide a strong enough flavoring for the drink.
The type of Champagne used is important as well – a dry Champagne or sparkling wine works best to bring out the right flavors. When pouring the Champagne, turn a metal spoon upside down over the rim of the glass and allow the liquid to cascade down from it. This ensures that the Champagne doesn't mix with the stout, but rather settles at the bottom of the glass, creating the layered look that the drink is known for.
It can be difficult to recreate a Black Velvet without using beer, but you can mimic the effect that a dark brew would have by using a fruit juice or syrup, like pomegranate or strawberry, for a non-alcoholic version. Sparkling cider pairs nicely with a fruit flavoring of said juice or syrup, and also serves as a nice and bubbly alternative to the traditional Champagne.
Black Velvet (alcoholic)
6 oz. Guinness
6 oz. Champagne
Fill a chilled glass halfway with Guinness. Then, slowly pour the Champagne over the back of a spoon until the glass is full.
Black Velvet (non-alcoholic)
6 oz. pomegranate juice
6 oz. Martinelli's Sparkling Cider (apple or apple-pomegranate flavored)
Fill a chilled glass halfway with pomegranate juice. Then, slowly pour the sparkling cider over the back of a spoon until the glass is full.