Mixology: Margaritas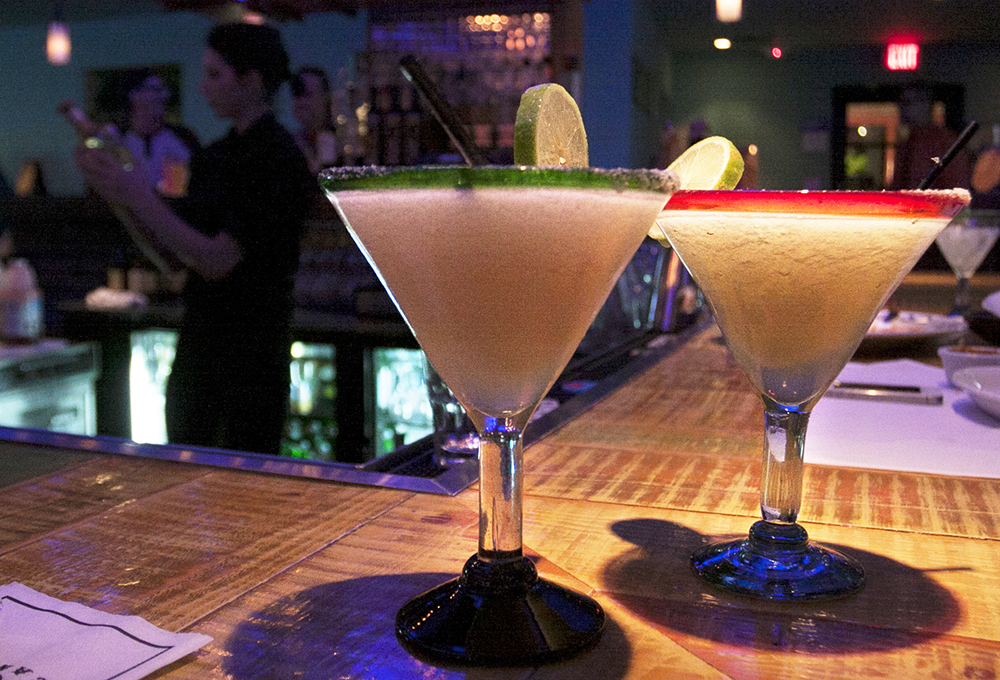 House margarita from Frida's, formerly known as Casa Azul.
With Brew Co.'s closure on Sept. 10, bar options in Westwood have been readily slimmed down. Finding a new watering hole means new bartenders, new drinks and new food to go with it. But alcohol is a cuisine, and the flavors and tastes behind that cuisine can be complex and confusing. You know what you're eating – shouldn't you also know what you're drinking?
Each week, columnist Ashley Jakubczyk will talk about a new mixed drink, where to get it in Westwood and how you can concoct your own version at home.
The first time I laid eyes on a margarita was well before I was of legal age to drink one, seated in a booth across from the bar at a local restaurant. The bartender was making something in a huge, bowl-like glass that looked a lot like the Slurpees I'd buy after school at 7-Eleven.
"I want one of those pink Slurpees," I told the waiter innocently, who chuckled a bit and told me he'd give me a "virgin" one, whatever that meant.
It tasted like candy then, and now that I'm of legal age and can drink a real one, it's still just as delicious.
Ah, the margarita – the tequilia-based cocktail hails from Mexico, where Jose Cuervo began running margarita ads in 1945. The drink soon gained popularity in the United States, where it remains one of the most prevalent drinks today.
Traditionally, a margarita combines three main ingredients: tequila, triple sec and lime. It can be served in one of three ways: straight (no ice), on the rocks (with ice) or frozen (blended) and is typically garnished with either salt or sugar around the rim of the glass.
The margarita has a strong presence in Westwood, but in my experience, two restaurants in particular have selections that are exceptionally well-made.
Frida's (formerly known as Casa Azul) on Lindbrook Drive has "Margarita Monday" where happy hour prices cut the bill from a standard $12-13 to a mere $6. In addition, Frida's has daily happy hour from 3 to 7 p.m. and 9 to 11 p.m. For a sweeter twist on the classic margarita, try their strawberry margarita, blended. Its berry flavors both complement and take the edge off of the tequila for a less tart, yet equally refreshing drink than a classic margarita.
Frida's also serves Cadillac margaritas ($1 extra). Called a Cadillac because it uses premium ingredients, these drinks are made the same way with substitutes of Grand Marnier orange liqueur for the triple sec.
Practically across the street, the Napa Valley Grille on Glendon Avenue used to make a mean mango margarita, which according to the restaurant has recently been discontinued and replaced by a blackberry margarita. This one is best served on the rocks – and don't forget to ask for salt on the rim of the glass. Like the berry undertones in Frida's strawberry margaritas, the blackberry flavor cuts the slight bitterness of the tequila, but the salt ties it all together and balances out the dominant sweetness.
Napa Valley has happy hour each day from 3 to 7 p.m. and 9 p.m. to midnight from Monday to Saturday, where the blackberry margarita is only $5.
But if you'd rather stay in, margaritas are one of the easiest drinks to recreate at home because they don't require you to buy out the entire liquor store to make them.
There are lots of ways to make your own, including the use of margarita mixes that come pre-bottled and can be used for both virgin and alcoholic versions (try Jose Cuervo's Classic Lime or Strawberry Margarita Mix, found at most grocery stores).
This is a simple, classic recipe. When it comes to making your own margarita, simplicity is key. You don't want to go overboard. However, once you master the classic, have a bit of fun and play around with flavors by adding different syrups or liqueurs (blue Curacao can be used in lieu of triple sec for a "blue margarita," for example) and even fresh fruit (like strawberries, then blend in a blender with ice).
Classic Margarita (alcoholic version):
1 1/2 ounce tequila
1/2 ounce Cointreau
1 ounce lime juice
Mix ingredients (in a cocktail shaker or simply in a glass). Salt the rim of a chilled margarita glass, pour over ice, garnish with lime.
Classic Margarita (non-alcoholic, or virgin version):
2 ounce simple syrup (1 part sugar, 1 part water, boiled together and left to chill)
1 ounce lemon juice
1 ounce lime juice
Mix ingredients (in a cocktail shaker or simply in a glass). Salt the rim of a chilled margarita glass, pour over ice, garnish with lime.
Do you agree with Jakubczyk's margarita picks? Have a better one? Comment below and let us know.