Santa Monica ferris wheel gets new look at Glow art event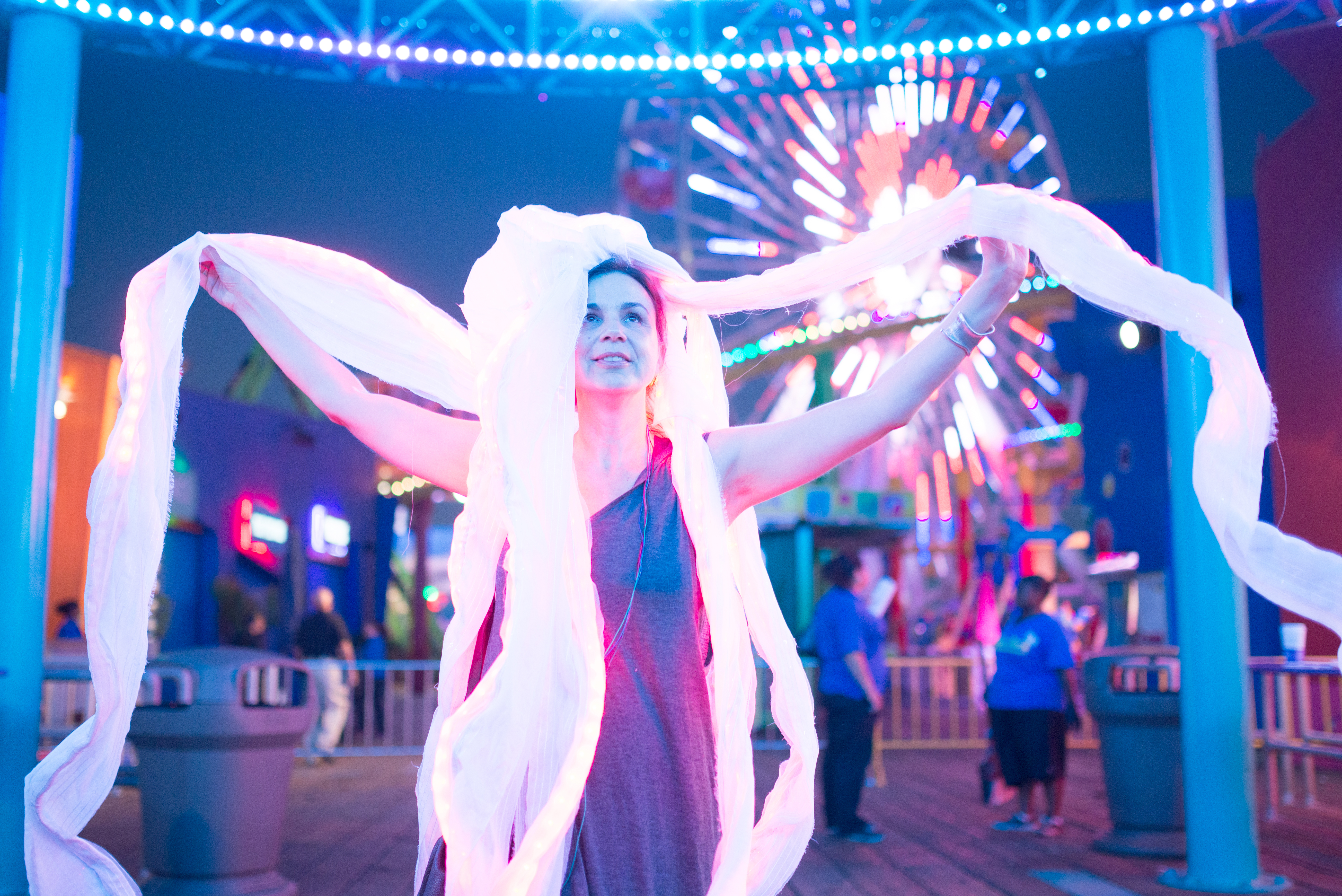 Victoria Vesna, a professor for UCLA Design | Media Arts, created an original piece of art to present as a keynote at the Santa Monica Glow art event Saturday, where participants will also occupy the Santa Monica Pier's ferris wheel.
Sept. 27, 2013 12:46 a.m.
There is a noticeable presence to the Santa Monica Pier's Pacific Wheel.
During the day, it absorbs the sun's rays as the world's only solar-powered ferris wheel. At night, it transforms this energy into a rotating mass of colored lights, broadcasting its whereabouts miles across the Santa Monica beachfront.
And at the 2013 Santa Monica Glow art event, taking place Saturday from 7 p.m. to 3 a.m., UCLA Design | Media Arts Professor Victoria Vesna will attempt to harness and then transform this same presence in her original art piece, Octopus Mandala Glow.
Vesna said the project is a night-long gathering that calls for participants to occupy the ferris wheel and mutually recognize their command over technology, rather than succumb to an existence controlled by it.
She was approached about a year ago to create an original work as a keynote artist for the Glow event, and said she settled on using the Pacific Wheel because of the challenge.
"How do you take an icon like this and create an artwork out of it? … It took me a while; there were quite a few sleepless nights trying to figure it out," Vesna said.
These challenges included preventing the simple awe and entertainment usually associated with riding the wheel from overshadowing audience members' experience while participating in the project. Vesna said she eventually settled on changing the look and meaning of the attraction itself to make it better fit with her project's theme.
The Pacific Wheel, with its eight main beams and circular shape, resembles an eight-spoked Buddhist mandala, a pattern that Vesna has worked with in the past and said symbolizes the universe and the human collective.
Meanwhile, the lights of the wheel were altered to flow like the tentacles of an octopus, a being that Vesna said was selected for its shape as a biological mandala. Additionally, the image is already present above the Santa Monica Pier's entrance.
She said the octopus also represents the individual, as participants will wear one of eight handmade light-emitting diodes, mesh octopus crowns, while riding the ferris wheel, essentially bringing together both the collective and the individual to symbolize a union over the machine.
"At the event, there are going to be eight gondolas with six people in each, chanting, talking or singing at the same time. So it's very much a collective act," Vesna said. "But whoever wears the octopus crown becomes … the king or queen at that particular moment in that collective choreography."
However, even with these planned activities, Vesna said she has no idea how the night will turn out. During the year leading up to this event, Vesna's ferris wheel occupy movement has spurred an international interest, leading to similar projects in areas such as Marseille, France, Sydney, Australia, and Seattle, Washington.
But instead of following Vesna's original concept, these events have evolved on the spot, sometimes taking on more of a feminist approach, while participants in others have called for peace in countries such as Egypt and Syria.
Some of these previous events have been partially headed by Vesna herself, while others were entrusted to activists from each event's respective region. And even though these changes were a surprise for her, Vesna said she is happy about the way participants are making the separate projects their own and hopes ferris wheels around the globe continue to be used in this way even after Saturday's event.
"I didn't want to lead it anymore in any way, but just really create the form, the concept and the space, and then see what the audience comes up with and allow them to merge and have that unexpected element," Vesna said.
For Saturday's event, the lights of the ferris wheel will actively flow and sync with the night's live music. As one of Octopus Mandala Glow's eight core team members, Design | Media Arts graduate student Peter Rand designed each 700 frame light animation for the eight hour show, and said each hour will correspond to a different color on the ferris wheel.
Rand also said testing his work on the wheel has been the most enjoyable part so far and was glad he succeeded in making the attraction shine.
"It was more successful than I could have imagined. … It still has the mesmerizing quality of any ferris wheel," Rand said. "That was really important too because working with Pacific Park, while they were very supportive of the project, they wanted to ensure that this landmark did its thing and looked cool."
Financially supporting this project is a commission from the Glow art eventas well as funds raised on the crowdfunding site Indiegogo, said the project's producer Raymond Zimmerman.
Despite these contributions, the team did not have enough funds to realize every idea, foregoing add-ons such as extra equipmentand a high-resolution projector to transmit images of participants inside the ferris wheel onto the ocean.
However, for Zimmerman, these small setbacks just seem like stops on a ferris wheel.
"That's the magic and the fun part," Zimmerman said. "It's not getting to the end of the journey; it's the process of getting there. And this (experience as a whole) has been quite a wild ride."