Clark memorial sets stage for outdoor theater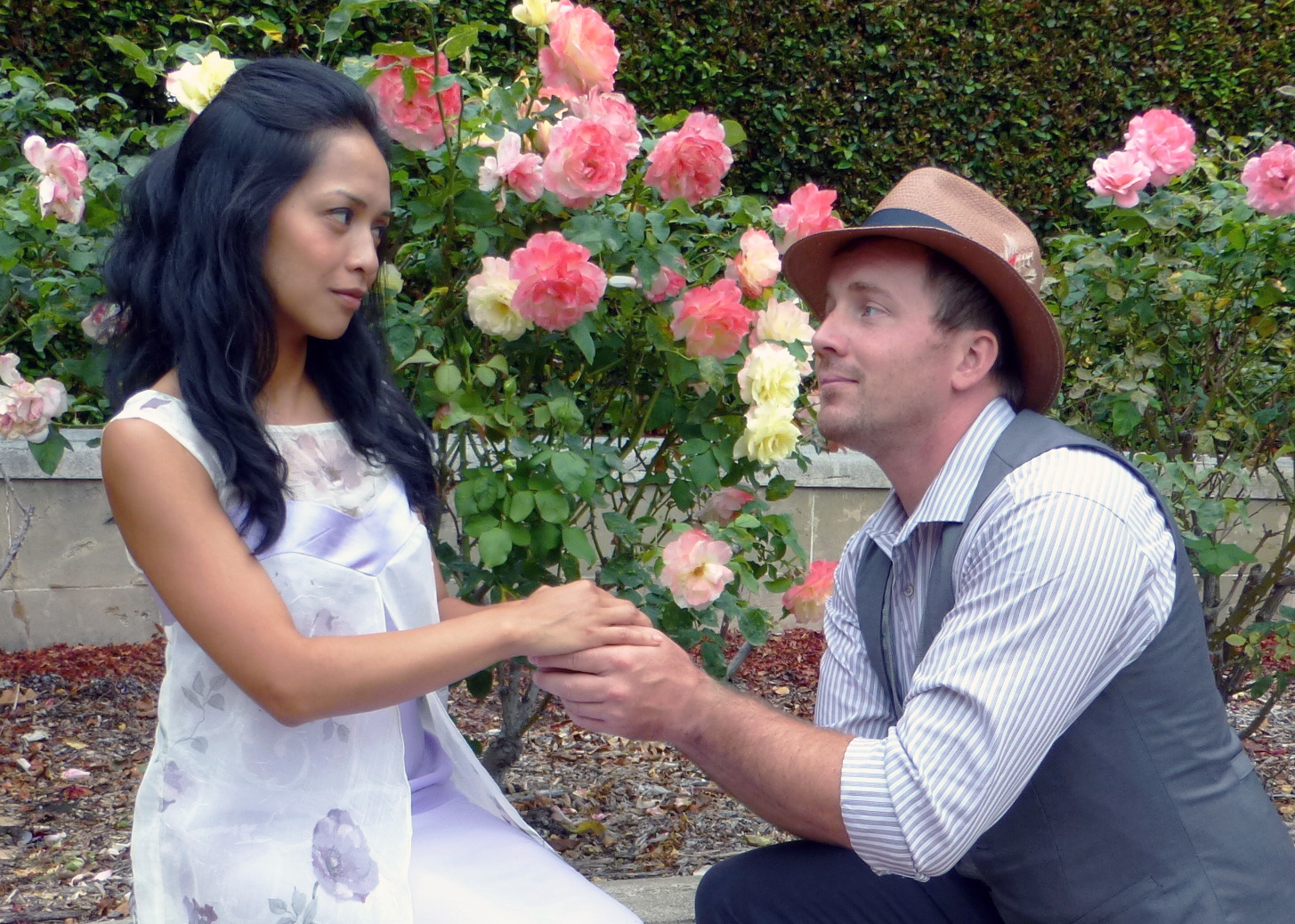 Amielynn Abellera and Brian Slaten play Lady Windermere and Lord Darlington respectively in UCLA's William Andrews Clark Memorial Library's modern retelling of Oscar Wilde's "Lady Windermere's Fan," as part of the new outdoor theater series.
As the day wears on, the gardens and lawns of UCLA's William Andrews Clark Memorial Library transform into an unorthodox yet intimate theater stage, where audiences picnic through a scandalous 19th-century birthday party set on the library's spacious grounds.
As part of the Clark Library's 2013 summer theater series "Arts on the Grounds," Chalk Repertory Theater, a Los Angeles-based theater group, and two other theater companies are performing works ranging from a contemporary dance rendition of Pär Lagerkvist's "The Dwarf" to a modern retelling of Oscar Wilde's play "Lady Windermere's Fan."
The series will continue in early September with "The Dwarf," performed by UC Irvine theater company Counter-Balance Theater.
Putting on its final show last night, Chalk Repertory adapted "Lady Windermere's Fan" to the Clark Library stage. Set in 19th-century London, "Lady Windermere's Fan" tells the story of the title character on the evening of her coming-of-age birthday party, where she discovers her husband's infidelity. The play then follows Lady Windermere as she attempts to uncover the truth behind her partner's deceit.
Teri Reeves, a Chalk Repertory member who plays the Duchess of Berwick, said because the Clark Library has one of the most comprehensive collections of works by Oscar Wilde, the cast of Chalk Repertory was able to study a surviving manuscript of the play and channel inspiration from the historic atmosphere of the library.
"Being in (the library's) space felt like we were connected to the history, more so than if we had done the play in a regular theater," Reeves said. "It felt like Oscar Wilde was right there and giving us a thumbs-up. The energy of all that history definitely contributed to our production," Reeves said.
In the past, the Clark Library has conducted academic readings and lectures of Oscar Wilde's work, but this is the library's first time featuring a performance on an Oscar Wilde classic, said Veronica Wilson, community liaison at the Clark Library.
Jennifer Chang, director of "Lady Windermere's Fan" and a founding member of Chalk Repertory,said Chalk Repertory tried to keep with Wilde's spirit by preserving the satire on Victorian ideals but also modernized the play to include technology from today's society, such as cell phones and tablets, in order to make the performance more relatable.
"One of the characters is a butler, and he brings an iPad up to the stage and checks things off and talks to the audience as part of 'getting things ready,'" Chang said. "We have people talking on phones instead of gathering together … it makes things more efficient and modern at the same time."

Chalk Repertory also uses an unorthodox approach to set design. Instead of moving sets around to create a different environment for the next act, the theater company moves the entire audience to a different section of the gardens to resume the play in front of a new backdrop, encouraging the audience to participate and make the performance their own.
In addition, Reeves said the performance at the Clark Library did not require extensive set design because the large grounds were ideal for a performance where the characters live lavish lifestyles.
"Oscar Wilde set the play in a rich person's home, so all we had to do was throw a couple of chairs down because behind us is this beautiful, rich library," Reeves said. "If we perform before the sun sets, we don't have to do a bunch of fancy lighting … The space just told us how we need to do things."
However, a major challenge in performing outdoors in an open-air environment was adapting to a venue with no acoustic assistance and dealing with occasional mishaps that are a part of live theater, including misplaced and malfunctioning props, Reeves said.
But when the audience catches the occasional blunder and plays along with the actors, the performance becomes more personal and turns into something memorable for audiences and performers alike, Reeves said.
"One of our cast member's shoes fell apart while he was on stage – the bottoms of his shoes just disintegrated for no reason," Reeves said. "It's live theater; it just has to keep going, but it's really something special to have the audience and the actors on the same page."
Due to lowered ticket prices and high publicity, turnout to all the performances so far has been high and the audience more representative of Los Angeles' diverse population, a change from the standard Clark Library audience, where members tend to be in academia and are usually older, Wilson said.

"One guy rode his bike all the way from the West Side and had his little box of snacks strapped to the side of his bike," Wilson said. "We've had college students come and people from far away come, and that's really keeping with one of UCLA's goals, which is to reach out to the community in greater Los Angeles."
Based on current statistics gathered from audiences, Wilson said the program will most likely continue next summer and aim to showcase works from all over the world and from different time periods.
"We want to get the word out that the library exists, that there's this hidden gem in the middle of Los Angeles that has these beautiful gardens and a fantastic collection of books," Wilson said. "We just want people to know that they can have fun learning in a fresh and new way."