Student performers shine in star-studded Spring Sing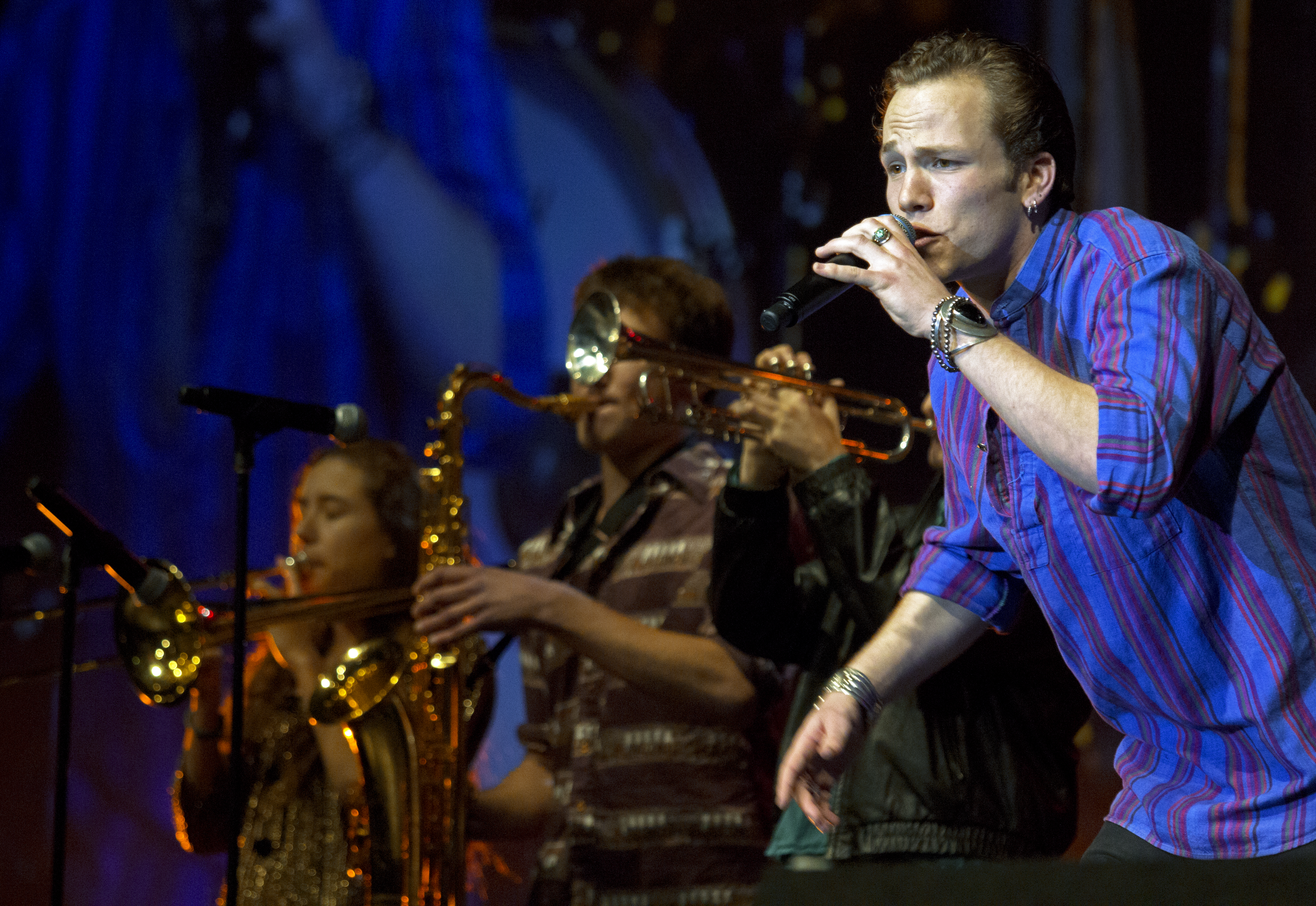 The band "Free Food" performs at Spring Sing.
This article was updated on May 18 at 12:49 p.m.
The annual singing competition took off with an electric reaction from the crowd as Paula Abdul from "American Idol," Chord Overstreet from "Glee," and Jensen Ackles of "Supernatural" took the stage to be announced as some of the several celebrity guests in this year's Spring Sing judging panel.
Widely considered among UCLA's oldest and greatest traditions, Spring Sing is a contest credited with being a launchpad for artists like Maroon 5 and Sara Bareilles. The event, which debuted in 1945, features several musical acts performed by soloists, duets, a capella groups and bands, in addition to comedy acts.
Jenny Song, a third-year anthropology student, said she was most excited about the judges for this year. She said she was especially surprised to see Ackles.
"'Supernatural' is one of my favorite shows," Song said. "I think my voice gave out from screaming so much when they announced who the judges were."
The event was divided into two acts separated by an intermission. Act I consisted of eight acts, while Act II was comprised of nine. In between each act was a skit performed by Company, a comedy group that has become a fixture of Spring Sing. One of Company's most well-received skits of the night, titled "NOW 1919," parodied "Now That's What I Call Music" infomercials by incorporating UCLA culture into hit songs.
In between the two acts, a standing ovation greeted dancer and rapper MC Hammer as he took the stage to receive the Gershwin Award for Lifetime Musical Achievement.
Among the winners this year, Bruin Harmony emerged as Best A Capella Group and Best Overall Entry of the competition. Its performance was a humorous rendition of singer R. Kelly's "Ignition" that became an instant crowd favorite, with catchy dance moves and strong vocals.
"I can't believe we won two awards in one night," said Ron Arbel, a third-year psychology student and beatboxer of Bruin Harmony. "We were not expecting this at all, this is at all."
Another winner of the event was Hooligan Theatre Company, which won the Best Production award with its musical-styled performance. Its act included clever lines, crystal-clear vocals and clean choreography that made use of the entire stage.
Two members of Hooligan Theatre Company, fourth-year communications student Coco Van Iwaarden and third-year American literature student Gina Salerno, said they were honored to perform in the prestigious campus tradition as upperclassmen.
"It's so surreal, we're both upperclassmen and have been to (Spring Sing as members of) the audience, but being on stage and seeing it that way is absolutely incredible," Salerno said.
Sara Summers and The Street Hearts also won competition awards. Summers, who performed a country-folk styled song as the sixth act of the night, won Best Solo/Duet Performance. The Street Hearts won the Audience Choice and Best Band Entry awards.
Though awards were limited, talent was abundant in this year's competition. Oliver Brown, a fourth-year ethnomusicology student and frontman of the band Free Food, said playing at Spring Sing has been a landmark experience for the group. Free Food is a band that combines jazz, reggae, hip-hop and rock into their sound to create punchy beats with a laid-back attitude.
"We enjoyed playing for (the celebrity judges) … but it's more about playing for the size of this audience … (it) feels like having a car battery attached to your nervous system," Brown said. "This experience definitely knocks our record out."
While everyone was excited about the guest judges, students were mostly impressed with the caliber of performances on stage.
"I was impressed by all the student talent UCLA has," said Sebastian Karl, a graduate student in history. "I can only recommend those who haven't gone to go for a great experience."