UCLA women's hoops takes on Arizona in Pac-12 Tourney, fights for NCAA berth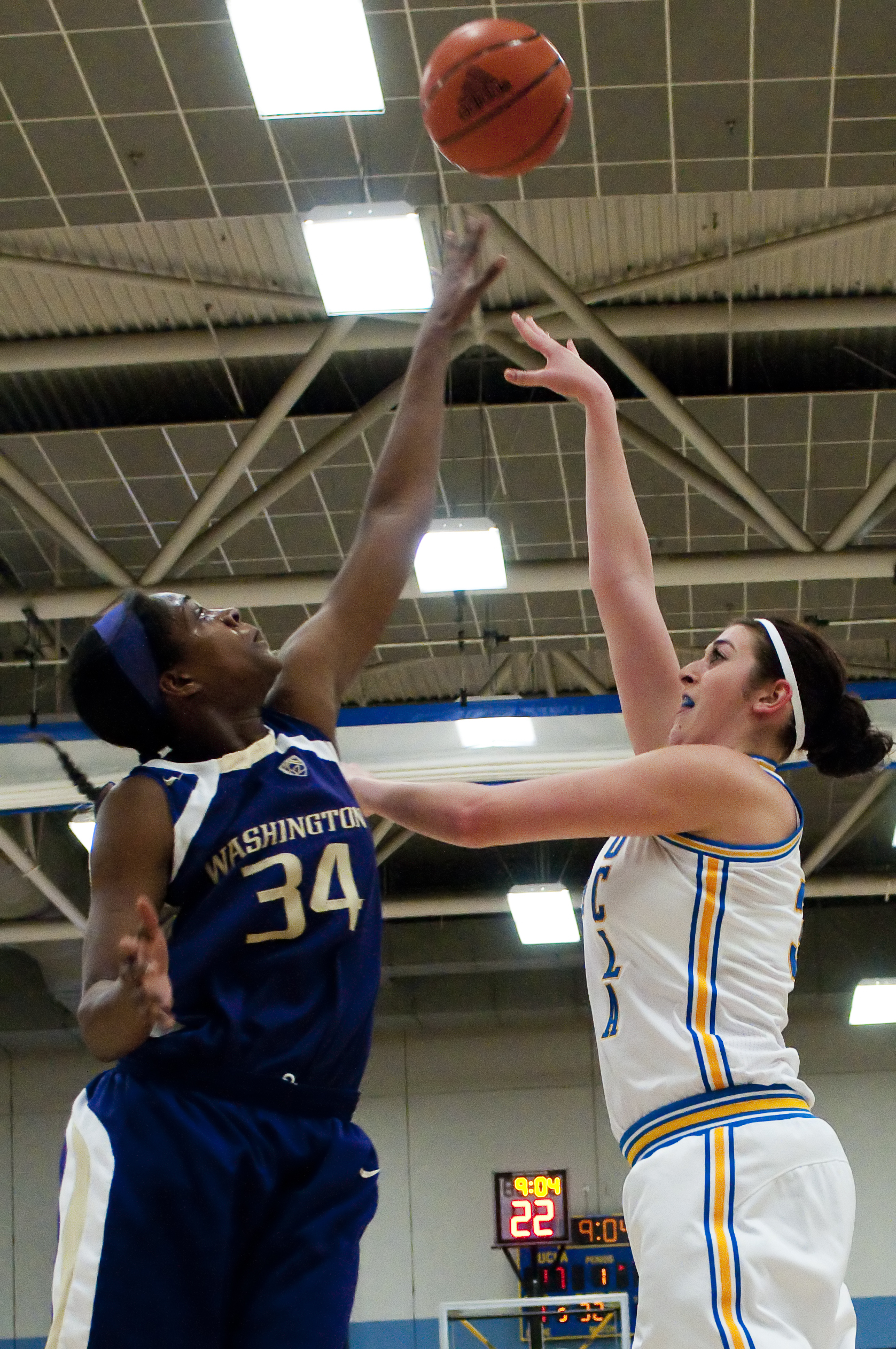 Sophomore forward Corinne Costa and UCLA open Pac-12 Tournament play against Arizona today at USC's Galen Center.
ARIZONA
Today, 2:15 p.m.
Galen Center
No TV info
Info: UCLA and Arizona face off in the first round of the Pac-12 Tournament.
Today at 2:15 p.m., the opening bell will sound on what the UCLA women's basketball team hopes is a 10-round fight.
The first four rounds, that's the Pac-12 Tournament.
If the Bruins (14-15, 9-9 Pac-12) survive those four rounds, they will make the NCAA Tournament. That is step one, and UCLA's first goal. Anything beyond that, UCLA will take as it comes.
Of course, that relies on the Bruins avoiding an early round knockout "" the one thing UCLA cannot afford in its quest for a tournament berth.
The first punch will come from a team even more desperate than UCLA: Arizona (14-16, 3-15). But the Bruins won't be caught flat-footed; they know the stakes.
"It's either we make a great run together, or it's done," coach Cori Close said. "So let's circle the wagons, so to speak, bandage everyone up, and let's go to war."
The Bruins and the Wildcats have already tangled twice this season, splitting the series 1-1. UCLA won the most recent matchup, a 72-58 affair in the John Wooden Center a little more than a week ago.
On Tuesday, the Pac-12 announced the 2011-2012 women's basketball honors, and for UCLA, there were no surprises. Junior forward and guard Markel Walker and senior guard Rebekah Gardner were named to the All-Pac-12 team, and sophomore guard Thea Lemberger was an honorable mention.
The Bruins know what to expect from those players, and so does everyone else "" that's why they were honored Tuesday.
Teams will see them coming at the Pac-12 Tournament and will work to stop them.
If the Bruins want to win, they will have to find something new when their plays don't work, when those three receive all the attention.
The difference-maker?
Look to sophomore forward Corinne Costa. She hasn't been the team's best player, its strongest defender or an unstoppable presence down low. But come crunch time, there could be a new force for the Bruins.
"She's been our most dependable post player, and she's had to step up in order to fulfill that role. I just wish she believed how good she can be," Close said.
"I think she's been getting glimpses, and that's why she's been stepping up. But if she could ever lock in to all the skills she has in her repertoire, she could really put us 10 points better a game."
Her teammates are starting to notice, too.
After not getting much time last year, she has received the bulk of the minutes at center and has matured well into the role, with, as Close said, much room to grow.
"Corinne has been great. She started off the season kind of slow, and that's definitely expected because last year she basically didn't play," Gardner said.
"I think she stepped up and has been great for us. … I think Corinne has done a great job, and we're definitely going to need her during the Pac-12 Tournament."
Of course, Costa isn't the only young gun on this team.
After losing many of the players from last year's team, as well as senior Jasmine Dixon to injury, UCLA has had to play and develop many new players. This will be the first postseason experience for most of the team, the first do-or-die situation.
But they aren't backing down. They don't have that choice, or UCLA might catch one on the chin and find itself getting the 10-count on the mat, the fight over early. Instead, the team wants to attack.
"Everyone's pretty confident. We're ready to get out there and get some wins," Costa said.
"We keep saying win or go home, and it definitely puts a fire under our feet. … We all want to prove ourselves "" I know I want to prove myself, so it's pretty exciting."