Artscapes: Musso & Frank Grill in Hollywood lures LA natives, celebrities with classic ambience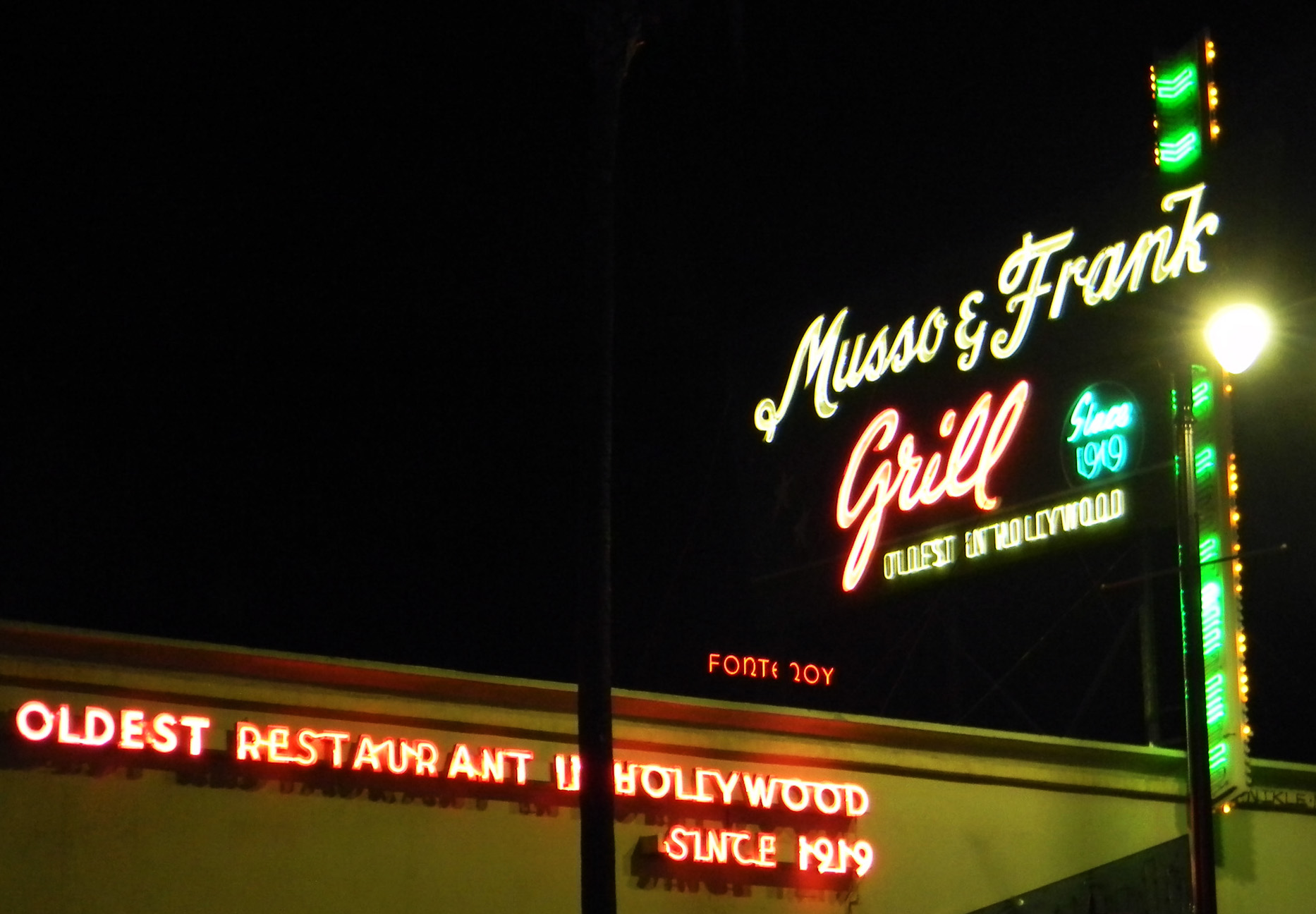 Musso & Frank Grill, which opened in 1919, is the oldest restaurant in Hollywood. Charlie Chaplin, Humphrey Bogart and Marilyn Monroe were among some of its popular celebrity diners.
BEFORE YOU GO
Musso & Frank Grill
Hours: Tues. "" Sat. 11 a.m. "" 11 p.m.
Parking: Flat rates vary by lot, $15 on weekend evenings
Martinis: $9.50
Compiled by Lauren Roberts, A&E senior staff
When I began writing "Artscapes" in September, it was a personal challenge to see at least one Los Angeles landmark a week.
I am now happy to report that I have been well beyond the shelter of Westwood.
So for my last trip, I decided it was only right to toast to the end in the same place that I began my journey "" Hollywood.
Musso & Frank Grill has held a special spot on my bucket list since I began exploring the city. Not only is the restaurant the oldest in Hollywood, it also shares its birthday with that of UCLA "" both opened their doors in 1919.
The restaurant is a snapshot of Old Hollywood. The well-worn mahogany bar, scarlet leather seats and aged wallpaper echo an earlier era and have seen more than their fair share of famous folks pass through the doors.
It's where Charlie Chaplin dined with such early film stars as Mary Pickford and Rudolph Valentino in the leftmost corner booth still referred to as Chaplin's; two booths over was Marilyn Monroe's favored seat. The restaurant's impressive celebrity guest roster includes everyone from Humphrey Bogart and Lauren Bacall to Keith Richards.
Musso & Frank's exclusive "back room," added in 1934, is where F. Scott Fitzgerald is said to have edited his work and where William Faulkner was so familiar with the bartenders, he purportedly mixed his own mint juleps from behind the bar. And while the restaurant's back room closed in 1955, the original bar is still intact and used today in what is now referred to as the "new room."
The serving staff "" composed entirely of warm-hearted men dressed in dapper red tuxedo jackets "" will attest to the restaurant's storied history with a twinkle in their eye. They will also gladly dispense their opinions, whether it be their preference on the UCLA and USC rivalry, or their most memorable guests "" Johnny Depp is a favorite former visitor.
It is not all about the ambiance though. I arrived with a mission. GQ Magazine, LA Weekly and hosts of Los Angeles travel bloggers have appointed Musso & Frank's as the home to Los Angeles' "" some even argue the nation's "" best martini. And ever since I began crossing off my bucket list, I'd been wanting to get a taste of the famous Hollywood drink of choice.
And so I rallied a group "" each of us ordered a different martini variety to get the best grip on the legend, and sampled between four "" classic gin, vodka, the Cosmopolitan and the Manhattan. They are more potent than they appear. But there is something about sipping from the nonsensically shaped glass, pinky up, that feels undeniably cool "" especially when you can imagine sharing the bar with the likes of John Steinbeck and T.S. Eliot.
The drinks are surprisingly reasonable in price for a restaurant located in the heart of Hollywood's Walk of Fame. While the dinner menu is on the pricier side, drinks and desserts can easily fit a college student budget.
And with its charming character and plentiful nostalgia, Musso & Frank's is a spot that Los Angeles natives and starry-eyed Hollywood tourists alike can appreciate.
Before I go, I want to say thank you to everyone that has read my column and also to those friends I have forced to join me, even when they should have been studying. It has been more exciting than I ever anticipated, with thorough lessons in Los Angeles driving, parking, roundabout navigation of one-way streets, brushes with Skid Row and the occasional moments of true need for a phone enabled with GPS capabilities.
But if I, the miserable parallel parker and marginal navigator that I am, can conquer the Los Angeles jungle, I am confident any student can. I hope you'll join me in making the occasional escape from Westwood.
Email Roberts at [email protected] if you're interested in taking a closer look at Los Angeles' history. She may have graduated, but she's still an avid adventurer.