UCLA women's basketball travels to play Washington State in final regular season games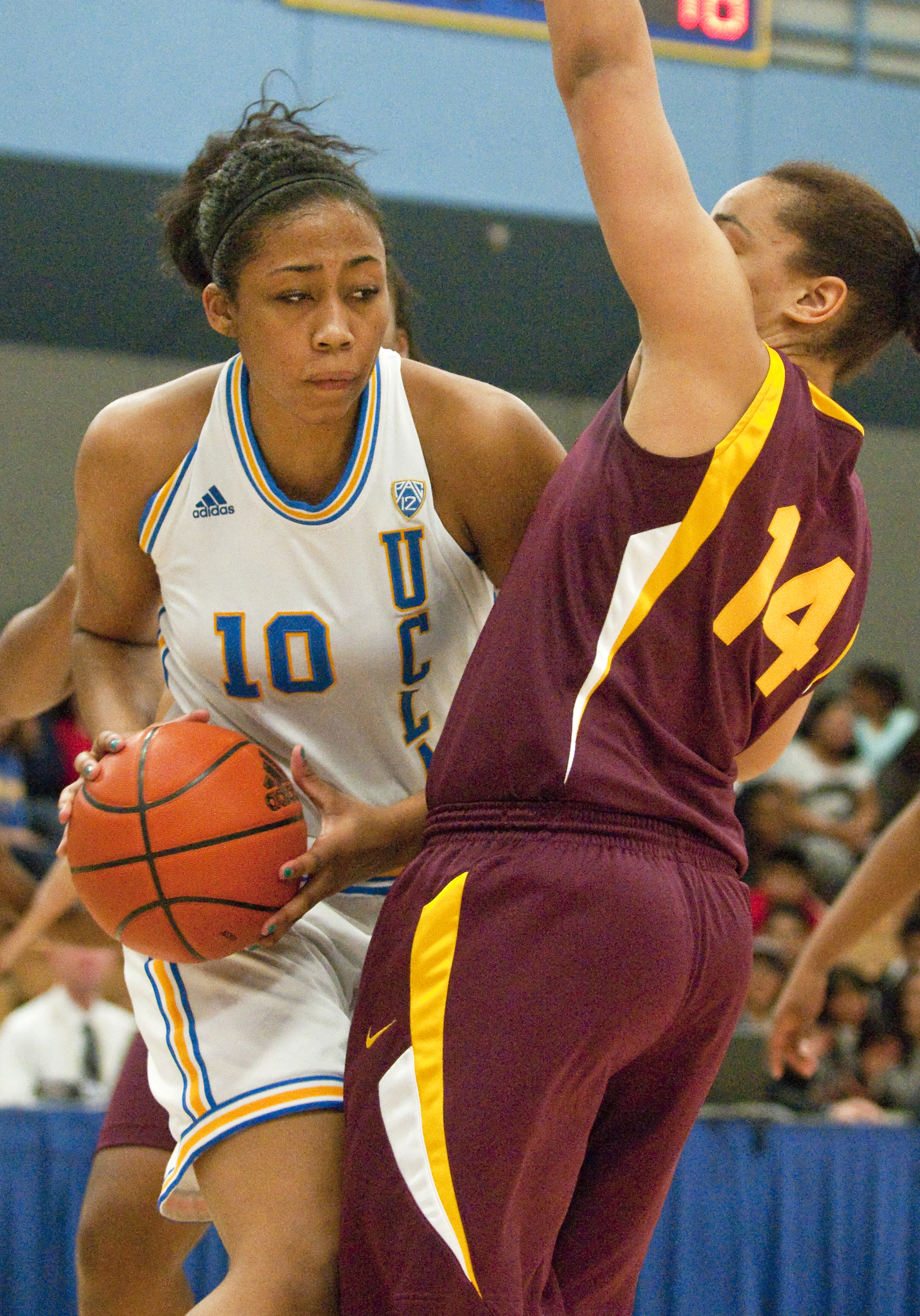 Freshman forward Kacy Swain and the women's basketball team face the Washington State Cougars (10-18, 4-12) tonight in Pullman, Wash.
Women's Basketball
Washington State
Today, 7:00 p.m.
Pullman, Wash.
No TV info

---
Info:
UCLA
will play Washington State tonight in the team's final regular season road trip.
These were the words from coach Cori Close to the UCLA women's basketball team after practice on Wednesday.
"We have to have a championship mentality. It's one and done."
With two games left on the regular season slate, and chances of an NCAA tournament berth for the Bruins (14-13, 9-7 Pac-12) being slim to none at this point, Close's words ring true "" if the Bruins lose any game between now and the final round of the Pac-12 tournament, they are likely out of the Big Dance.
Today, UCLA will take on Washington State (10-18, 4-12) in Pullman, Wash. This is game three of what Close has called a critical stretch as the Bruins close out the regular season and determine seeding for the Pac-12 tournament.
The Bruins beat both Arizona and Arizona State last weekend, bringing them two steps closer to a No. 4-seed and an all-critical bye week in the conference tourney.
"This is our pre-NCAA tournament. Four games," Close said. "You have to win four games to go to a Final Four. This is step one, learning how to put together four serious games. … We have to have an urgency about this trip. We've got to treat it like the NCAA tournament. If you want to learn to be a great NCAA tournament team, you've got to treat it as such. And this is our dress rehearsal."
Washington State is a team UCLA already played and beat this season, albeit a home game for the Bruins. The final score was 73-52, a blowout win. This will not be the same game, however: It's on the road, in a hostile environment, and Washington State will certainly be looking to play spoiler.
Close wants her players to recognize that.
"The team has been telling me it gives them confidence. For me, it makes me a total worry-wart," Close said. "I think sometimes it creates fear in a coach's mind. The players have told me that for them, it gives a sense of confidence. That they can go in and do what they think they can do, then they have a chance to win. You know, I hope they're right."
To no surprise, the formula for a win today is pretty similar to what coaches and players have been saying all season long. This team still has the same strengths and weaknesses, and for UCLA, it will come down to the same key elements as always.
"Basically, just rebound, play together, talk, and just play how we know how to play," said freshman forward Kacy Swain.
As much as the team is focused on beating Washington State, today's game fits into the bigger context of this team's goals "" for games in Pullman, Seattle and the conference tournament not to be meaningless.
The team is not out of the race for a tournament berth, which is surprising and a bit impressive considering the adversity this team has faced in terms of injuries thus far. The team's mindset, through all that, has remained strong.
"We're very confident," junior forward Markel Walker said. "We know we control our own destiny, so it's on us to go out and prove ourselves. … Each game is serious, and we've got to take it seriously."
And should the team make the tournament, the Bruins aren't planning on looking like a lost flock of sheep. This team has been through a lot, good and bad, and the leadership has remained steady. Even the team's freshmen are ready.
"If we can get through all that adversity that we got throughout the whole year, I don't see anything that can really stop us getting as far as we want to," Swain said.