Artscapes: Walt Disney Concert Hall enchants with sleek design and clear acoustics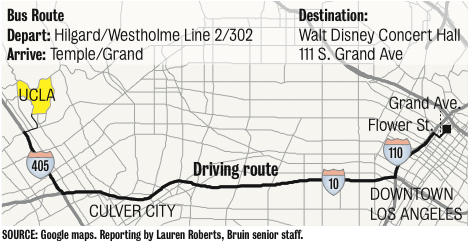 BEFORE YOU GO
The Walt Disney Concert Hall
Admission: Varies by concert and seating
Student discounts: $10 and $20 tickets are available for students with valid ID two hours prior to select LA Philharmonic concerts
Tours: Free, self-guided tours 10 a.m. "" 2 p.m. on non-matinee performance days, guided tours vary by performance schedules
Parking: Flat rates vary by day and lot, $5-10 or hourly
No Photography
Compiled by Lauren Roberts, A&E senior staff
The rippling silver structure that sits atop Grand Avenue in Downtown Los Angeles is a sight impossible to ignore. The Walt Disney Concert Hall quite literally shines.
In the midst of the city's tallest skyscrapers, the hall's undulating plates of reflective stainless steel vividly contrast the urban landscape with what is easily the city's most distinctive piece of architecture.
The swooping design required more than 30,000 architectural drawings to complete and is comprised of 12,500 pieces of steel held together by 300 tons of bolts and welds.
And while the distinguished venue only opened its doors to the public in 2003, the project first began in 1987 with an initial $50 million donation from Walt Disney's widow, Lillian Disney, for a concert hall built in her husband's memory.
The sleek structure is widely regarded as the crowning achievement of internationally acclaimed architect Frank Gehry, winner of the architectural world's equivalent to the Pulitzer Prize, the Pritzker.
Gehry called his futuristic design "a rose for the city." It's a thought also echoed in a mosaic rose memorial fountain designed by Gehry later dedicated to Lillian herself in the theater courtyard called "A Rose for Lilly."
The 2,265 seat venue is home to both the Los Angeles Philharmonic orchestra and the Los Angeles Master Chorale, but serves as a theater for all musical purposes, as I discovered in a recent trip to a Ryan Adams concert.
I was skeptical at the prospect of rock "˜n' roll in an orchestra space, but my doubt lasted only seconds into the first song.
The Walt Disney Concert Hall was built for acoustic precision "" musical notes are magnified and the strum of a single chord is remarkably clear.
Elements of the building's exterior are translated into the theater's interior, as music travels across the rippled wood inside, creating a sound as beautiful as the building's design. Even from my seats behind stage, I felt as though I was sitting on stage.
Though special event concert ticket prices vary, students are eligible to purchase extra tickets priced at $10 and $20 up to two hours before select Los Angeles Philharmonic concerts.
And even for those who may miss out on tickets, the hall's accessible downtown location is in easy walking distance from other historical Downtown Los Angeles landmarks and, even more importantly, delicious food.
I parked a couple blocks away, near Bradbury Building, the downtown architectural wonder, as well as the Central Market, which is home to about every ethnic food variety in the city of Los Angeles. The market has been around since 1917 and is also home to the most filling two-for-$5 carne asada tacos in the city. Take my word for it.
Downtown's Walt Disney Concert Hall is well worth a visit "" even if only to marvel at the architecture while en route to lunch or other downtown excursions.
Email Roberts at
[email protected] if you're looking to be awestruck by Los Angeles. "Artscapes" runs every Wednesday.