Coffee corners: A quick rundown on some of the coffee shops at UCLA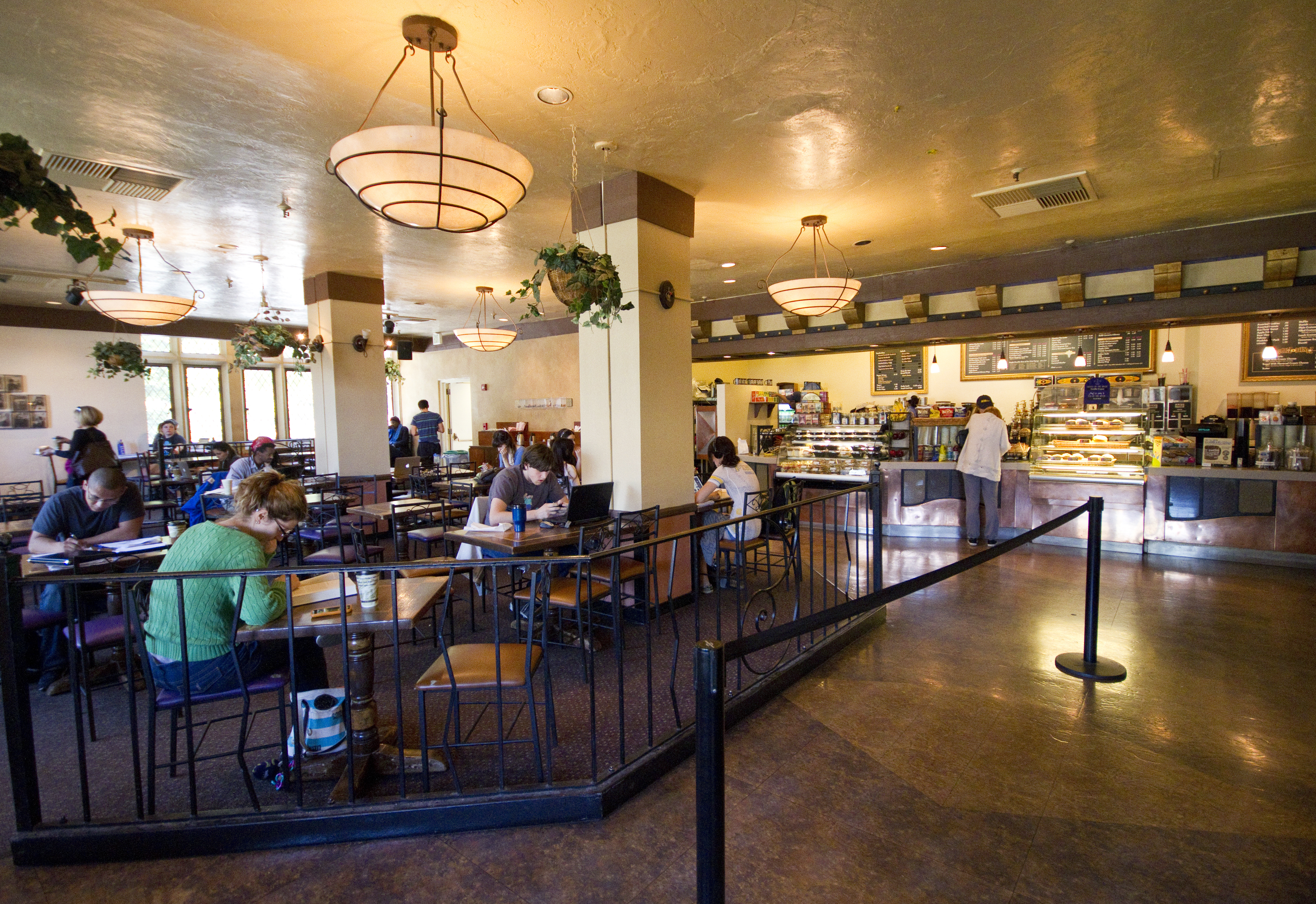 Kerckhoff Coffee House offers students a place to study, chat and relax — all over a cup of coffee.
February 22, 2012 12:33 am
When it comes to cramming for midterms, studying for finals and even pumping out those 10-page papers the night before they're due, coffee can be a college student's best friend. Although most of the coffee shops on campus offer a rather similar array of drinks and pastries at the same prices, each has its own quirks and characteristics that contribute to the overall atmosphere of the shop. Here is a quick rundown of what some of UCLA's campus coffee stops have to offer.
Kerckhoff Coffeehouse
Located in the center of campus, Kerckhoff Coffeehouse is one of the most traditional and standard coffeehouses on campus. A rustic piano sits in one corner of the shop, and music ranging from oldies to indie hits echoes in the background while students tackle their daily workloads or chat with friends.
Café Synapse
Located in South Campus' Gonda Center, Café Synapse typically caters to researchers, doctors and graduate students. The sleek mix of light and dark wood paneling, modern decor and light fixtures designed to imitate the synapses of the brain contribute to the cafe's upscale vibe. It is perhaps UCLA's best food spot, next to the dining halls: There's no cafeteria muck to be found here. The menu, which includes gourmet pizzas and salads, commands a slightly larger price tag. However, the shop's generally quiet atmosphere makes it a semi-secret study spot for students who need a change of scenery.
Untitled Café
The UCLA hipster mecca is located on the second floor of the Broad Art Center. Ironically known on campus by its lack of a name, Untitled Café feels more like an urban art studio than a college coffeehouse. Concrete floors, white walls and the lack of ornaments (aside from avant-garde art installations) create a refined aesthetic. Food is available in addition to the standard coffee drinks, with options such as roasted eggplant pita and vegan wraps. The cafe does not have electrical outlets though, so hours-long laptop binges are not very plausible. There is, however, an outside patio that looks out at the greenery of North Campus foliage, for those who are more excited by nature than by the Internet.
SEAS Café
SEAS Café is tucked behind an engineering study lounge on the fifth floor of Boelter Hall, relocating from across the hall. Boasting cheap prices and a variety of bagged snacks and bottled beverages, this student-run coffee shop stretches alongside a breezeway overlooking a South Campus courtyard. While the location has changed, the affordability has not. Its "Daily Low Tech" drip coffee is $0.75, and its cappuccinos are $1. It is, however, cash only. Natural light floods the hulking glass windows, creating an atmosphere akin to a museum cafe. And Wi-Fi access and the absence of music makes SEAS a South Campus study haven.
Northern Lights
Located just north of Rolfe Hall and south of the Young Research Library, Northern Lights is a lighthearted and spacious spot for both eating and studying for students. In addition to a full coffee and tea menu, Northern Lights is located next to the North Campus Student Center, which serves pizzas, burgers and tacos and also has a salad bar. A blazing brick fireplace is the crowning centerpiece of the study lounge, and there is abundant seating both outside and inside. Rarely will a student stumbling into Northern Lights for a bite to eat or a quick conversation with a friend be left without an open table.