UCLA baseball stumbles in opening weekend against Maryland, dropping two of three games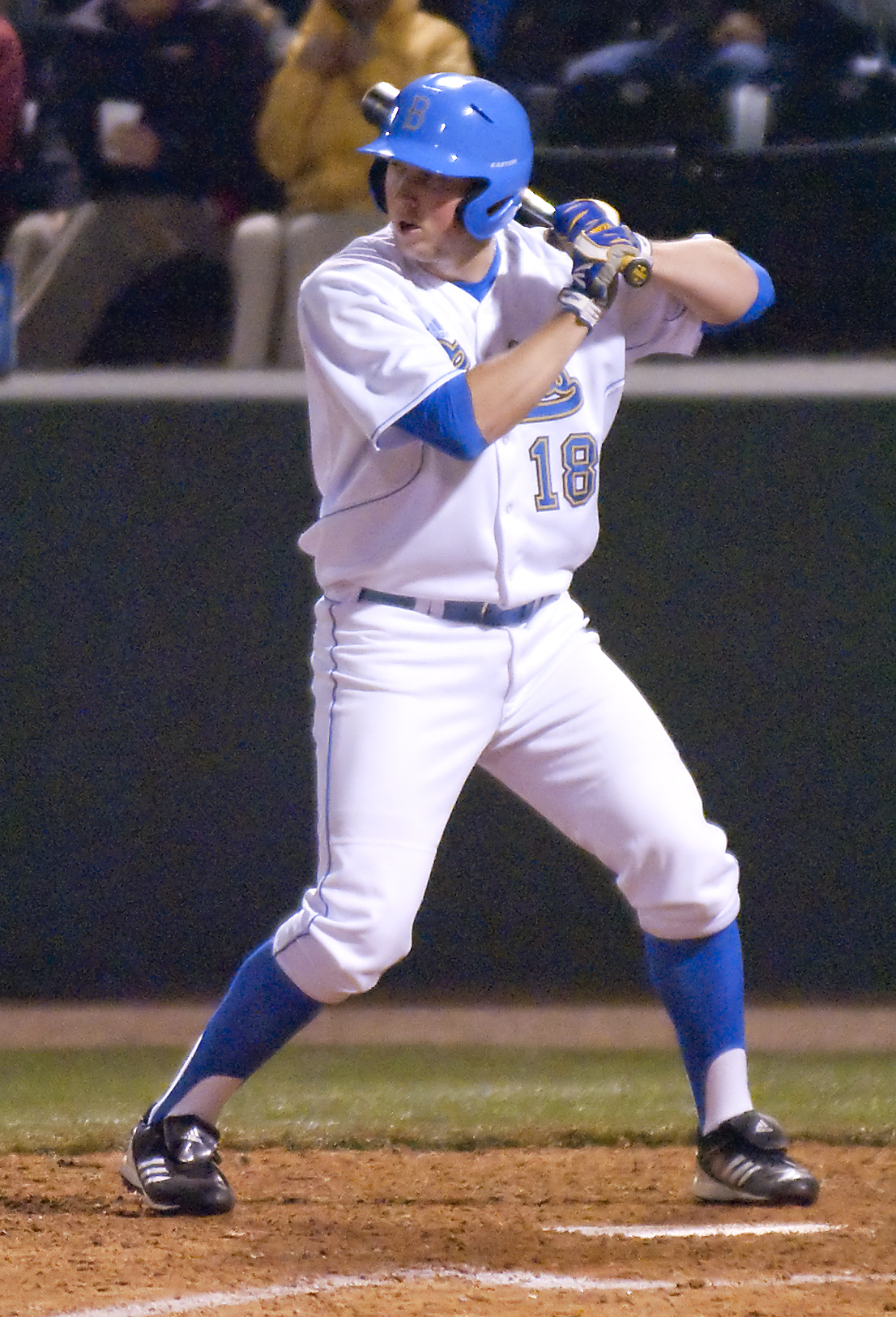 Junior infielder Cody Regis and UCLA went 1-2 in their home opener weekend series against Maryland. The Bruins defeated the Terrapins on Saturday but lost on both Friday and Sunday.
Baseball
Maryland 2
UCLA 1
UCLA 6
Maryland 5
Maryland 5
UCLA 1
The grass is cut, the lights are on, the lines have been chalked; the grill is open and seats are being filled.
The doors are open at Jackie Robinson Stadium, home of the No. 14 UCLA baseball team, and the 2012 season has begun in earnest.
On opening weekend, UCLA hosted Maryland, but despite their top-25 ranking and talented, experienced roster, the Bruins dropped two games out of three to the Terrapins. After blowing a late lead to drop the opener on Friday, the Bruins rebounded and took the Saturday game before losing the rubber match on Sunday.
"It's a little wake up call for us, we lost two of three to a team we shouldn't have lost two of three to," sophomore starting pitcher Zack Weiss said. "I think we're a lot more talented than we showed, and I think we'll come out and compete better. We've got a game Tuesday, and that's the good thing about baseball, you can come back out and do it again the next day."
The results were less than the Bruins wanted, and though coach John Savage isn't worried yet, he'll be looking for quick improvement from his veteran ball club.
"It feels good to get going, see where guys are. We clearly weren't very good this weekend," Savage said. "We've got a lot of work to do, that's pretty clear. It's off three games, it's early, we get that part. But it showed that we have a lot of work to do. … You play to win, there's no question about that."
At various points, the Bruins struggled in every aspect of the game. The bats were quiet for most of the series, particularly with runners on base "" UCLA stranded a total of 29 baserunners over the weekend, and scored a total of eight runs in the three games.
Though the team has not been known for its offensive explosiveness in recent seasons, this team is full of hitters who were on the College World Series team of 2010 and last year's regional host team.
"We've got experience, that's what I told our guys," Savage said after Sunday's loss. "We need to be better in those situations. We're not talking about (Kevin) Kramer and (Chris) Keck and (Eric) Filia-Snyder (all freshmen), we're talking about the older guys. The guys that have seen a lot of guys coming out the bullpen. We need to show our maturity."
One of the question marks this season will be the bullpen, a group composed of mostly freshmen and sophomores. During opening weekend, the young group held up well outside of a few hiccups. Junior closer Scott Griggs took the loss after blowing a 1-0 lead on Friday, but rebounded nicely to pick up the save on Saturday in a 1-2-3 ninth inning.
"They're young, yeah," junior third basemen Cody Regis said. "But they all know how to pitch, they know what they're doing, and I think they showed it this weekend."
Alternatively, one of the strengths on this squad is supposed to be its defense; in key moments against Maryland, the defense appeared shaky, particularly on Sunday, when three errors accounted for all three runs against starter and eventual losing pitcher Weiss.
The Bruins aren't overly concerned about those early miscues, and generally believe the defensive talent will win out.
"We had some guys make some serious plays this weekend," Weiss said. "Defense is a strong suit of ours… I think we'll be alright. We made some chaos mistakes this weekend, but we'll be out here tomorrow morning and get after it, and we'll be good."
The Bruins hit the road this Tuesday, playing at Cal State Northridge at 2 p.m. Freshman pitcher Grant Watson will get the start for UCLA.