Women's basketball to face Cal road game much improved after slow start to season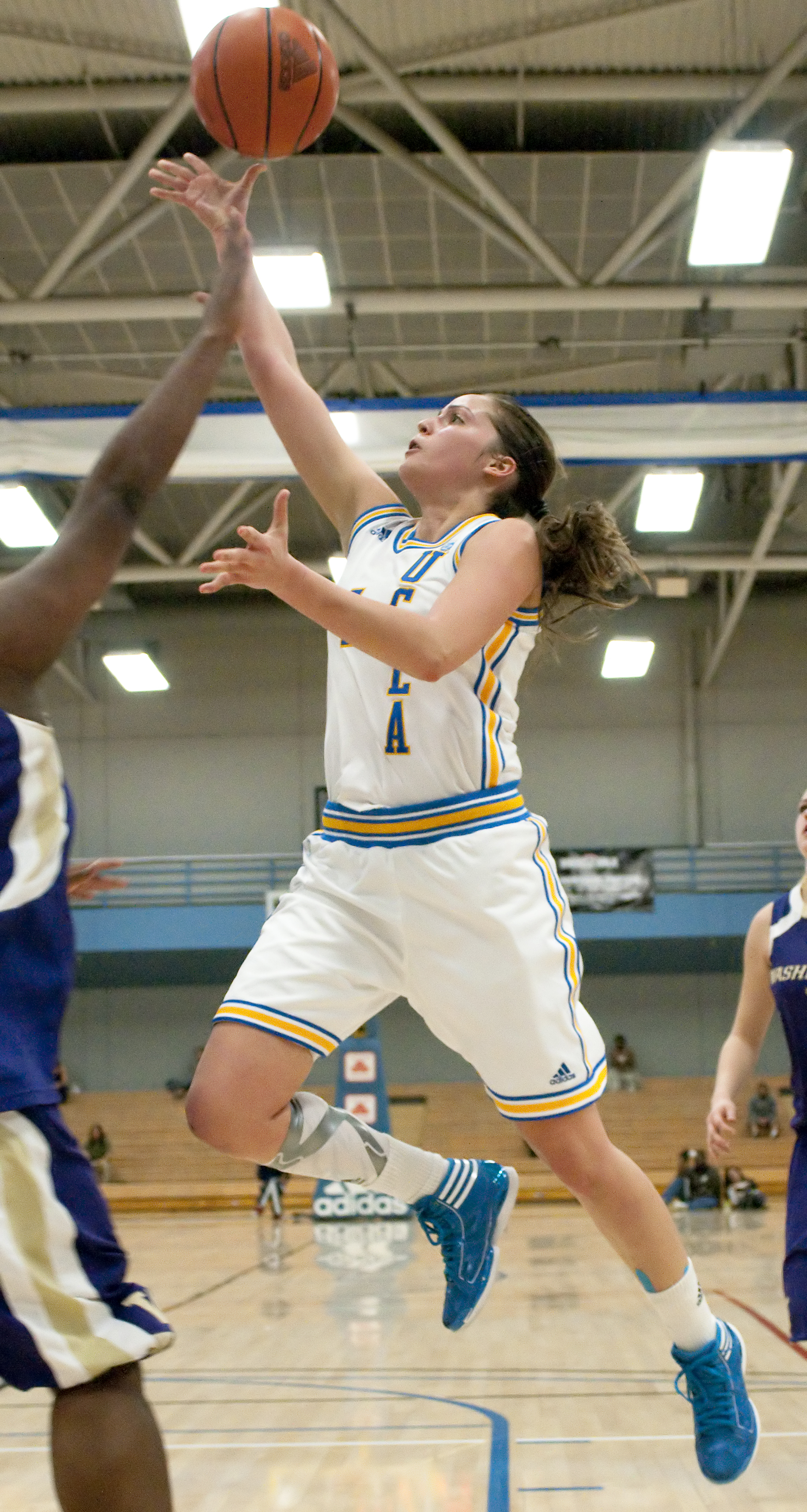 Sophomore guard Thea Lemberger, who averages 12.5 points per game, looks to lead UCLA to a win over Cal tonight.
Women's Basketball
Cal
Today, 7 p.m.
Berkeley
GameTracker

---
Info:
UCLA
looks to extend its six-game winning streak against Cal.
The UCLA women's basketball team (12-10, 7-4 Pac-12) will head north to the Bay Area to take on Cal (17-6, 8-3 Pac-12) tonight.
Two weeks ago, this game didn't seem all that significant; this game wasn't going to shape the standings in the Pac-12. Today, UCLA sits in third place, Cal in second. If UCLA wins, it will move into a tie for second.
"We are really excited right now and confident in how we're playing "" feeling good going on the road trip," sophomore guard Thea Lemberger said.
That's a far cry from where this team was at the end of December, after suffering through a rash of defeats and a lengthy injury list.
At that point, the talk was of simply improving, playing with toughness and desire.
Now, coach Cori Close is getting an opportunity to work strategy and technique.
Thinking her team has arrived, however, would be dangerous. Close knows it's still a team that has struggled through injuries and features a roster of young, inexperienced players.
"On the one hand, I hope they realize it's a lot more fun to win than to lose," Close said. "At the same time, that's a by-product of other things. As soon as you lose sight of that, you don't perform. … So no, our message does not change at all. The same exact things I've been saying since September I'm saying now."
Nobody thought this team would be where it is right now, yet here it is.
If nothing else, that's a testament to the strength of leadership on this team, both from coaches and players.
And with the current trajectory of this team, the NCAA Tournament has become a realistic conversation topic.
A win at Cal would be huge in that regard and would begin to set this team up for a run in the Pac-12 Tournament.
Of course, a loss would leave the Bruins back in the middle of the standings, fighting for elbow room with the rest of the Pac-12. Such is the nature of the conference.
But the Bruins are excited to have a chance.
"We were picked fourth going into the season, and then we had all the injuries," Close said. "I'm thrilled to have the opportunity. I'm thrilled to be able to go up there and play a team we've already beaten."
How, then, to beat Cal again?
In the first meeting, UCLA allowed 40 points in the paint and 30 offensive rebounds, hardly confidence-inspiring numbers.
Close has focused on defense and rebounding all season because they have been this team's weaknesses.
But they are also the two most improved aspects of this team, as seen in recent games.
And recalling the last matchup has provided this team a little extra spark, particularly for the post players.
"Yes, it does. We've been working a lot on rebounding, boxing out. … It definitely makes you want to work harder, especially since it's my position," sophomore forward Corinne Costa said. "But you've just got to force them out of the paint "" don't let them anywhere near the bucket."
That last bit is the biggest difference from two weeks ago until now: A team that got trounced on its home court by Oregon have found some fight.
"We know they're going to be hungry, we know we're going to have a target on our back, and we're going to have to rise up anyway," Close said.