Lapu, the Coyote that Cares Theatre Company to piece together fall show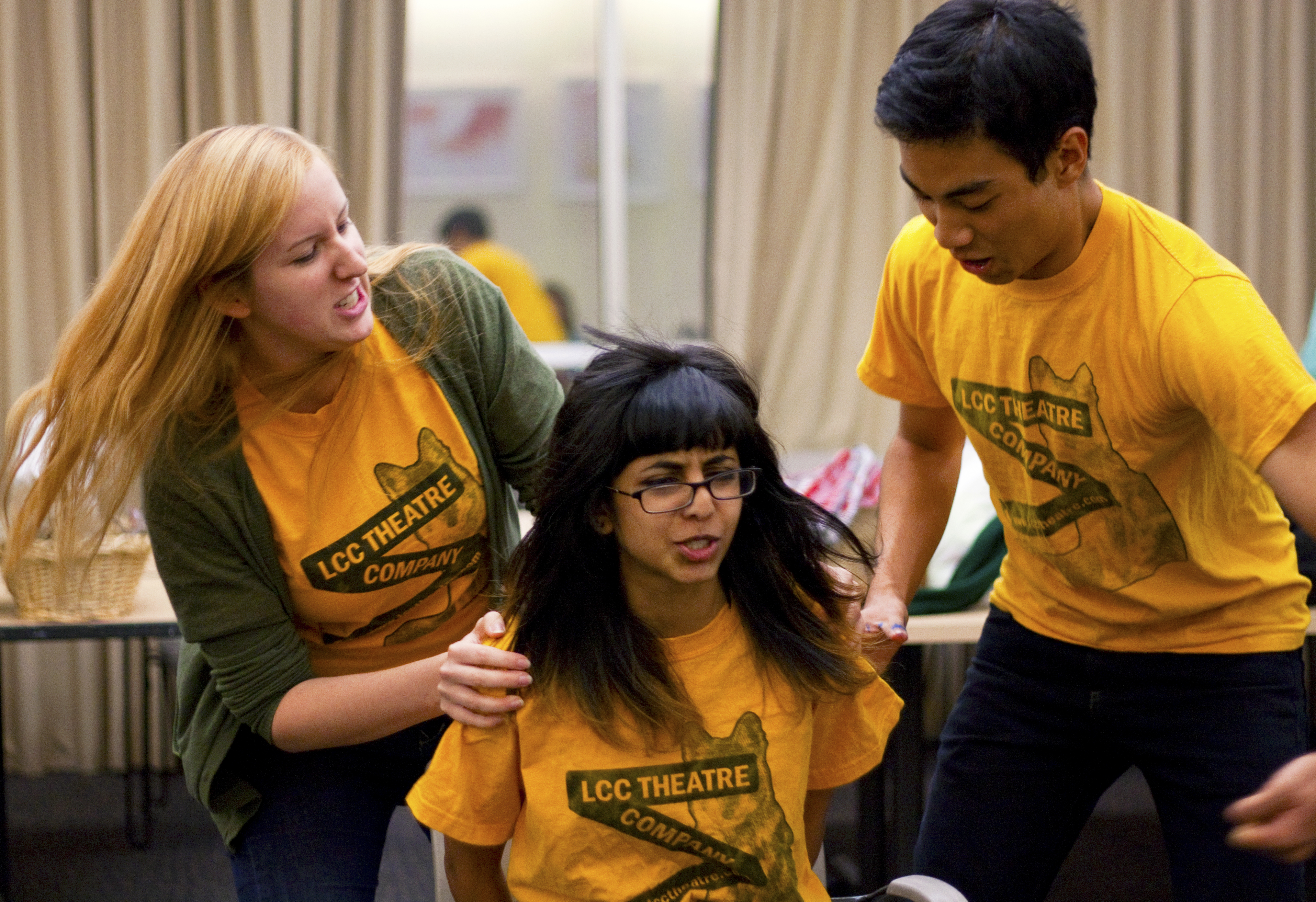 Fourth-year global studies student Amy Lettau, second-year art history student Linda Fernandes and third-year psychobiology student John Le participate in an improv skit called "Interrogation" for LLC Theatre Company.
When UCLA alumni David Lee, Derek Mateo and Randall Park were students in 1995, they participated in the summer UniCamp program.
At camp, they decided that they wanted to create a theater company, so they combined the nicknames they had that summer, Lapu, Coyote and Karamu, to create Lapu, the Coyote that Cares (LCC) Theatre Company.
The group is a UCLA-based student theater group that currently consists of 13 cast members. According to fourth-year global studies student and LCC member Amy Lettau, it provides students with an avenue to write, act and demonstrate performance with different forms of multimedia.
Tonight, LCC will put on "Pieced Together," a performance which will feature improvisational comedy skits and two student-written scripts, "Blocked," written by third-year international development studies student Rachelle Wong, and "Behind the Scenes," written by Lettau.
Lettau, who is also the director of "Behind the Scenes," said that inspiration for the script came from her personal experiences as a college student. The play focuses on a group of theater students and the lives they lead when they are not acting on stage.
"The whole concept about "˜Behind the Scenes' is you're getting the inside scoop of these theater students and you see the process of … what kind of things they go through emotionally … and the growing process theater and other creative processes can be," Lettau said.
According to Lettau, "Behind the Scenes" is a way for students to see their own age group featured within the arts.
"A lot of times, when we go see the movies and on TV, we see this older age group or lifestyle that doesn't really reflect us, so I really wanted to write a script that dealt with things we actually go through as late teens," Lettau said.
While "Behind the Scenes" revolves around the life of theater students, "Blocked" is a play about a successful author named Rose who is trying to figure out her life.
"Blocked" is styled as a takeoff of Charles Dickens' "A Christmas Carol," except that in place of the ghosts of Christmas past, present and future are human Tetris pieces that try to help Rose "piece" her life together.
"(Rose) is one successful author who has a traumatic moment in her life and after that, she spirals out of control. It's a story about how weird things happen to her one night, and it makes her reflect on the past and learn how to deal with the past and ultimately move on," said Val Chepurny, a third-year English student and producer at LCC.
According to Yannan Shi, a fourth-year economics student and producer at LCC, the title of the event, "Pieced Together," serves as a play on words between the different acts.
"It refers to how each LCC show has different pieces that are pieced together, and the general nature of creating one thing out of a lot of different things you wouldn't think of putting together," Shi said. "The word "˜piece' is a reference to the Tetris pieces in "˜Blocked' and the theater pieces performed in "˜Behind the Scenes.'"
In between the two plays will be improvisational comedy skits and games that involve the club members. The skits allow audience members to get involved and suggest topics that the members will enact.
The audience suggestions will set the ground work for their performance, helping cast members cater to UCLA students with jokes that people who don't go to UCLA wouldn't understand.
Shi said the event is also a way to give students who are new to UCLA and living on the Hill a better idea of what LCC does and help them decide on whether they'd like to audition for the year.
"It would be an opportune moment to meet freshmen and try to see if (LCC) was something they were interested in," Shi said. "(Val and I) both joined as freshmen and it was really a way that we found our niche in such a huge campus."