Fire in the Kitchen: _Delicious Turon dessert ruined by one unripe ingredient_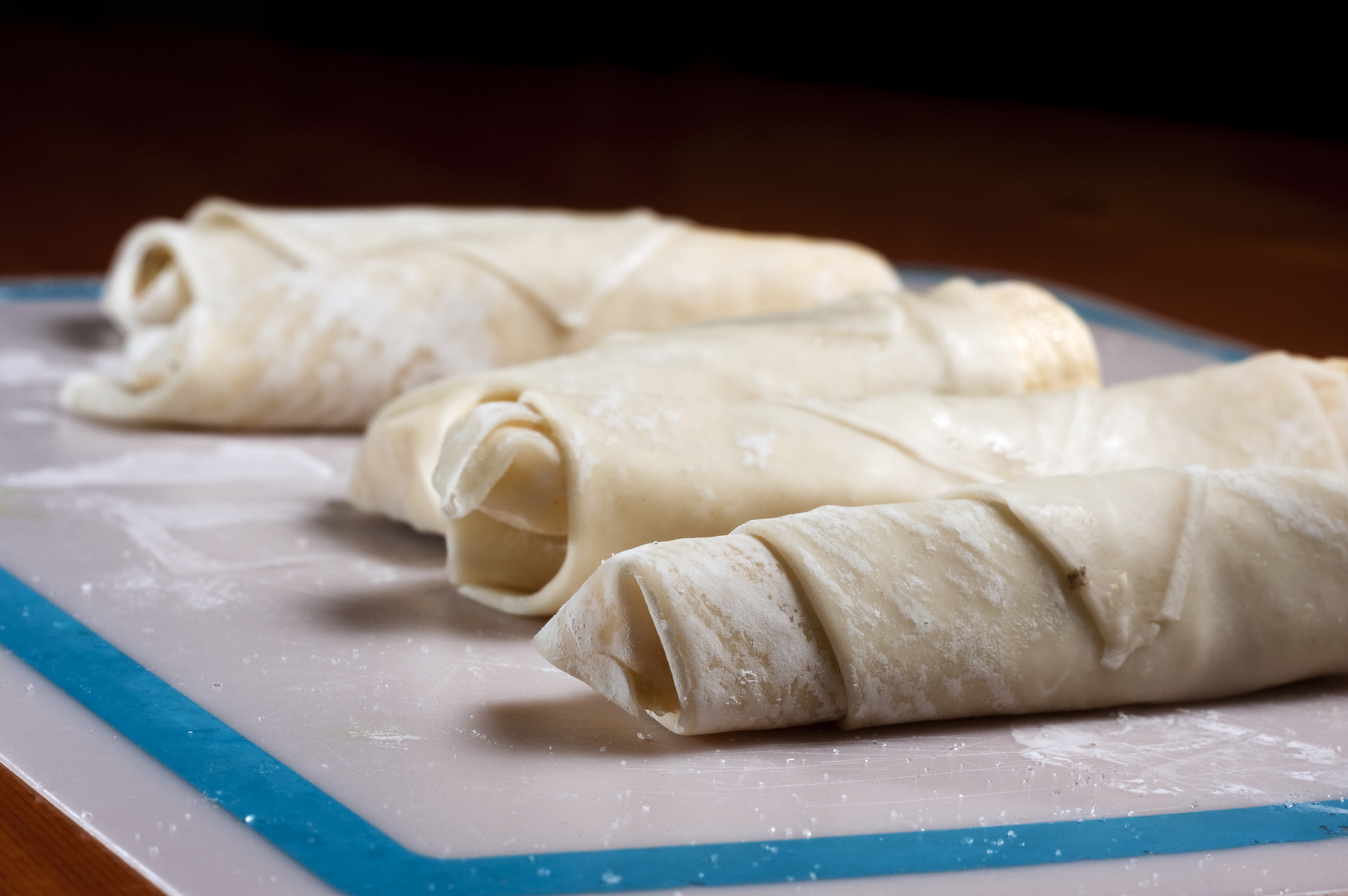 Ingredients
Plantains or bananas $1.99/lb Lumpia or egg roll wrappers $2.15 Sugar Canola oil
Recipe
1. Cut the plantains (or bananas) in half.
2. Cut each half lengthwise so that from 1 plantain you have 4 smaller long pieces.
3. Wrap each plantain piece in a lumpia wrapper.
4. Place piece toward the edge of one corner of the wrapper. Fold the corner toward the plantain. Take the two corners to the side of the plantain and fold them in. Then roll the plantain toward the top corner of the wrapper. Secure the top corner with a little dab of water.
5. Wrap all the plantain pieces you would like to cook.
6. Cover a frying pan generously with canola oil.
7. Heat pan to medium high.
8. Add sugar into the pan, there should be enough to cover most of the pan.
9. Heat the sugar until it is a brown liquid. Don't forget to continually stir the sugar, or it will burn.
10. Once the sugar is liquefied, add the wrapped plantains to the pan.
11. Fry each wrapped plantain until the wrapper is golden brown and the caramelized sugar is covering the wrapper. (In order to cover the wrapper in sugar, continually move the wrapped plantains in the caramelized sugar.)
12. Flip over and fry the other side until golden brown and sugar is covering wrapper.
13. Continue to add oil and sugar as needed. (If sugar starts to burn, turn the heat down a little bit.)
14. Place finished wrapped plantains on a cookie sheet or container to cool down. (Make sure that they are in an open space, or they will start to get soggy.)
Correction: In the original version of this article, Sampaguita Iaquinto's name was misspelled.
My senior year has been punctuated by the recipes I've used for cooking. The finale, a Filipino dessert called Turon, gave me everything I could have asked for from an ending "" the laugh of the year, accompanied by a taste so terrible that my taste buds are still haunted by it.
Before cooking the deep-fried plantain dessert, I thought about what I've learned so far. My first recipe was orzo, the making of which reminded me of Homer's "Odyssey," because I had trouble finding the actual grain. There was the lasagna, made in a state of shock and mild depression, the layers of which reflected my fluctuating moods and feelings. Then I apparently got over it and made a random pumpkin pie because I was happy again and in the holiday spirit. Later, I figured I needed some help and cooked with a few wonderful sous chefs, making crab cakes, bruschetta and Chinese stir-fry "" it was certainly better to cook with company.
I never actually started a fire, and I added a lot to my culinary resume. This final recipe, sent in by fourth-year applied linguistics student Sampaguita Iaquinto, gave my culinary journey some closure.
Over the weekend, I went to Simpang Asia, an Indonesian market in Culver City, and bought some egg roll wrappers instead of lumpia wrappers, and the substitution worked fine. Then, I bought sugar and plantains at Ralphs. I would soon learn that the fruit was not ripe, and this was the beginning of the dessert's demise.
While cutting the plantain, Iaquinto began to look concerned, and I knew a mistake had been made. The plantains were clearly not ready for consumption, as evidenced by the cracking noise when we peeled them. We also sampled the plantain "" the taste stays with me to this day. It was like chewing hard yet gummy chalk with an aftertaste of what I'd imagine pavement would taste like. Still, we proceeded with optimism that some extra sugar would mask the unripe flavor.
Then, things continued to go awry "" the stove in my apartment was much more powerful than Iaquinto was used to, and we burnt most of the sugar instead of caramelizing it. We then turned the heat way too low and it took forever to get the turon wraps properly browned on both sides, with the caramel being as goopy as it's supposed to be.
The final product looked fantastic "" browned, with melted caramel on little toasted rolls of starched paper and plantain. Then, we tasted it.
The look on Iaquinto's face was priceless in its horror, although she tried to act like it wasn't terrible. I bit into the turon and immediately started laughing before she finally agreed with my reaction. Despite our attempts, the bitter plantain could not be masked by the deep-fried sugar coating, and it was hard to bite because the texture was that of a diving board. Responses were that it tasted like a mix between chicken and cookie, and that it was good "" until they got to the actual filling. I guess if you picked off the caramel and just ate that, it would have been alright.
So, here is what I've learned: No matter how much effort you put in to doing something right, at the end of the day, you could buy an unripe banana and screw the entire thing up. I laughed for a solid 20 minutes after tasting my final column creation "" I'm not sure how much I've learned about cooking after all. But don't write off this recipe "" it would have been delicious with fully ripened fruit.