Professor's research proves to be no small beer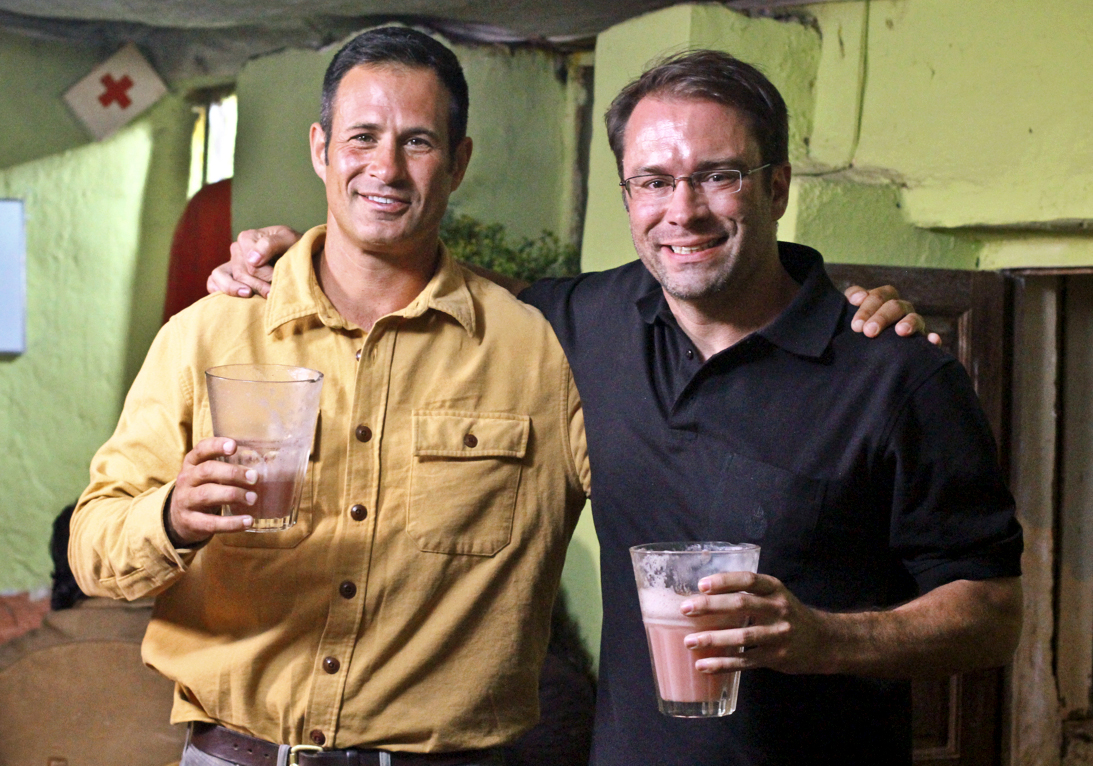 UCLA archaeology professor Alexei Vranich (right) enjoys a beer with host Sam Calagione on the set of the Discovery Channel show "Brew Masters." (courtesy of Lindsay Mackenzie)
"BREW MASTERS"
Sundays at 10 p.m.
Discovery Channel
Most students think they know everything about beer, but they haven't met this archaeologist.
Dr. Alexei Vranich, a research professor in the archaeology department, is an expert on all things beer. Vranich recently made a special appearance on Discovery Channel's new show "Brew Masters," a six-episode series following his friend, Dogfish Head Brewery founder Sam Calagione, as he devises new methods to create exotic beers.
"Sam (Calagione) is essentially coming up with innovative forms of beer that break with the typical hops (like the) barley, yeast and water combination. His motto is "˜off-centered beer for off-centered people,'" Vranich said.
The duo fiddled with the idea of a program based on brewing for five years, but it wasn't until recently that they were finally given the opportunity by the Discovery Channel to film.
Vranich said the show falls under the idea of experimental archaeology because they use evidence from the past and replicate it now. In the second episode, which was filmed in early August during Vranich's annual student trip to Peru, Vranich puts this method to the test when he focuses on the Peruvian corn beer chicha.
"I had to show (Calagione) how chicha was made in a modern setting, including things such as adding alcohol to it. In a more traditional setting, the fermenting element of chicha is saliva, so you masticate corn and put it in the beer," Vranich said.
Vranich, who studied anthropology with a specialization in archaeology, said that when he arrived in Peru, he took them across 600 years of brewing history to give Calagione enough information to make the beer.
However, Vranich isn't the only person representing UCLA in "Brew Masters." Every year, Vranich takes about 35 students to Peru for two five-week courses. The show features several UCLA students who excavated a site called The Devil's Balcony during one of last year's trips.
"I love being there with the students. At this point, I should be jaded about Peru and South America, but I get to experience Peru every year for the first time with my students," Vranich said.
Caitlan Judge, who graduated from UCLA in 2010 and majored in anthropology, decided to go on the Peru trip last year because she wanted to try studying abroad.
"It gave me more direction about what I wanted to do in my future. Alexei was a good teacher. He's really relatable to all the students and acted less like a teacher and more like a peer," Judge said.
Aside from beer-tasting and having a passion for archaeology, Vranrich is also the faculty-in-residence at Dykstra Hall. Liz Jaureguy, a fourth-year communication studies student, has known Vranich for two years and said his experiences in Peru make him an added resource for students.
"He is (at Dykstra) to be a friend, role model and mentor. He is such an interesting and fascinating faculty member to have around. It is never boring being in a conversation with Alexei," Jaureguy said.
Being on the small screen isn't entirely new to Vranich. He appeared on the Discovery Channel series "Debunked" a few years ago, and also worked on various television stations abroad where he did experimental archaeology such as building a boat on Lake Titicaca in Peru.
However, if it is one thing that he wants to leave with viewers, it's that beer isn't purely for partying and entertainment.
"Beer has been demonized so much. … It serves an important role in present society and the development of society," Vranich said. "(Students) should understand that.
There's a lot of really, really crappy beer in this country, and the best way to convince people not to drink Four Lokos is to introduce them to well-crafted beers that they can actually enjoy."