A weekend of sizzling sets in the desert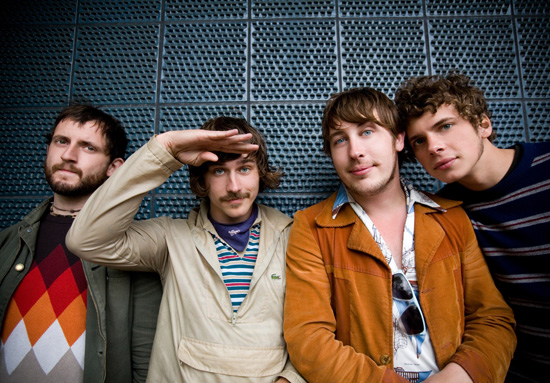 Portugal. The Man will perform Saturday afternoon.
This weekend, flocks of folks will flee to the fields of the Empire Polo Club in Indio, about 144 miles away from UCLA, for the Coachella Valley Music and Arts Festival. Battling the heat of the desert, fans will have the chance to see performances from some of the most popular mainstream and independent acts in music. With major headliners including Jay-Z on Friday, Muse on Saturday and Gorillaz on Sunday, the festival is sure to be a memorable experience. For those who will miss out the festival, check back on Monday for photos and reviews of performances from the A&E staff. For those who are heading out Friday, here are our editor's picks to help you plan out your weekend.
Friday
Sleigh Bells
3:30 "" 4:10 p.m.
Gobi Stage
Kick off your Coachella experience with goosebumps. This rock duo offers a dynamic combination of hair-raising guitar riffs and distorted vocals straight from the era of Blondie. Their simplistic and abstract lyrics make each song an easily memorized anthem. Even if you have no idea what you're rocking along to, that is part of the alluring indie mystique of Sleigh Bells' emerging talent.
She & Him
5:45 "" 6:35 p.m.
Outdoor Theatre
Twee (that means sickeningly sweet) icon Zooey Deschanel will perform with musical partner M. Ward. Try not to swoon too much over Deschanel's velvety voice and folksy sound. Maybe Deschanel's husband Ben Gibbard (of Death Cab for Cutie fame) will come on stage, and we'll just explode from all the cuteness.
La Roux
8:20 "" 9:10 p.m.
Gobi Stage
With a winning formula of synthesizer-heavy '80s retro-pop and an androgynous lead singer with a bold and distinctive voice, La Roux is sure to get the weekend started off right with infectious dance music that sounds like it was made before you were even born.
Imogen Heap
9:20 "" 10:10 p.m.
Mojave Stage
Fans of R&B sensation Jason Derulo should check out the performer behind the original "mmm whatcha say" chorus. Mixing highly emotional lyrics and electronica, Heap gives intelligent warmth to a stereotypically cold genre. Her otherworldly breathy voice even retains its chill-inducing qualities live.
Vampire Weekend
9:55 "" 10:45 p.m.
Outdoor Theatre
If the desert heat has you craving East Coast cool, the rambunctious style of Vampire Weekend is bound to satisfy. Mixing African pop and Western classical sounds with nonsensical lyrics that cover everything from punctuation to "Horchata," these New York-based hipsters offer a refreshingly eclectic bag of tricks.
Jay-Z
10:50 p.m.
Coachella Stage
Finish your first night by checking out a bona fide rap icon. With the overwhelming success of his latest, "The Blueprint 3," due to hits like "Empire State of Mind," there is no doubt the Hova will have Coachella-goers dusting off their shoulders with his signature sampling and masterful flow. After all, not everyone can claim to be the god of rap and for the most part (unless you are Nas) get away it.
Saturday
Portugal. The Man
2:15 "" 3 p.m.
Gobi Stage
They hail from chilly Alaska, but their music will only warm you up. Lead singer John Baldwin Gourley's vocal range combines with the band's soft cooing to create soothing melodies. These veteran crowd pleasers will make you forget about their weird punctuation.
Edward Sharpe and the Magnetic Zeros
5:10 "" 6 p.m.
Outdoor Theatre
This coed ensemble creates music oozing with energy, such as "Home," from their debut album, "Up from Below." It's the L.A. band's first time at Coachella. Stop by to see UCLA alumna and "Dorm Life" actress Nora Kirkpatrick rock out on the accordion.
The xx
6:25 "" 7:10 p.m.
Outdoor Theatre
As irritating as portmanteaus are, it's difficult to avoid using one to describe the sound of this British indie favorite, whose music can unfortunately only be labeled as "chillaxing." Sorry. Fans and observers on the Internet have often referred to the band as "hipster make-out music," so wrap your keffiyeh on tight and don't forget a breath mint.
MGMT
8:50 "" 9:40 p.m.
Outdoor Theatre
Fresh off the release of their third album, "Congratulations," the Brooklyn-based duo defines modern psychedelic dance music that begs to be listened to under the influence of one substance or another.
Muse
9:35 "" 11:05 p.m.
Coachella Stage
The progressive British band that has melted classic rock, heavy metal and electronica into their albums "Black Holes and Revelations" and "The Resistance" promises to electrify the stage.
Tiesto
11:40 p.m.
Coachella Stage
After catching a break from the Muse set, party the night away with the Dutch disc jockey who not only claims to be the world's No. 1 DJ but can attest to being the first live DJ at the 2006 Olympic Games .
Sia
Midnight "" 12:50 a.m.
Gobi Stage
Finish your Saturday with a sultry set as jazz and pop come together in this quirky and sometimes tortured Australian songstress. Bound to have audience members swaying to her dissonantly pleasant paradox of a voice, Sia offers a little musical therapy for those of us having a moment (or several).
Sunday
Local Natives
2:10 "" 2:55 p.m.
Gobi Stage
These Silver Lake locals performed at Spring Sing 2008 and have since changed their name from Cavil at Rest and strengthened their unified sound. Including UCLA alumni Taylor Rice and Kelcey Ayer, catch them while you can, since many of their worldwide tour dates are already selling out.
B.o.B
2:40 "" 3:25 p.m.
Coachella Stage
Come hear the Atlanta rapper spit rhymes that will make you believe that all of the beautiful girls in the world really do have nothing on you.
Florence and the Machine
4:30 "" 5:15 p.m.
Gobi Stage
One of England's newest rising acts, this band's debut single "Kiss with a Fist" was used in the Megan Fox flop "Jennifer's Body," and the trailer for Drew Barrymore's directorial debut "Whip It." The band's album "Lungs" won multiple awards across the pond, including a prestigious BRIT award.
Pavement
7:45 "" 8:55p.m.
Coachella Stage
The second most Pitchfork-approved band of all time (after Radiohead) is largely overlooking California on its world reunion tour this year. With only one L.A. show scheduled in September so far, Coachella offers another opportunity for SoCal fans to catch these indie lo-fi-ers.
Thom Yorke
9 p.m.
Outdoor Theatre
End your epic weekend by bobbing along to alternative god Thom Yorke, also known as Radiohead's lead singer. Although he released "The Eraser" in 2006, Yorke rarely performs his solo tracks. Take advantage of this musical opportunity to hear Yorke's densely electronic tracks live "" an experience you won't want to erase from your memory.