Hip-Hop Explosion tonight in Ackerman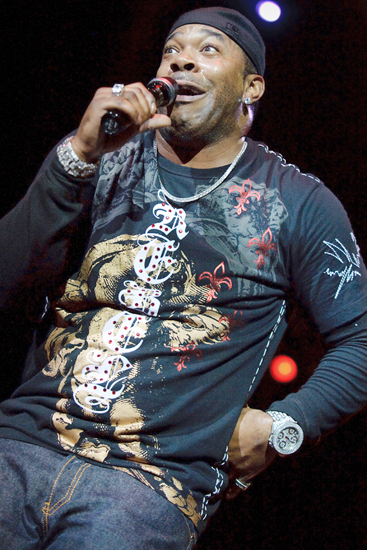 Busta Rhymes will perform at Hip-Hop Explosion 2010 at Ackerman Grand
Ballroom tonight at 8. Busta Rhymes has produced five platinum records.
Hip-hop will (figuratively) explode on campus tonight with a performance from Busta Rhymes and E-40 in Ackerman Grand Ballroom. Presented by the Cultural Affairs Commission, the Campus Events Commission and the Student Committee for the Arts, the event will take place as part of Hip-Hop Appreciation Month. Dance crews Killafornia and Super Cr3w will also be present. For those who want to brush up on their hip-hop trivia before tonight, here is some basic information on the performers, along with a few selections from their discographies.
Bay Area-based rapper E-40 is most known for his 2006 song "Tell Me When To Go" from his album "My Ghetto Report Card." He introduced the hyphy movement to mainstream America, encouraging kids across the country to put their "thizz face" on and go "dumb." He is not just a one-hit wonder, though. His career spans much further back, and he is known as one of the leading pioneers of the NorCal hip-hop scene with his independent record label, Sick Wid' It Records. He released his first album, "Mr. Flamboyant," in 1991, and his most recent album, "The Ball Street Journal," was released in November 2008 and included collaborations with T-Pain, Akon, Ice-T and Snoop Dogg. He has collaborated with Busta Rhymes in 2009 with "Exclusive Ownership." E-40 tours frequently, performing at the newly reopened Key Club on the Sunset Strip.
"U and Dat" featuring T-Pain and Kandi Girl (2006)
E-40's highest-charting single, "U and Dat" peaked at No. 13 on the Billboard Hot 100 list, and its video featured appearances by Lil' Jon and Katt Williams.
"Tell Me When To Go" featuring Keak da Sneak (2006)
Before this song, going stupid might have meant using Reader's Digest as a source of literary material. Instead, E-40 and friends taught everyone the ins and outs of crunk style known as the hyphy movement, which involves eyewear called "stunna shades" and "ghost riding the whip," an activity where one dances around a car put in neutral.
"Wake it Up" featuring Akon (2008)
Konvict Muzik co-founder and Senegal native Akon lends his Auto-Tune skills to a catchy, upbeat song, the only single to be released from "The Ball Street Journal."
"Snap Yo Fingers" (2006)
E-40 is featured in Lil' Jon's single, which promoted a sort of dance, which you can do all by yourself.
Trevor Smith, better known as Busta Rhymes, is one of the more recognizable rappers of the '90s and early 2000s. His signature fast ragga rapping style, influenced by his Jamaican heritage, is immediately recognizable on his tracks. Currently signed to Universal Motown Records, Busta Rhymes is famous largely because of his many collaborations with other artists, including Puff Daddy (now known as P. Diddy), Missy Elliott, Kelis, Chingy, Linkin Park and Mariah Carey. Busta has also made memorable TV appearances, such as his presentation alongside Martha Stewart during the 1997 MTV Video Music Awards, clad in a red kimono. He has produced five platinum records and multiple hits and was also part of films such as "Shaft" and "The Rugrats Movie."
"Woo-Hah!! Got You All In Check" (1996)
Remember the shiny puff jacket of the '90s? This video put it (and Busta) on the map.
"I Know What You Want"
featuring Mariah Carey (2002)
Here we experienced Busta's sensitive and animated side, which came out with the recently emancipated Mimi in a gold bikini and booty shorts.
"Arab Money" (2008)
Though the lyrics brought controversy from the Arabic community, Busta set the record straight, saying, "We ain't mockin' the (Arab) culture. We ain't tryin' to be disrespectful. Ain't no racism going on right here."
"What's It Gonna Be?!"
featuring Janet Jackson (1999)
This sexy, futuristic slow jam features a music video directed by Hype Williams. It liberally uses CGI liquid animation technology (see TLC's "Waterfalls" for another example). It is considered one of the most expensive music videos of all time, with a reported budget of $2 million.