The Quad: UCLA students push for more sustainability programs on campus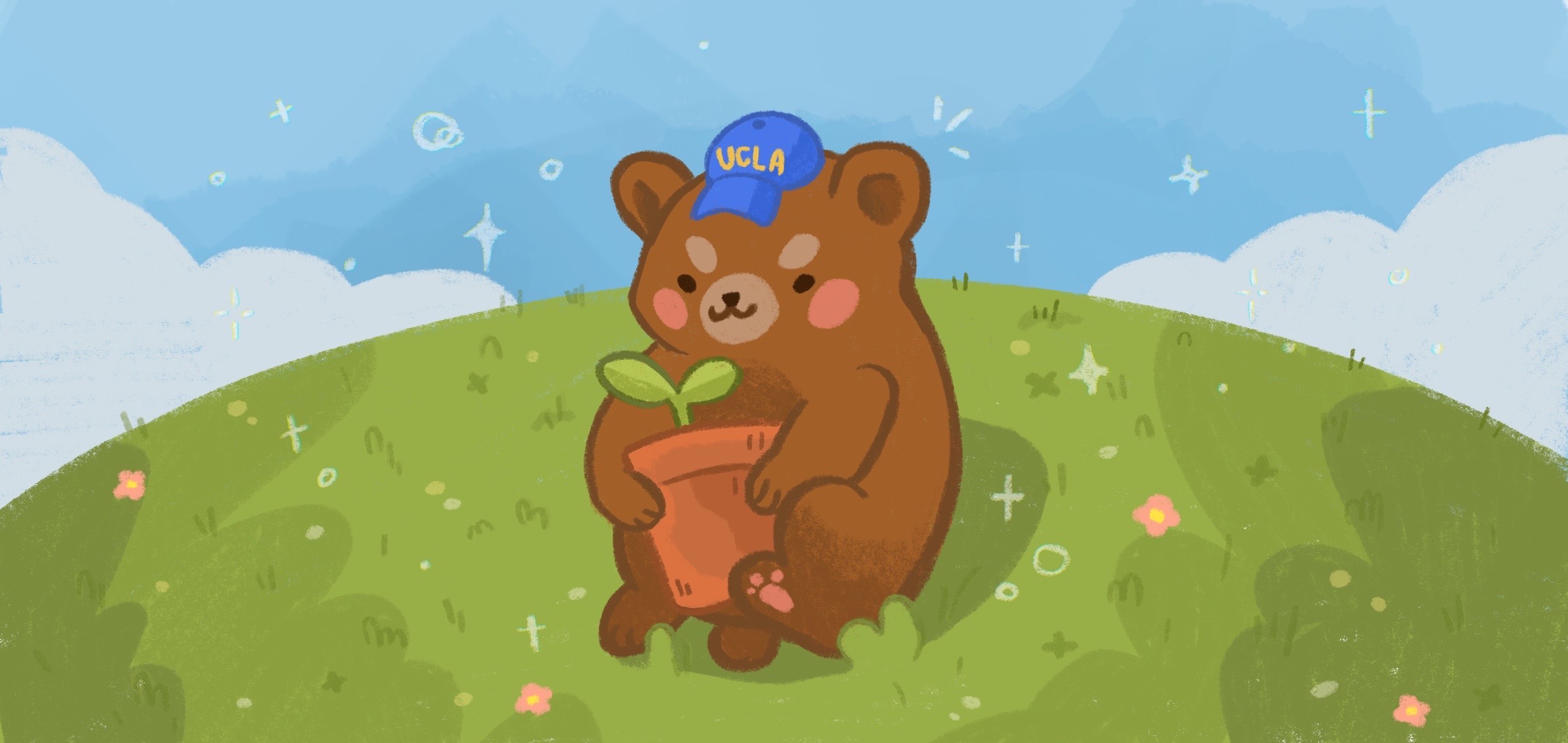 (Nikole Liang/Daily Bruin)
With brick-laden architecture, stunning hills and a sunny atmosphere, UCLA boasts a beautiful campus and scenery — but what mechanisms are in place to protect this beloved environment?
Fourth-year environmental science student Isabella Blanco said UCLA's location and size make it imperative to think outside the box when it comes to encouraging the sustainability on campus.
"UCLA is such a big campus, a big community of students, situated in a very robust metropolitan area," Blanco said. "We are being inventive, and we are being creative in what we do, but in terms of a school like UC Davis, where it's literally in the middle of an agricultural center, and has access to all these green programs. … It's hard to compete with that."
Some initiatives already exist at UCLA, especially on the Hill, that provide daily opportunities for students to delve deeper into sustainability.
"Just recently… (the Hill) did a Sustainival, which is like a sustainability festival where they had a bunch of different environmental clubs come out and departments come out and talk about sustainability topics," Blanco said.
Third-year environmental science student Julian Covarrubias said during COVID-19, many dining halls on the Hill made it easy for students to dispose of utensils sustainably, and even reuse them if needed.
"They did do a pretty good job of using sustainable plates and utensils and stuff, so that was pretty convenient," Covarrubias said. "And they're easy to throw away, or even if you wanted to reuse them. Maybe you didn't use it fully and you wanted to reuse it for something else."
However, such strategies are just the beginning of sustainability on the Hill. Covarrubias added that UCLA could have made its take-out dining system even more environmentally friendly by implementing a system with entirely reusable containers.
"You can kind of rent (containers) out and … once you use it, then you return it. And they wash it, and you just get a new one. So you're not really throwing them away, they're just kind of recycled throughout take-out cycles," Covarrubias said.
Deputy Chief Sustainability Officer Bonny Bentzin said in an emailed statement that many of UCLA's efforts around implementing sustainability initiatives are centered around its housing and transportation systems.
"The most developed programs with the longest history at UCLA are those programs in support of sustainable commuting," Bentzin said. "UCLA has also worked hard to build increased student housing at UCLA which also supports reduced vehicle trips to campus."
However, Blanco said UCLA could be doing more to encourage public transportation use among students. Blanco added that she is working to remedy this issue through a potential referendum that could allow students to obtain unlimited access transit passes.
Sustainability-related student organizations at UCLA are teeming with creative ideas, and some of the students in these organizations are already invested in partaking in sustainable activities daily.
Chief Sustainability Officer Nurit Katz said in an emailed statement that UCLA students are significantly involved in the conception and implementation of sustainability measures on campus.
"(Students) participate in sustainability programs and plan development in a range of ways, from engaging in one of dozens of sustainability-related student organizations who coordinate with our office of sustainability on campus projects and outreach programs, to serving on committees and working groups, such as the sustainability committee," Katz said.
However, a large majority of students may remain unaware of how they can easily contribute to a greener campus or why they should care about such a topic in the first place.
"It would be nice to promote more sustainability-related events on campus… Maybe a monthly sustainability forum or just ways for students to learn more," Blanco said. "And also just maybe offer more courses related to sustainability for freshmen, when they come to UCLA. … They could take something about environmentalism or climate change that could count for their GE requirements."
While encouraging and improving sustainability at UCLA – a campus centered in one of the biggest cities in the United States – may prove to be a bit of a challenge, the resourcefulness and drive of students indicate that a brighter and greener future for UCLA may be just on the horizon.