UC system maintains first-place ranking nationally in green power use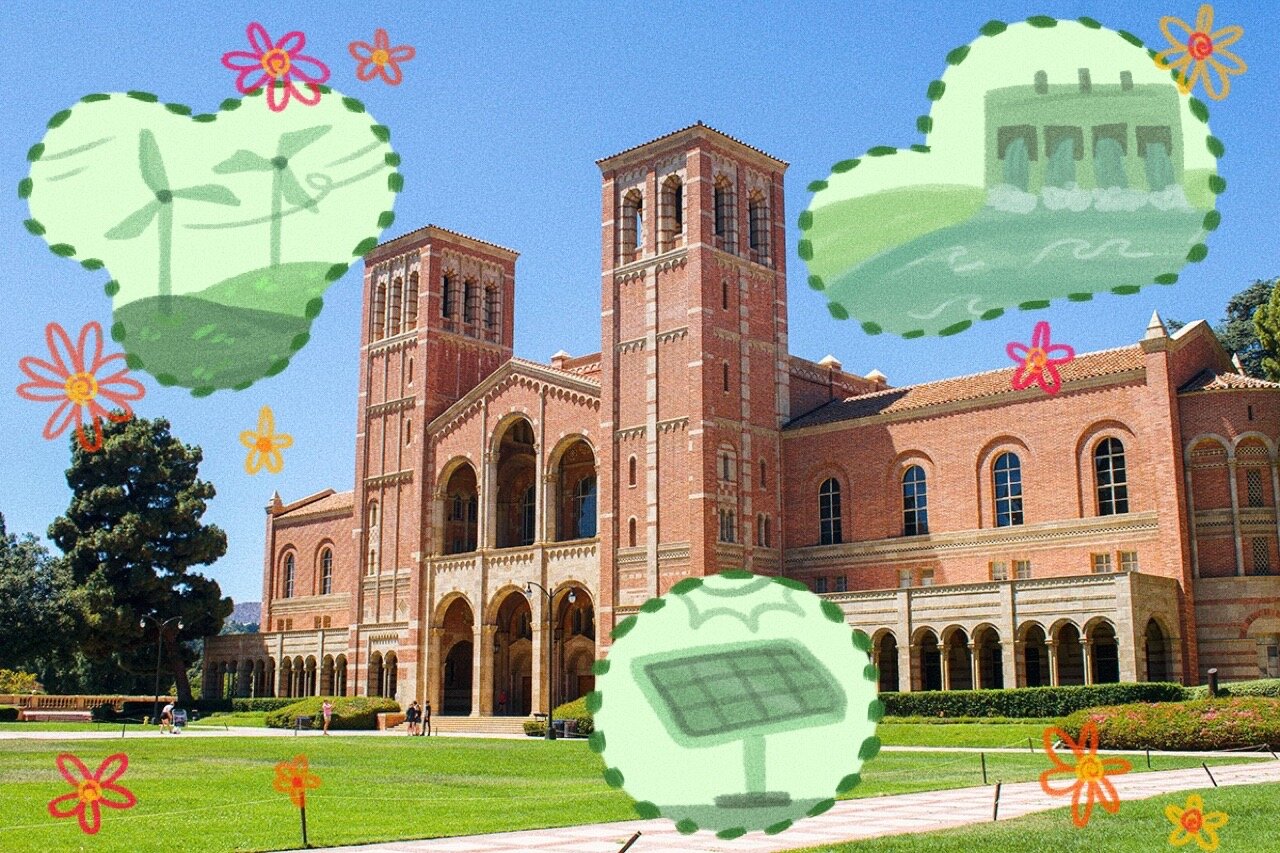 The University of California ranked first among universities and colleges in the Green Power Partnership for the UC utilization of green energy. (Katelyn Dang/Illustrations Director)
The University of California system placed first on the Green Power Partnership ranking of higher education institutions for 2020.
The Green Power Partnership, established in 2001 by the United States Environmental Protection Agency, encourages colleges and universities to transition from conventional electricity to green power. This includes solar, wind, geothermal, biogas and low-impact hydroelectric sources. The UC has ranked first for the EPA's quarterly ranking of higher education institutions since April 2019.
According to a UC Office of the President press release, the UC uses nearly 481 million kilowatt-hours of green energy annually. Green power makes up almost 46% of all UC power purchases, the press release said.
Arizona State ranked second using 292,135,945 kWh and Columbia University ranked third using 232,109,000 kWh, according to the EPA's Top 30 Higher Education Institutions ranking.
Nurit Katz, UCLA's chief sustainability officer, said the launch of the UC's Carbon Neutrality Initiative in 2013 helped lead to the more ambitious goal of carbon neutrality by 2025.
"As a public university, I think we really see (environmental sustainability) as a part of our mission," Katz said. "We have a responsibility to do research and teaching to contribute to solve some of the most challenging problems in the world, and the climate crisis is part of that."
The UC implemented a series of policies from 2004 to meet this goal of sustainability, said UCOP spokesperson Stett Holbrook in an emailed statement.
The UC Board of Regents implemented the Clean Energy and Green Building Policy in 2003, which establishes sustainability offices across UC campuses, Holbrook said. Additionally, these policies require an annual report on the progress of creating more sustainable campuses.
In addition to the Clean Energy and Green Building Policy, the UC launched its Sustainable Practices Policy in 2004 and the Carbon Neutrality Initiative in 2013, and it also formed the Global Climate Council in 2014. These policies aim to transition UC campuses from using nonrenewable energy to green energy wherever possible, starting with constructing sustainable buildings, increasing energy efficiency and expanding access to sustainable transportation, according to the Sustainable Practices Policy.
In 2013, as part of the CNI, the UC became the first major higher education institution to set a goal to reach carbon neutrality by 2025. According to the Sustainable Practices Policy, all UC campuses and facilities have committed to reducing their energy-use intensity by 2% annually by making their building and infrastructure systems more sustainable.
All UC campuses and facilities have met this goal for the past 10 years and are on track to meet the CNI's goal of carbon neutrality by 2025, according to the UC's Sustainability Data Report.
"The UC's power companies are actually already entirely carbon neutral or have essentially gone to 100% renewable. So that accounts for about a third of the electricity for the UC," Katz said. "And then the rest of us are all on track to be using 100% renewable energy by 2025."
Yifang Zhu, an environmental health sciences professor, explained there are numerous opportunities for UCLA to become more sustainable, such as collaborating with the Los Angeles Department of Water and Power to transition to green power and reducing paper waste by making class material available online when possible.
Kayli Masuda, former president of the Renewable Energy Association at UCLA and a fourth-year chemical engineering student, said the REA, along with other student-led organizations, is aiming to create a more sustainable campus. She added that REA provides opportunities for students to get involved in local initiatives, educational outreach programs focused on green power and student-run technical projects.
To successfully meet the goal of carbon neutrality by 2025 and to continue efforts to be more sustainable, students, professors and faculty must all contribute to making UCLA's campus more sustainable, Masuda said.
"Professors can join this charge by supporting these student organizations and more generally promoting environmental research, while administrators can work to enact policy that contributes to our position as a national leader in sustainability," Masuda said.
Zhu said addressing the climate crisis and creating a greener campus requires not only the work of professors and administrators but also largely the efforts of UCLA students.
"I think students are really the driving force in many, many initiatives," Zhu said. "If students demand the campus to be more sustainable and get more green energy, I think (carbon neutrality by 2025) will happen."
Higher education institutions should also consider implementing a more sustainable curriculum into undergraduate education, Zhu said. She said her and other UCLA professors have been advocating for the addition of courses related to sustainability and green power for all students.
The EPA ranking is a testament to the UC's commitment to environmental sustainability for the past 17 years, Masuda said, adding that students, faculty and administrators must all contribute to maintain this ranking and meet the goal of carbon neutrality by 2025.