Opinion: Survivors of sexual violence require better support from UCLA's Title IX Office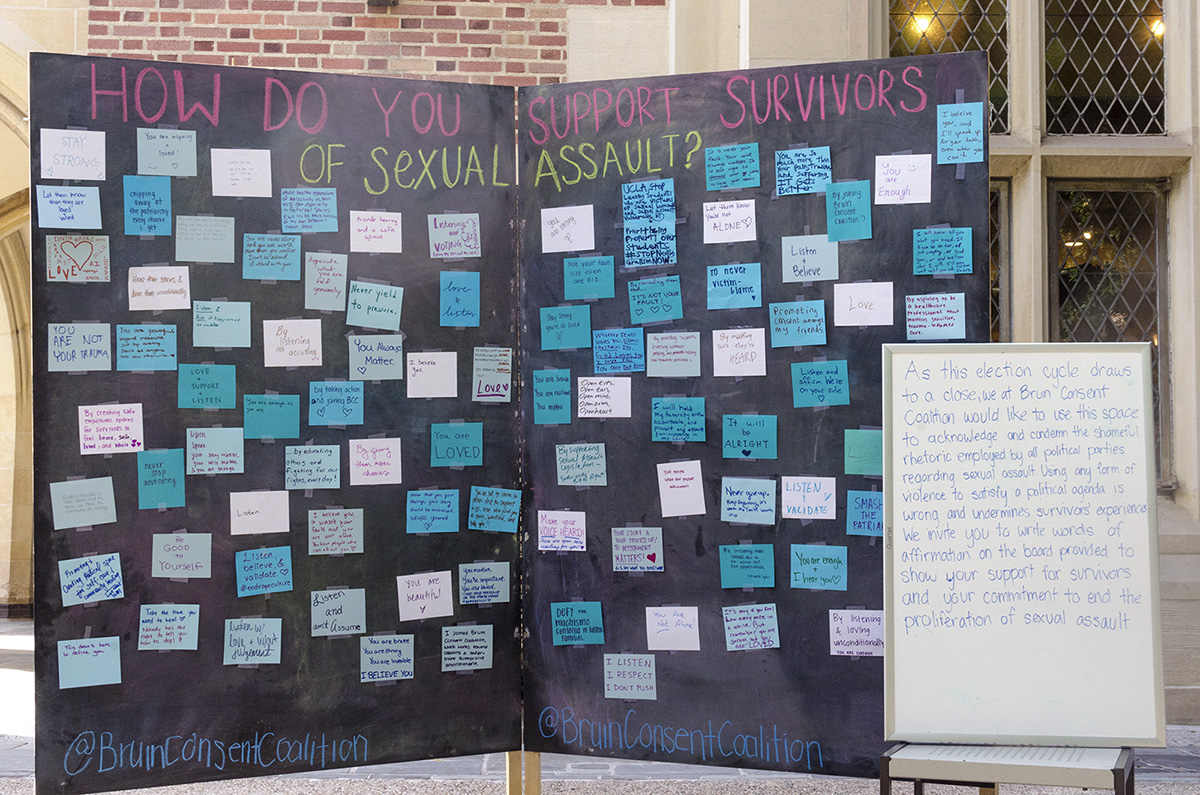 In 2016, Bruin Consent Coalition, a campus organization that advocates against sexual assault, set up a board outside of Kerckhoff Hall for students who wanted to offer written support for survivors. In 2022, UCLA still has more to work to do in prioritizing healing-oriented resources for survivors of sexual violence. (Daily Bruin file photo)
This post was updated Jan. 17 at 9:55 p.m.
Students should feel safe turning to their university and its employees in times of individual struggle.
But for some Bruins who have survived sexual violence, seeking out institutional support has not been an ideal experience.
Recent probes into UCLA Health employees and their conduct make clear that the university must do better.
A 2020 investigation by an independent special committee named five individuals employed or formerly employed by UCLA Health who had been reported for sexual misconduct and assault.
One of these individuals was former OB/GYN Dr. James Heaps, who was indicted in May 2021 and has been sued by more than 100 former patients. Another was former OB/GYN, Dr. Edward Wiesmeier. In the past month, former students alleged that Wiesmeier sexually harassed them during their examinations while he worked for UCLA Health from 1974 to 2007.
While some may question the truth of the plaintiffs' accusations because of the many years between the alleged incidents, we should instead ask why these survivors may not have felt comfortable coming forward sooner.
To ensure that more survivors feel safe coming forward, UCLA must reevaluate how it approaches incidents of sexual violence involving students and employees by prioritizing resources for survivors. No student should have to fear they are alone when learning how to heal.
As a public institution, UCLA is bound to Title IX, which prohibits discrimination on the basis of sex at federally funded institutions. One of the resulting programs from this civil rights law is Title IX offices – the entities that accept, report and initiate investigations into prohibited conduct, such as sexual harassment and sexual violence at universities.
Jianchao Lai, a doctoral student in social welfare and member of University of California Survivors + Allies, said that many survivors do not trust their campus's respective Title IX offices to treat them with respect.
"When (students) reach out to Title IX or UCPD, they don't feel as respected or supported. … There is a real sense of institutional betrayal," Lai said.
In fact, preliminary findings of a recent UCSA survey of more than 1,200 students across the University of California state that only a quarter of the students felt safe or respected during their interactions with Title IX staff, according to an emailed statement from Lai and Sara Wilf, a doctoral student in social welfare and member of UCSA. This statement went on to say that Title IX staff do not possess adequate trauma-informed training to support those who come forward.
Furthermore, the UCSA survey found that just over half of the students surveyed understood what the Title IX Office does.
This does not just demonstrate a clear breakdown in communication between the UCLA community and the Title IX Office – it is an indicator of the office's failures in prioritizing and listening to individuals who report cases of harassment, misconduct or assault.
In fairness, the Title IX Office said in an emailed statement that it ensures that those who come forward are connected with other services, such as mental health support, academic accommodations and workplace modifications.
However, the Title IX Office does not directly assist survivors in healing. That is largely the responsibility of entities like the Campus Assault Resources and Education Program and UCLA Counseling and Psychological Services. CARE is a UCLA service that focuses on helping survivors of sexual violence through advocacy, healing and education, while CAPS is the university's mental health center that offers a variety of services such as crisis response and counseling appointments.
Such programs don't receive the same attention as the Title IX Office.
"The big issue here is that (the UC is) funneling money to help survivors towards an institution that is actually not focused on survivor healing," Wilf said.
This creates problems for the many survivors who utilize services like CARE and CAPS. UCSA's survey found that the majority of survivors preferred these programs, but such programs are not without their criticisms.
"Many students experience a long waiting period, and that potentially (pushes) them to seek out off-campus counseling," Lai said.
The UCSA survey also showed that just two CARE advocates are responsible for serving the entire UCLA community, while the UCLA Title IX Office has four full-time investigators.
This call for more healing-oriented resources is not to discredit the importance of reporting offenders for legal action since early reporting is still an essential part of keeping the community safe.
That said, while early reporting helps ensure offenders are held accountable, it is unreasonable to expect this with insufficient survivor care. CARE said in an emailed statement that many survivors do not report for fear of victim-blaming, trauma or a lack of trust in the justice system.
Putting more resources into survivor assistance is a crucial prerequisite to enacting punitive measures against offenders.
But by pushing people to report without the proper care, survivor trauma is not addressed. And with the overwhelmingly negative experiences individuals seem to have had with the Title IX Office, there is also a risk of facing further distress and mental harm.
"Both survivor support and reporting resources are important in addressing the needs of survivors, investigating all reported incidents, and fostering efforts to increase the likelihood of survivors to report," CARE said in the emailed statement.
Clearly, a balance must be met between punitive measures and services for survivors' assistance. But UCLA's first priority should be shoring up trust with survivors.
This can start with properly training the Title IX Office to communicate with survivors while readjusting sexual health education and training for students. Above all, the UC must remember that the effectiveness of its reporting system depends on the availability of survivor assistance programs.
Survivors shouldn't feel discouraged from taking legal action while lacking the proper resources to heal.