Editorial: Lack of transparent financial aid practices forces stressful choices on students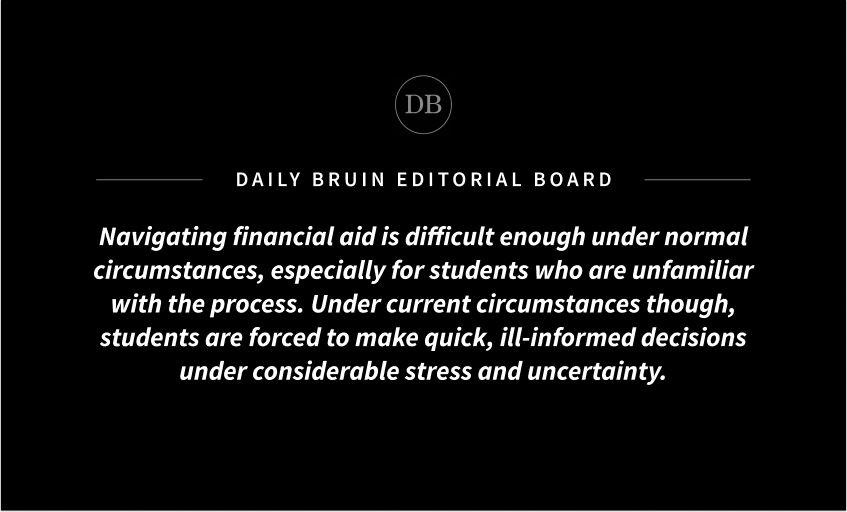 Communication has never been UCLA's strong suit.
But this past weekend, the university reached a new low.
Some students checked their inboxes Saturday and found an unexpectedly low financial aid package for the 2020-2021 school year. The Financial Aid and Scholarships Office defaulted some financial aid recipients to a commuter/remote learning status – without notifying students beforehand — which could decrease a student's financial aid award by up to $9,055.
The FAS office's blunder is yet another case of UCLA failing to maintain a clear line of communication with students amid a troubling global pandemic.
And this time, its assumption that more than half of financial aid recipients would not need thousands of dollars in assistance for housing is dangerous, not to mention completely insensitive. By failing to remain transparent, UCLA has placed the onus on Bruins to wade through the bureaucracy of "housing adjustment forms" to defend themselves at a time when many are struggling financially.
Canceled housing contracts have already led to a mad scramble for an apartment in the nation's fourth most expensive neighborhood for renters. For students, having a proper idea of their budget is crucial to find housing they can afford.
But without an accurate representation of how much financial aid they will ultimately receive for the upcoming year, it's nearly impossible to find an affordable place to live in when staying at home isn't an option.
Navigating financial aid is difficult enough under normal circumstances, especially for students who are unfamiliar with the process. Under current circumstances though, students are forced to make quick, ill-informed decisions under considerable stress and uncertainty. Some may blindly accept inaccurate financial aid awards, possibly causing them to take on loans that would compromise their future financial security.
In fairness, the FAS office did reach out to students to clarify its decision. There is also no deadline to submit a housing adjustment form, meaning students can correct their housing status once they finalize their housing plans.
But that's where the generosity ends.
The FAS office has not offered additional assistance to students trying to make sense of the confusion. Its conveniently-timed decision to send out financial aid notifications on a Saturday morning meant students had to wait two full days before they could attempt to get answers. And without increased manpower to handle the influx of calls, inundated phone lines forced already worried students to wait even longer for them.
An earlier email notifying students of updates to their housing status could have gone a long way in mitigating feelings of frustration and confusion. After all, UCLA has had months to think on the best way to communicate financial aid changes to students.
The pandemic has already thrusted enough haphazard, last-minute changes onto students' lives.
UCLA doesn't need to do the same.