November Bruin Flea market caters to college student audience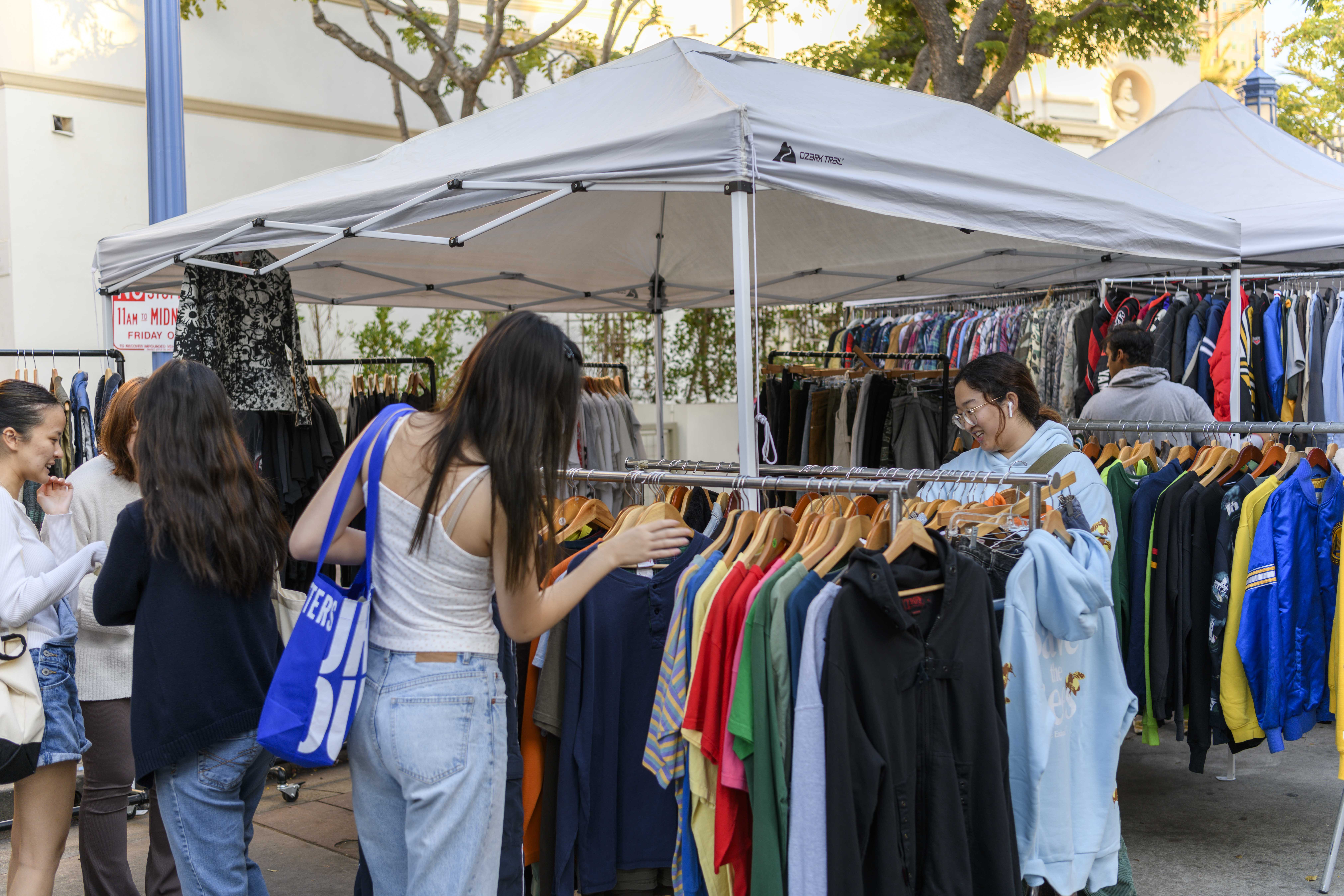 Students shopping at the November Bruin Flea are pictured. The monthly flea market was created by UCLA alumnus Luis Lopez and features numerous local vendors and student-owned businesses each month. (Anna Dai-Liu/Daily Bruin senior staff)
Attendees and vendors say the market is a well-needed addition to the community.
Bruin Flea, Westwood's monthly flea market featuring student-owned and community-based businesses, food trucks and music, took place Friday. The flea market, which debuted in October, was founded by UCLA alumnus Luis Lopez. He said he started a flea market called the 629 Market at the Delta Sigma Phi fraternity and has since expanded to Westwood Village with Bruin Flea.
Lopez, who is also the Bruin Flea event director, said he was inspired to create a flea market based on his experiences of growing up visiting swap meets and having parents who owned small businesses.
"I was always a swap meet guy. … I always used to go there (The Roadium Open Air Market) and sell at the Harbor Los Angeles swap meet," Lopez said. "It's always been part of my life."
He added that in order for the 629 Market to continue at his fraternity, he had to start a new market, which brought him to Westwood Village with Bruin Flea. Lopez said his staff is made up of his friends and roommates but that he is hoping to add interns soon.
Vendors at Bruin Flea said the event organizers go above and beyond to make their experience comfortable and enjoyable for everyone.
"The organizer himself, he really takes the time to come and talk to you like, 'Hey, what do you need?'" said Yareli Abarca, owner of Yaya's Closet. "Last time he brought us a little plant, and I was like, 'Oh my god,' like who thinks of us beforehand?'"
She added that the event organizers make setting up convenient and easy, something she has noticed that other markets don't do anymore.
"Whenever I have a question, I text him, he texts me back right away. It's just so easy. He lets us unload here (on Broxton Ave.)," Abarca said. "He guides us step by step, and a lot of other markets don't do that anymore."
Other vendors said they enjoy selling at Bruin Flea because of the student demographic.
Kamille Kibria, a fourth-year microbiology, immunology and genetics student, said she thinks the Bruin Flea's prices and atmosphere are geared more toward students than other markets are.
"I think this type of flea is a lot more inexpensive than maybe the Rose Bowl or something on Melrose," Kibria said. "I feel more inclined to buy something actually and I'm guessing a lot of these (the booths) are student-run. … I feel like it's very tailored to us."
Julia Allen, founder of Julia Allen Studio – a handcrafted jewelry and permanent jewelry booth – said she understands that a flea market geared toward students may result in less profit for her but that she enjoys selling at Bruin Flea anyway.
"College students don't always walk around wanting to spend a whole lot of money so it just comes with the territory," Allen said.
Anastasia Vanderpool, a second-year geography and public affairs student, said she enjoyed her first experience at Bruin Flea. She added that she was shopping for birthday presents for her friends and family.
"I really love to support student vendors and local vendors and I really enjoy coming to things like this because there's always a lot of unique pieces," Vanderpool said.
Steinman is the 2023-2024 city and crime editor. She was previously a city and crime contributor. She is also a fourth-year political science student.
Steinman is the 2023-2024 city and crime editor. She was previously a city and crime contributor. She is also a fourth-year political science student.