Clash of the Quarterbacks: Breaking down UCLA, USC's signal-callers for 2023 rivalry game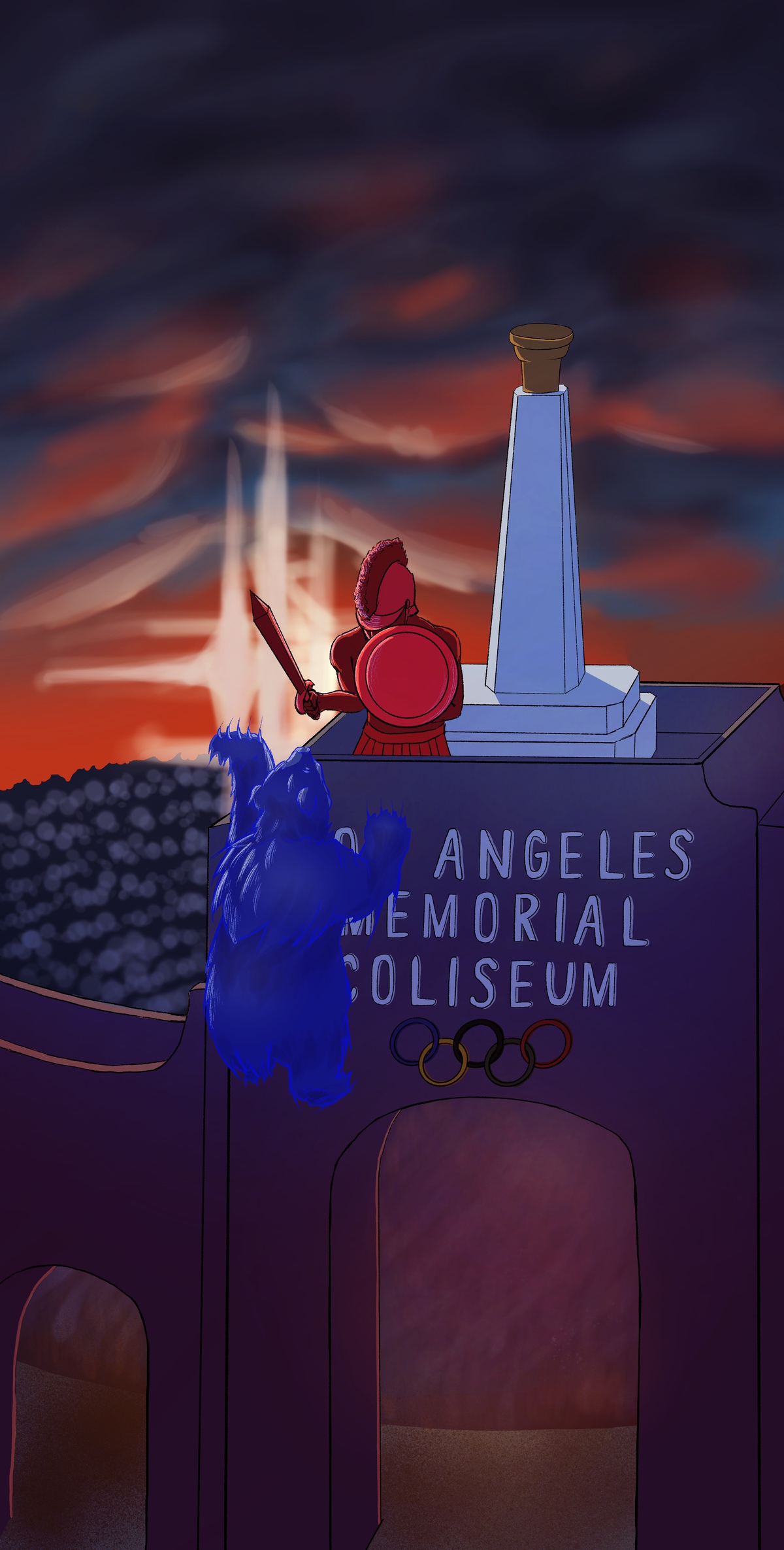 (Helen Juwon Park/Daily Bruin)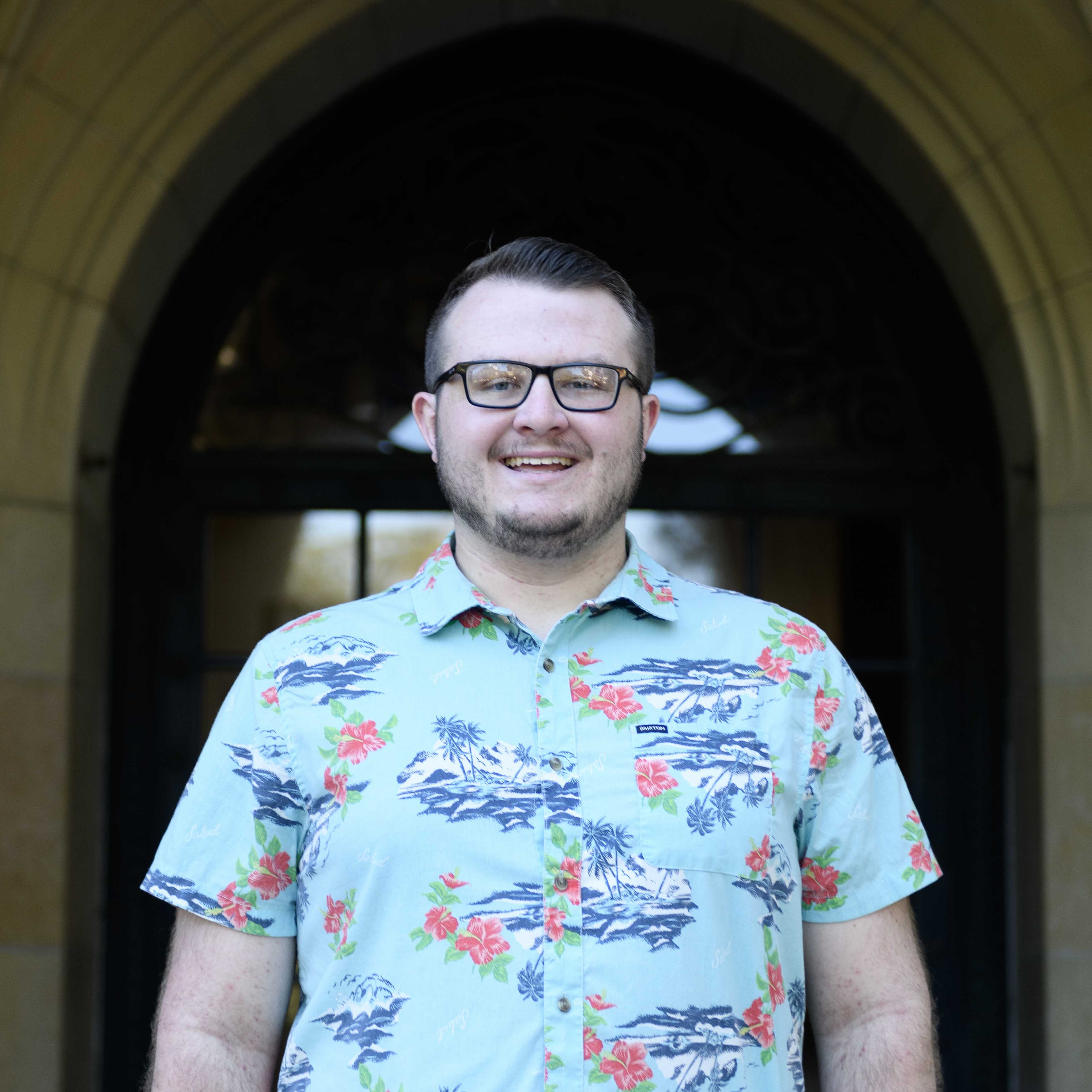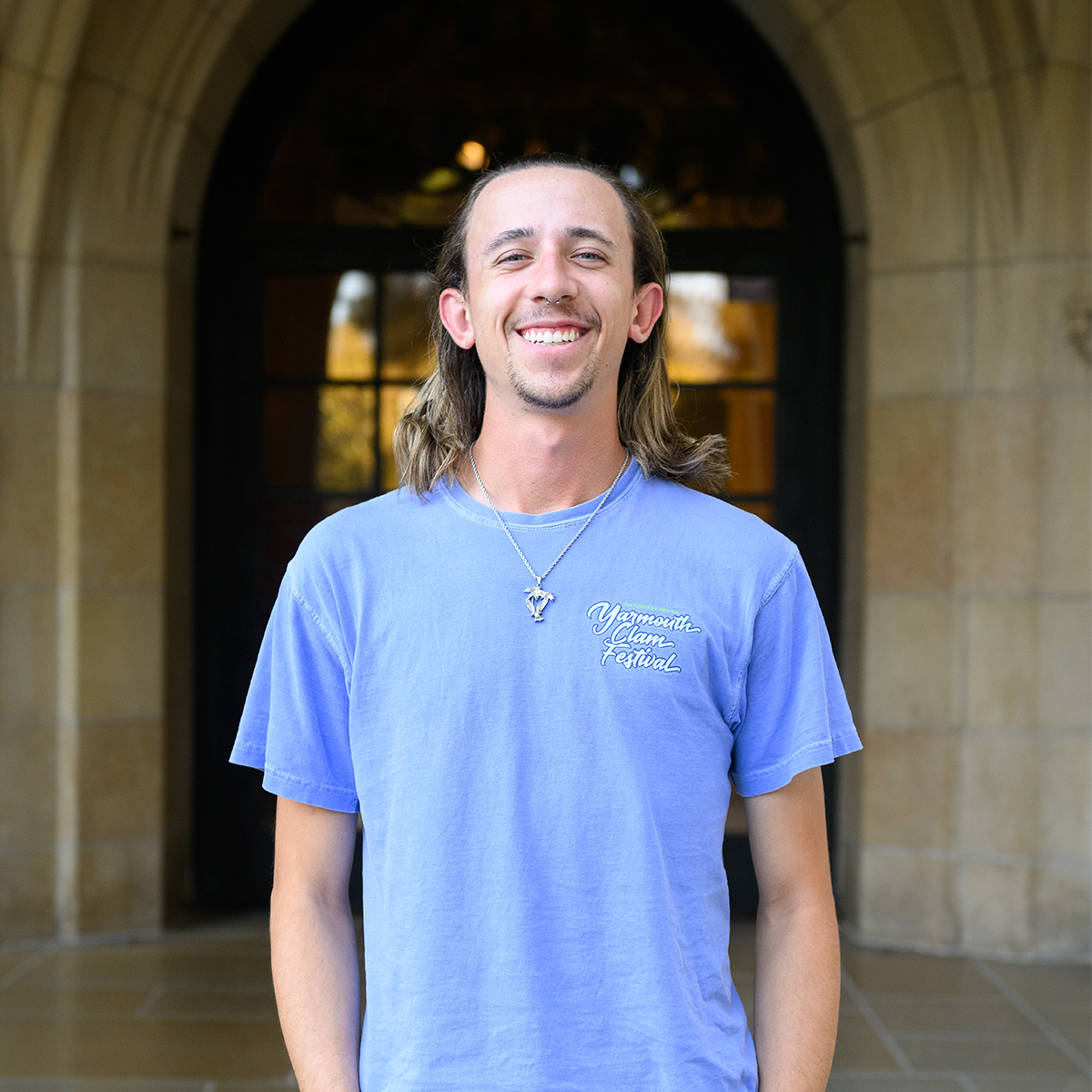 A year after crosstown rivals UCLA football (6-4, 3-4 Pac-12) and USC (7-4, 5-3) faced off in a top-20 battle, both are absent from the latest edition of the polls. The Trojans are led by quarterback Caleb Williams – the reigning Heisman Trophy winner – while uncertainty under center continues to follow the Bruins. Sports Editor Joseph Crosby breaks down UCLA's many question marks, while Sports senior staff writer Jack Nelson discusses Williams' impact on USC and what that means for Saturday.
The trio – and then some
UCLA's quarterback situation has looked more like that of a baseball starting pitching rotation than a codified depth chart with a bona fide QB1.
Redshirt junior Ethan Garbers, freshman Dante Moore and redshirt junior Collin Schlee have all filled the roles of starter, backup and "break glass in case of emergency."
And senior Chase Griffin – the typical fourth option – has seen more playing time heading into this year than anyone expected.
The combination of poor play and injuries has led to a patchwork assembly of quarterbacking across 11 weeks.
As off-the-field question marks have swarmed coach Chip Kelly and his leadership of the program – including his treatment of the quarterback situation – the biggest on-field mystery has still been that of the signal-callers.
The story starts, and potentially ends, with Moore. The biggest quarterback recruit in school history, Moore forced his way into the conversation early, seemingly creating a two-horse race with Garbers for the Week 1 starting job. But where Garbers was the perennial backup finally getting a chance to shine, Moore was the season-saving five-star recruit, blistering with potential and poised to support the 2023 Bruins' attempt to match the 9-4 record of their 2022 predecessors.
At that point, Schlee was but an afterthought for those outside the program, a transfer with a solid but not stellar track record at Kent State who seemed to be swapping out a starting job for a chance at a quarterback competition in the Pac-12.
Shockingly, it was a competition that he received.
From the outset, Kelly said the opening games would see a three-man rotation.
"Who's going to help us win the game? It's a very simple process," Kelly said ahead of the 2023 season opener. "And I think all three of those guys could do that."
With early games against Coastal Carolina, San Diego State and North Carolina Central, wins were a cakewalk for any of the quarterbacks. Garbers started against the Chanticleers, but Moore outperformed the redshirt junior in that game after entering in the second quarter – a new development in the competition.
Moore's two-touchdown performance earned him the start against the Aztecs and Eagles where he continued to excel, racking up five more touchdowns to bring him to seven total early in his collegiate career.
QB1 settled, right?
Not so fast.
Seven touchdowns in three games may have put him into the starting spot for the start of Pac-12 play, but seven turnovers in the next three games quickly pushed him out of it. When Week 8 against Stanford rolled around, Garbers was handed the reins once more, leading UCLA to its second-biggest win of the season.
"Banged up" or not, Moore was available to play – and did – against the Cardinal, indicating that he was benched in favor of Garbers.
UCLA defeated Colorado in its homecoming game a week later, with Garbers playing well enough to hold onto that starting role to face Arizona on the road.
Tucson is where things began to derail. A fourth-quarter injury during a middling performance knocked Garbers out of the game, only for Moore to also get hurt, leaving Schlee to finish out the loss against the Wildcats without completing a pass.
With its two best quarterbacks seemingly injured and Arizona State on the horizon, UCLA went to Schlee. His struggles in the passing game were exposed, and with the Bruins failing to rush for a first down on three different fourth-and-shorts, they fell to the Sun Devils 17-7 in stunning fashion.
Schlee – much like his fellow quarterbacks the week prior – left the game against Arizona State with an injury, leaving Griffin to take the field as the sacrificial quarterback while the clock ticked down to an impending defeat. Yet after that game, Kelly said both Garbers and Moore were available in emergency situations.
Garbers and Moore, who are both noticeably better passers than Schlee, never saw the field when they were available, and their starting counterpart attempted 18 throws.
The last two weeks have been an indicator of a larger pattern within the quarterback situation from both personnel and coaching standpoints.
UCLA's quarterbacks have failed to exceed 300 passing yards once this season, and they haven't had three passing touchdowns in a game since facing San Diego State. They average over one interception per contest.
In five years as a Bruin, former quarterback Dorian Thompson-Robinson – for all his turnover faults – carried a level of stability as the go-to quarterback who could make plays on the ground and through the air.
This year's group is a far cry from that level.
Similarly, Kelly's coaching has hindered the group. Spring and fall camps are the time to settle a quarterback race – not in the middle of the season. Sure, a player can lose a starting job, but that necessitates a starting job being given in the first place.
Outside of Week 1, Kelly has never announced a starter. He's rotated players in a seemingly arbitrary way, not giving his prized recruit a bounce-back start against an abysmal Stanford defense as well as refusing to use Moore or Garbers against Arizona State – a game that most certainly qualified as an emergency.
The Bruins are lacking any kind of structure in the backfield. With Schlee's status questionable for the rivalry game and Moore and Garbers both available in practice, it will likely be one of them starting.
But as has been the case for the vast majority of the season, it will be a gametime call on which member of the rotation opens Saturday's rivalry contest.
– Joseph Crosby
The king across town
Caleb Williams was synonymous with college football well before he trotted out onto the turf at Los Angeles Memorial Coliseum.
From the moment the quarterback jumped ship to follow coach Lincoln Riley from Oklahoma to USC, it was certain he would act as the poster boy for Riley's overhaul of a lost but legendary program.
Such sentiments were not said when Moore flipped his commitment from Oregon to UCLA and joined Kelly – despite being a higher-ranked recruit in his class and the Bruins needing a face for a future of their own.
The buzz was deafening for Williams and Riley. It was far quieter for Kelly and Moore.
Two years of buildup toward their meeting has shown precisely why.
Last season was proof in the pudding aplenty for USC, as Williams took the college football world by storm in a matter of weeks. His nimble feet and strong arm kept opposing defenses on their heels all year long. His sheer playmaking ability – flashy, creative and clutch – made the Trojan offense relentless.
Sitting at 11-1, USC found itself back in the Pac-12 title game and in real contention for a College Football Playoff berth. The only thing in Williams' way was his own defense, which folded against Utah in the conference championship and again versus Tulane in the Cotton Bowl.
But the end-of-season collapse was alleviated by personal triumph.
The then-sophomore became the third signal-caller in program history to hoist the Heisman Trophy. With 52 total touchdowns and 4,537 passing yards against just five interceptions, there wasn't much of a debate.
People didn't wait around to peg Williams as a repeat favorite, too.
Except there was a problem he couldn't hope to solve – and it loomed large. The USC defense, which allowed 45 or more points to three of its final four opponents in 2022, blew up in 2023. The unit now concedes 34.6 points and 446.5 yards per game, including an even worse 43.8-point average over the last five contests.
Defensive week-to-week performance has become so poor that even as Williams continues to put up gaudy numbers, winning has been reduced to a premium. Four of the previous five outcomes have put the Trojans in the loss column, leaving Riley with no choice but to fire defensive coordinator Alex Grinch in hopes of salvaging the season.
USC, once a 6-0 squad ranked 10th in the country, has fallen out of the rankings entirely. And in this era – where wins carry as much weight as individual accomplishments in the Heisman conversation – Williams is no longer a talking point.
It's no fault of his own.
Though not as blistering as his 2022 campaign, Williams' results this season still impress – 40 total touchdowns and 3,249 passing yards against four picks is far from shabby. Replicating last season's production has been necessary to keep his team competitive against decent offenses, and he's done so while building poise and consistency as a now-veteran passer.
Williams has been everything UCLA needs in a quarterback, and Moore, Garbers and Schlee all lack such qualities.
Though much more of a conventional passer than a dual-threat, Moore's freshman ceiling mirrored that of his Trojan counterpart. He introduced historic talent and high potential into the scheme of an offensive genius. He was given the weapons necessary to lead a dangerous offensive attack.
But his execution – exacerbated by Kelly's crude mishandling of the position – has fallen well short of Williams'.
Moore earned the first three Pac-12 starts for UCLA but failed to find a groove. His completion percentage never surpassed 50%, he never cracked 300 yards through the air and he threw three interceptions against Oregon State after three across the previous two weeks.
His struggles set in motion a spinning quarterback wheel that can't stop on an answer. Instability has undermined the Bruins ever since Moore's mid-October benching, and after consecutive upset losses, they find themselves right where the Trojans are – in freefall.
And there's every reason to believe they'll spiral further out of control.
The Bruin defense, admirable as it's been in 2023, has not faced anyone like Williams. It hadn't at this time last year either. It won't see a quarterback like him for a long, long time.
He's the consensus No. 1 overall pick across mock NFL draft boards, and should the predictors prove correct, it would mark the Pac-12's first such selection since California quarterback Jared Goff in 2016.
Teams would be happy to pass on Moore, Garbers or Schlee – the poster boys of an incompetent offense. But when the time comes for the first pick, it doesn't matter who's on the clock.
Passing on Williams would be a fool's errand.
– Jack Nelson
Crosby is the 2023-2024 Sports editor on the football and men's basketball beats. He was previously an assistant Sports editor on the baseball, women's golf, men's water polo and women's water polo beats and a contributor on the baseball and women's golf beats. He is also a fourth-year statistics student.
Crosby is the 2023-2024 Sports editor on the football and men's basketball beats. He was previously an assistant Sports editor on the baseball, women's golf, men's water polo and women's water polo beats and a contributor on the baseball and women's golf beats. He is also a fourth-year statistics student.
Nelson is currently a Sports senior staff writer. He was previously an assistant Sports editor on the softball, men's tennis and women's tennis beats and a contributor on the men's tennis and women's tennis beats.
Nelson is currently a Sports senior staff writer. He was previously an assistant Sports editor on the softball, men's tennis and women's tennis beats and a contributor on the men's tennis and women's tennis beats.