Editorial: Alarming surge in hate crimes on college campuses demands urgent action from UC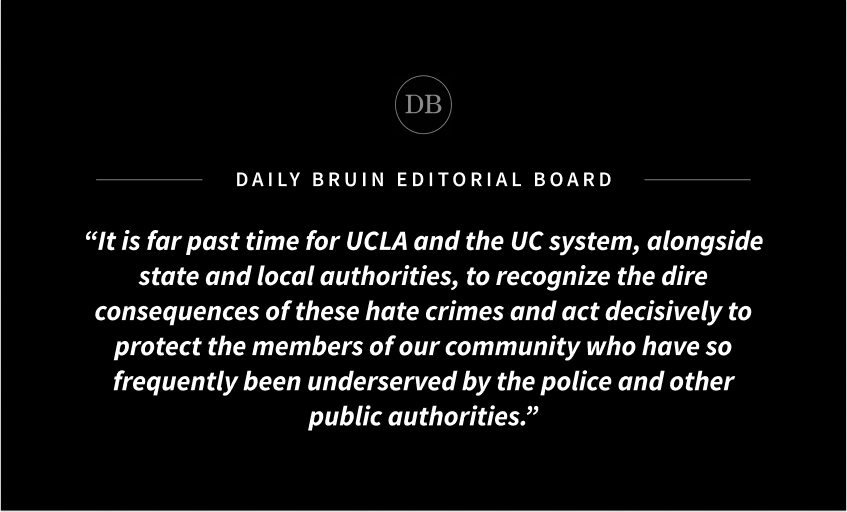 The time is around 1:30 a.m.
A student is walking along De Neve Drive by Rieber Hall. A white four-door sedan pulls up beside him. The driver is clad in a black ski mask.
A passenger at the rear of the vehicle shouts a homophobic slur. He then pulls out a white gun and fires at the student.
The gun shoots a BB pellet, not a bullet. But even a BB shot at high velocity can cause serious injury.
The BB fired by the sedan's occupants barely misses the student's eye, which could have caused permanent eye damage. The student leaves the encounter with a minor abrasion below his eye, although even a slight change in the trajectory of the pellet may have been far more dangerous.
This is the alleged scene of a hate crime on UCLA's campus reported to the UCPD and released to the public under the Clery Act.
But it is not the only one.
According to the 2023 UCLA Annual Security and Fire Report, in 2022, there were seven reported hate crimes on or near campus, including two incidents of battery that occurred on campus.
Hate crimes – motivated by prejudice toward individuals of particular racial, ethnic, religious backgrounds or membership in other marginalized groups – have risen dramatically in the United States in recent years.
According to an FBI report released last March, hate crimes in the U.S. rose almost 12% between 2020 and 2021. In Los Angeles County, hate crimes increased by 36% between 2013 and 2019, according to a report by the LA County Commission on Human Relations.
College campuses have not been spared from this trend.
In recent weeks, amid a rise in hate crimes and on-campus violence, the Biden administration announced a series of new initiatives to counter antisemitism on campuses, partnering with university law enforcement to monitor violent threats and provide additional federal funding to campus police.
The recent escalation in the international tension between Israel and Palestine has led to an increase in hate crimes. There have been 32 reported incidents of hate crimes against Jews and 12 reported incidents of hate crimes against Muslims in LA between Oct. 6 and Oct. 26. This conflict has also increased tensions on college campuses across the nation, leading many students to feel unsafe.
Biden's new programs have been criticized by Muslim and Arab American organizations that also demand more federal support to combat Islamophobia, especially following incidents such as the murder of Wadea Al-Fayoume, a 6-year-old Palestinian American boy, in Palos Heights, Illinois, which is now being investigated as a hate crime.
Beyond the controversy surrounding the Biden administration's efforts, however, it's clear that students today no longer feel safe on college campuses or elsewhere.
The rising prevalence of hate crimes is a direct threat to all students from marginalized groups, compromising the fundamental basis for a healthy learning environment.
It is far past time for UCLA and the UC system, alongside state and local authorities, to recognize the dire consequences of these hate crimes and act decisively to protect the members of our community who have so frequently been underserved by the police and other public authorities.
Events over the past couple of decades – such as 9/11, the financial crisis of 2008, the presidential election of Donald Trump and the general political polarization of the nation – have changed the values that hold importance in the lives of Americans.
A poll from the Wall Street Journal and the National Opinion Research Center at the University of Chicago, a nonpartisan research organization, found that only 58% of Americans said tolerance of others was very important, falling from 80% four years ago.
In general, the study also found that when it comes to social movements, namely a push for racial diversity in businesses and the use of gender-neutral pronouns, the country is divided by political party affiliation.
For example, when considering if society has gone too far when it comes to accepting transgender people, 75% of Republicans agreed with that statement in contrast to only 15% of Democrats. When considering if schools and universities have gone too far in taking steps to promote racial and ethnic diversity, 55% of Republicans agreed with that statement in contrast to only 6% of Democrats.
With the shouting of a homophobic slur on campus, it's important to note that there has been a lot of anti-LGBTQ+ legislation advancing in states across the country. In the first half of the year alone, more than 530 anti-LGBTQ+ bills had been proposed in Congress and state legislatures.
Even a progressive state like California is not safe from this nationwide trend. Earlier this year, two Republican state assembly members from Sacramento proposed a bill that would require school employees to notify parents if their child identified as transgender. Despite the fact that the bill has not passed, some school districts, such as the Chino Valley Unified School District in San Bernardino County, tried to implement these policies locally but were met with resistance.
While California has stepped up in the fight against hate crimes – awarding $91 million in grants to organizations focused on preventing such crimes or supporting survivors – more work still needs to be done, as there has been a 20% increase in hate crimes in 2022, outpacing increases in 42 other major cities.
Amid the charged atmosphere, hate crimes need to be called out for what they are. We should all be focused on cultivating open lines of dialogue with each other in a peaceful manner.
UCLA must keep its students safe. As we pursue an education on campus, our physical, emotional and social well-being all deserve to be cherished and protected.