New report reveals struggles of Koreatown restaurant workers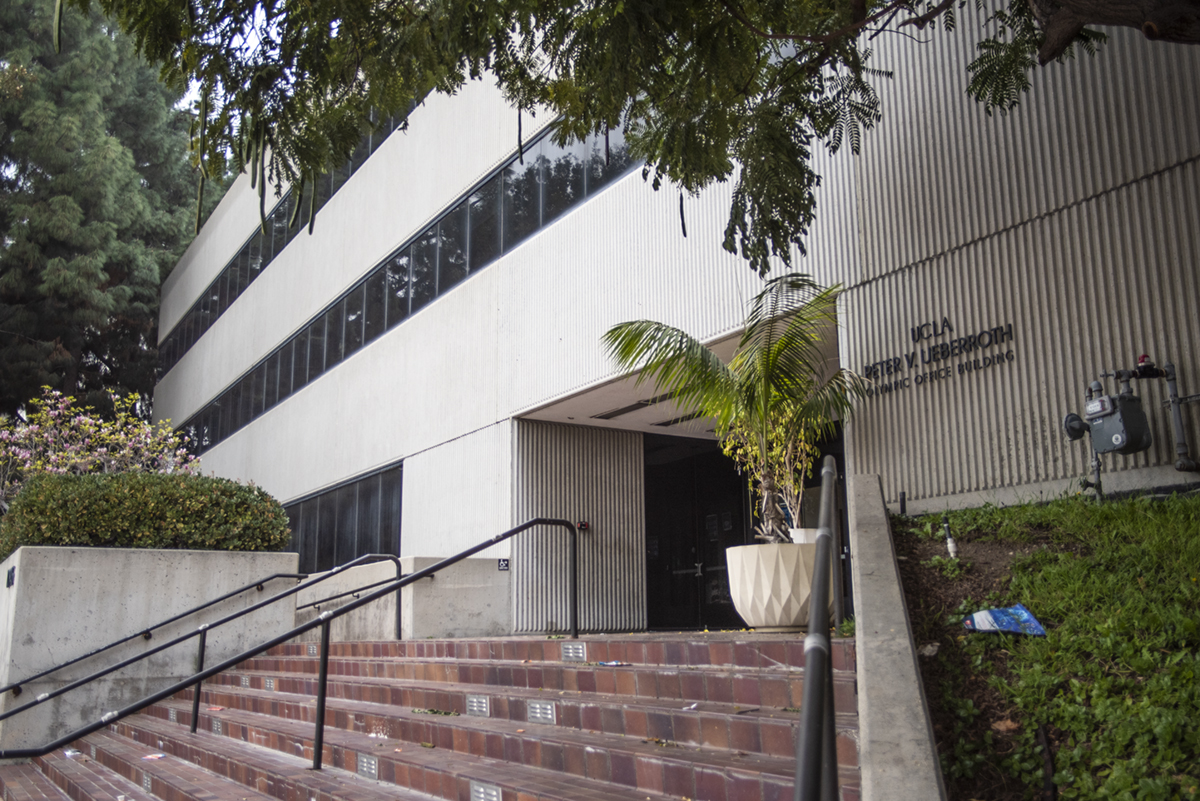 Pictured is the UCLA Labor Center. A report by UCLA Labor Center and Koreatown Immigrant Workers Alliance in partnership with Cal Poly Pomona and San Diego State University found that restaurant workers in Koreatown, Los Angeles, struggle with low wages, housing risks and weak labor policies. (Daily Bruin file photo)
This post was updated Oct. 31 at 11:18 p.m.
A report published Tuesday found that restaurant workers in Koreatown, Los Angeles, struggle with low wages, housing risks and weak labor policies.
"Overcooked & Underserved: The Challenges of Koreatown's Restaurant Workers," published by the UCLA Labor Center and Koreatown Immigrant Workers Alliance in partnership with Cal Poly Pomona and San Diego State University, examines the situations and experiences of restaurant workers in Koreatown. It is based on surveys, interviews and data analysis of demographic and labor data.
Saba Waheed, the UCLA Labor Center research director, said Koreatown's restaurant industry is a vibrant part of LA's workforce and composed of workers who are mostly immigrants.
According to the report, the restaurant industry employs 15% of Koreatown residents, the highest of any industry in the area. The report also said 11% of Koreatown workers are naturalized immigrants and 63% are immigrants without United States citizenship.
"There are 704 restaurants and eating places in Koreatown employing nearly 9,700 workers, and it's the top industry for residents who live in Koreatown," Waheed said. "The number of noncitizen Koreatown workers is almost double that of those of LA County's restaurant workers overall."
Waheed added that the majority of immigrant workers in Koreatown are from Mexico, as well as Guatemala, El Salvador and South Korea.
According to the report, 72% of Koreatown restaurant workers earn low wages – defined as less than two-thirds of the median wage in the area – and 46% are burdened by rent.
Waheed added that over half of Koreatown workers are at or near the poverty level. She also said wages for Koreatown restaurant workers increase more slowly than the rise in rent and cost of living in LA, resulting in the majority of workers being renters and over half living in overcrowded housing.
Eun Sun Choi, a restaurant server in Koreatown, said in a press call about the report that she moved to LA from South Korea in 2005 to seek a better life.
Choi, who spoke in Korean and used a translator, said in the press call that she loves seeing customers satisfied when she serves them food they enjoy, but she finds it difficult for service workers like herself to afford housing because of the high cost of living in LA and unstable hours many workers face.
"I'm fortunate to have a manager who respects me and gives me full-time hours, but I understand that for many restaurant workers, they must work more than one job to live," Choi said. "I believe working as a server is a great job, but it could be a better job if they were more stable."
Koreatown resident Jesus Vicente said during the press call that he moved to LA from Mexico 18 months ago with the goal of earning money for his family.
Vicente, who spoke in Spanish and used a translator, said he lives with his family of six, and they each work at two restaurants to pay their $3,600 rent every month.
"I don't mind working in a restaurant, but I wish I had more free time," Vicente said. "I rarely have a day off, and I wish I could spend more time with my family instead of working and saving money all the time."
It can be difficult for Koreatown restaurant owners to balance profits and costs because of market competition and financial constraints.
Brian Lee, founder and owner of Open Market – a sandwich and wine shop in Koreatown – said as a business owner, investment in labor is necessary for a business to be sustainable.
"We make a choice to pay above minimum wage jobs as a standard," Lee said. "We have salary reviews every six months so we can continue to make sure that we are doing the best we can for our employees."
KIWA executive director Alexandra Suh said there are improvements the city can make to help other workers.
LA could establish a restaurant industry council to set and enforce minimum standards in Koreatown's restaurant sector, said KIWA's Director of Research and Policy Brady Collins. He added that it could also develop an industry-specific ordinance that improves working conditions and rewards small businesses with strong workplace standards.
Suh said the report is the beginning of a series of studies that examines some of the largest industries in Koreatown.
"Restaurant workers in Koreatown are vulnerable in multiple overlapping ways," Suh said. "Keep in mind that behind all of these numbers and data … are individual people and their families, struggling day to day, and most importantly, fighting for a better future."