Q&A: Tarell Alvin McCraney discusses his new position at the Geffen Playhouse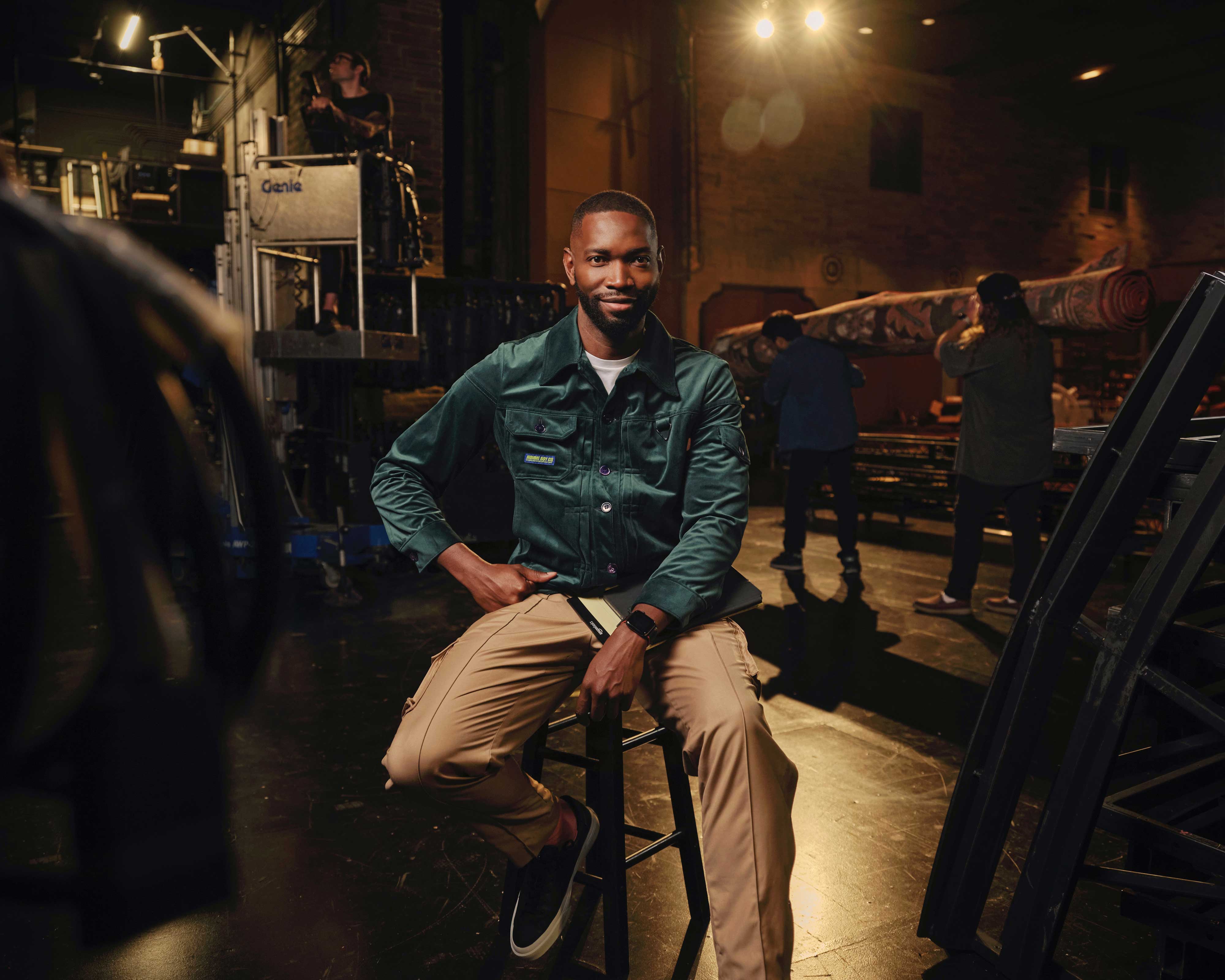 Tarell Alvin McCraney smiles for his photo. The Academy Award-winning screenwriter and playwright was recently named the new artistic director of the Geffen Playhouse. (Courtesy of Erik Carter)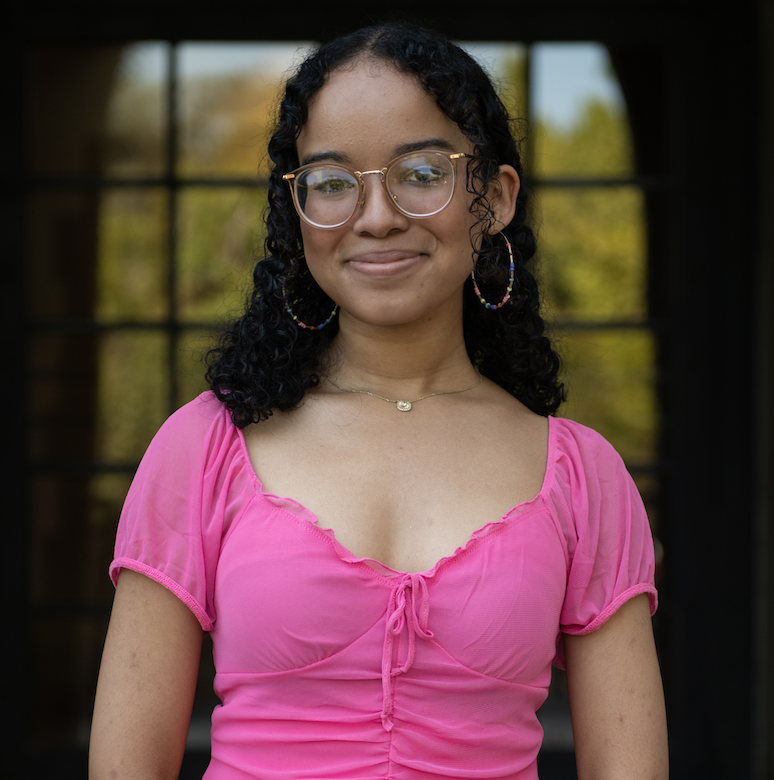 Sept. 29, 2023 12:51 p.m.
This post was updated Oct. 10 at 7:51 p.m.
Tarell Alvin McCraney is facing the future of the Los Angeles theater scene.
The Academy Award-winning screenwriter and playwright was recently named the new artistic director of the Geffen Playhouse. Within his position, McCraney will program the theater's productions and set its strategic artistic course to construct the 2024/2025 season.
Following his new appointment, McCraney spoke with the Daily Bruin's Victoria Munck regarding his hopes to support the Geffen's fresh artists and his excitement about connecting with the UCLA community.
This interview has been edited for length and clarity.
[Related: Theater review: 'The Ants' is a 'biting, timely thrill' exploring artificial intelligence]
Daily Bruin: Your play "Choir Boy" had its premiere at the Geffen nearly a decade ago. Could you have pictured yourself taking on this role back then?
Tarell Alvin McCraney: I have friends who told me to never say never because I absolutely said never to being an artistic director of a major theater like the Geffen. That was mostly because the administrative life didn't look appealing to me, and I didn't see how I could be helpful. That has changed over the last decade. We need leadership that is arts-based and wants to take a chance on artists.
Across entertainment, we're leaning so heavily into a corporate model for the way art is made. We're forgetting the fact that the big risks we've taken are on people's imaginations – on the ability for someone to take a story and bring it through their prism and surprise us all with how familiar that story can be and how extraordinarily fresh it can feel. That's what has founded the arts in our society. Slowly but surely, there's been an erosion of that. So I kept feeling like at some point, the artists who can lead need to. I had to put away this childish ideal that I could let somebody else take care of it – that somebody had to become me at some point.
DB: You've worked all across the country, including Hollywood. How do you think the Geffen's Los Angeles location makes it unique as a playhouse? What excites you about relocating here?
TM: That's (LA is) where I thought an exciting nexus was happening. We've got this incredible, strange workshopping happening and fluctuations of how industries work in the conversion of streaming. There are a lot of artists who work in dramatic storytelling who want to continue to be their multi-hyphenated selves. Matt Shakman, who ran the program before me, is a director of both plays and TV and film. That's kind of the signature of the Geffen. We are the theater playhouse for artists who are in that multi-hyphenate realm, and we want to remain that.
We want to keep inviting those folks to keep sharpening their tools here, but there are some stories that need to be live and in person. We want to make sure those artists have a place that they can call home. We want to continue that legacy. At this point in my career, it felt really smart, meaning I could continue to do those works (and) to be in a place that celebrated that, rather than trying to make a binary out of just working in theater or just working in film.
DB: You've mentioned wanting to foster a stronger relationship between the Geffen and UCLA. How do you think the campus' student population could benefit from more involvement in this live theater setting?
TM: The truth is that we have to invest in our early audiences. Right across the street from us, in our community, are the artists and audiences of tomorrow. We need to engage you all (UCLA) in the most rigorous conversation of what that means. Whether it's seeing plays here or witnessing art at the Hammer (Museum), what does that mean for us to make sure that you're getting the cultural access that you deserve as our future leaders, our future thinkers, our future joymakers?
In turn, you're going to show us really incredible ways to make art. You're going to show us the hybrid between live theater and social media that we've been missing. That's really exciting to me, and that doesn't happen unless we offer what we know so you feel open enough to tell us what you know. That also means being really aware of what kinds of needs folks have in the community. I think we can be better community partners if we're in conversation than if we keep programming without any check and balance.
We want to cultivate a space where you feel like this is a part of your learning. Everybody doesn't have to walk away being a theater artist, but part of your learning is, "What can I get in a live theater setting? What kinds of shows can I see that are surprising?" That's how we get folks to understand that this is your playhouse as well.
[Related: Q&A: Tony-nominated UCLA professor talks lighting design for 'Camelot', industry values]
DB: When you reflect on your experience as a college student, is there one particular lesson from your time within theater spaces that you hope to share with the UCLA community?
TM: One of the things that is really important to me is that folks in the UCLA community lean into the idea that they don't have to go anywhere too far to have their voice be heard. Often we tell people that if they want to be heard in the theatrical space, they have to do it in New York on Broadway. Sometimes that's a great platform, but we want to make sure that there's a platform here – where a person's voice can be heard in an intimate but loud platform and engaged in a way that is both evocative and joyful.
That's one of the things I learned in school: you don't have to travel halfway around the world to find perfect people you want to collaborate with and be able to see yourself reflected back to you in the theater space. I hope we can create that synergy at the Geffen between UCLA and us.
Munck is the 2023-2024 theater | film | television editor. She was previously an Arts contributor from 2022-2023. She is a second-year communication student from Granada Hills, California.
Munck is the 2023-2024 theater | film | television editor. She was previously an Arts contributor from 2022-2023. She is a second-year communication student from Granada Hills, California.