Writers Guild of America reaches tentative deal with studios to end strike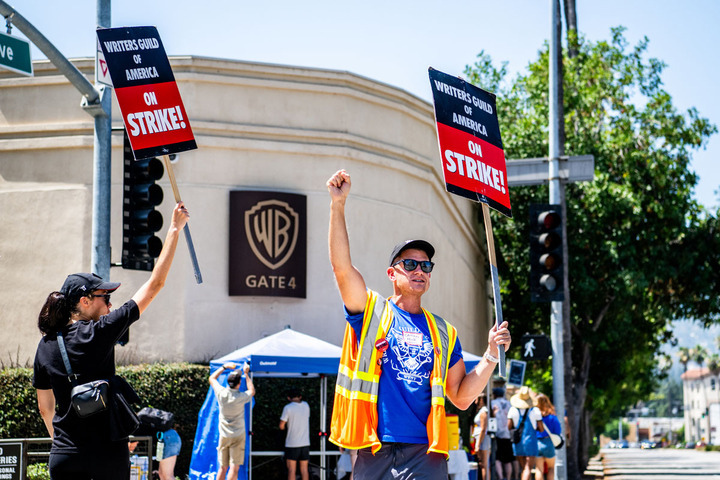 Two members of the Writers Guild of America stand at the Warner Bros. Studio picket line. The WGA and the Alliance of Motion Picture and Television Producers arrived at a tentative deal on Sunday. (Daily Bruin file photo)
The Writers Guild of America and the Alliance of Motion Picture and Television Producers arrived at a tentative deal on Sunday.
Negotiating parties for the WGA and AMPTP reached a tentative agreement on a new three-year contract, according to an emailed statement sent to WGA union members Sunday night. Final contract language is still being drafted, and the deal will not go into effect until it is ratified by WGA members.
Over 11,000 members of the WGA have been on strike since May 2, nearly beating the record for the union's longest strike in history, which was 154 days in 1988. The union's demands that initiated the strike included higher wages, improved residual payments from streaming services and protection in writers rooms against the rise of artificial intelligence.
On July 13, the Screen Actors Guild-American Federation of Television and Radio Artists joined the WGA on the picket lines, freezing the majority of industry productions. The union, which represents approximately 160,000 performers and media professionals, based their strike on a similar set of concerns, with a lack of compensation from streaming residuals and a threat to jobs imposed by artificial intelligence. SAG-AFTRA has not yet reached a deal with the AMPTP, meaning many productions are expected to remain static.
[Related: Former Bruins support picket line amid SAG-AFTRA strike]
Negotiations between the WGA and AMPTP resumed on Sept. 20 after a nearly month-long halt in discussion. Top studio executives were present in person for the first three days of recommenced conversation, such as Disney chief Bob Iger, Netflix co-chief Ted Sarandos, Warner Bros. Discovery chief David Zaslav and NBCUniversal chairman Donna Langley. On Saturday, legal counsel convened to finalize the language of the three-year contract.
Details of the contract have not yet been shared, though the WGA's statement noted an agreement in principle on all deal points. Union picketing has been suspended, though members will still be on strike until the contract is approved and ratified.
"We can say, with great pride, that this deal is exceptional – with meaningful gains and protections for writers in every sector of the membership," the WGA negotiating committee said in the emailed statement to union members.