Gameday predictions: UCLA vs. Utah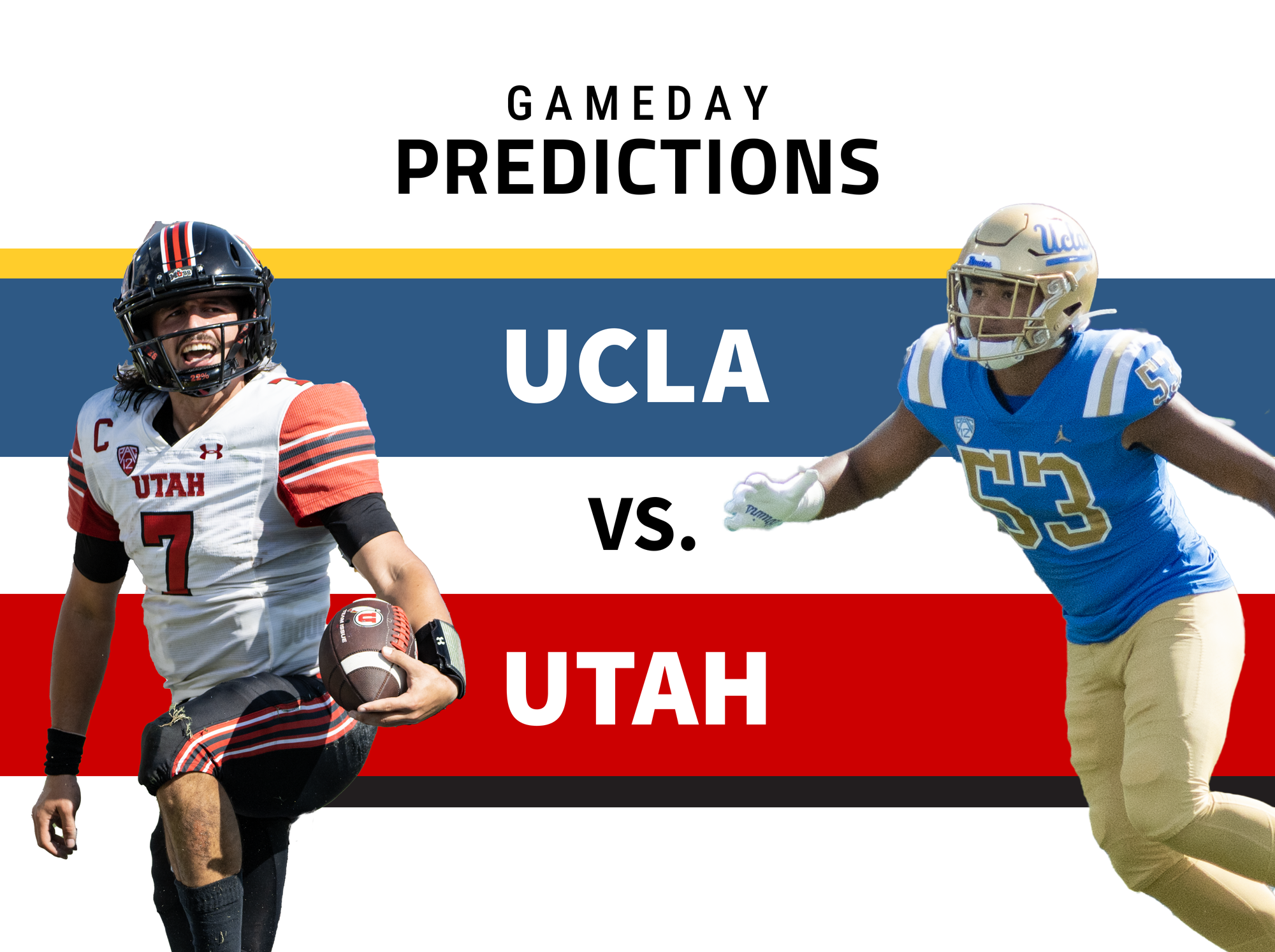 Pictured are Utah quarterback Cameron Rising (left) and UCLA redshirt senior linebacker Darius Muasau (right). (Photos by (left to right): Jason Zhu/Daily Bruin staff, Kyle Kotanchek/Daily Bruin senior staff. Photo illustration by Helen Quach/Design director)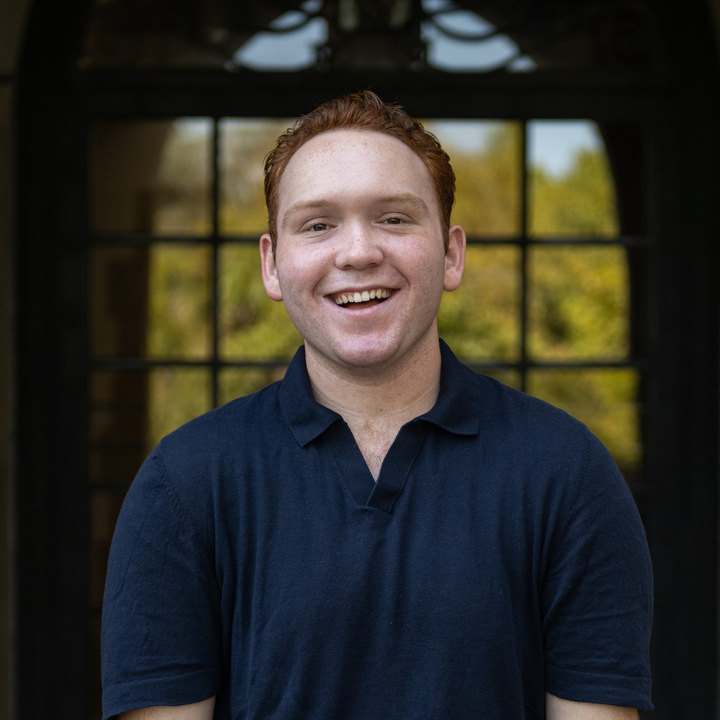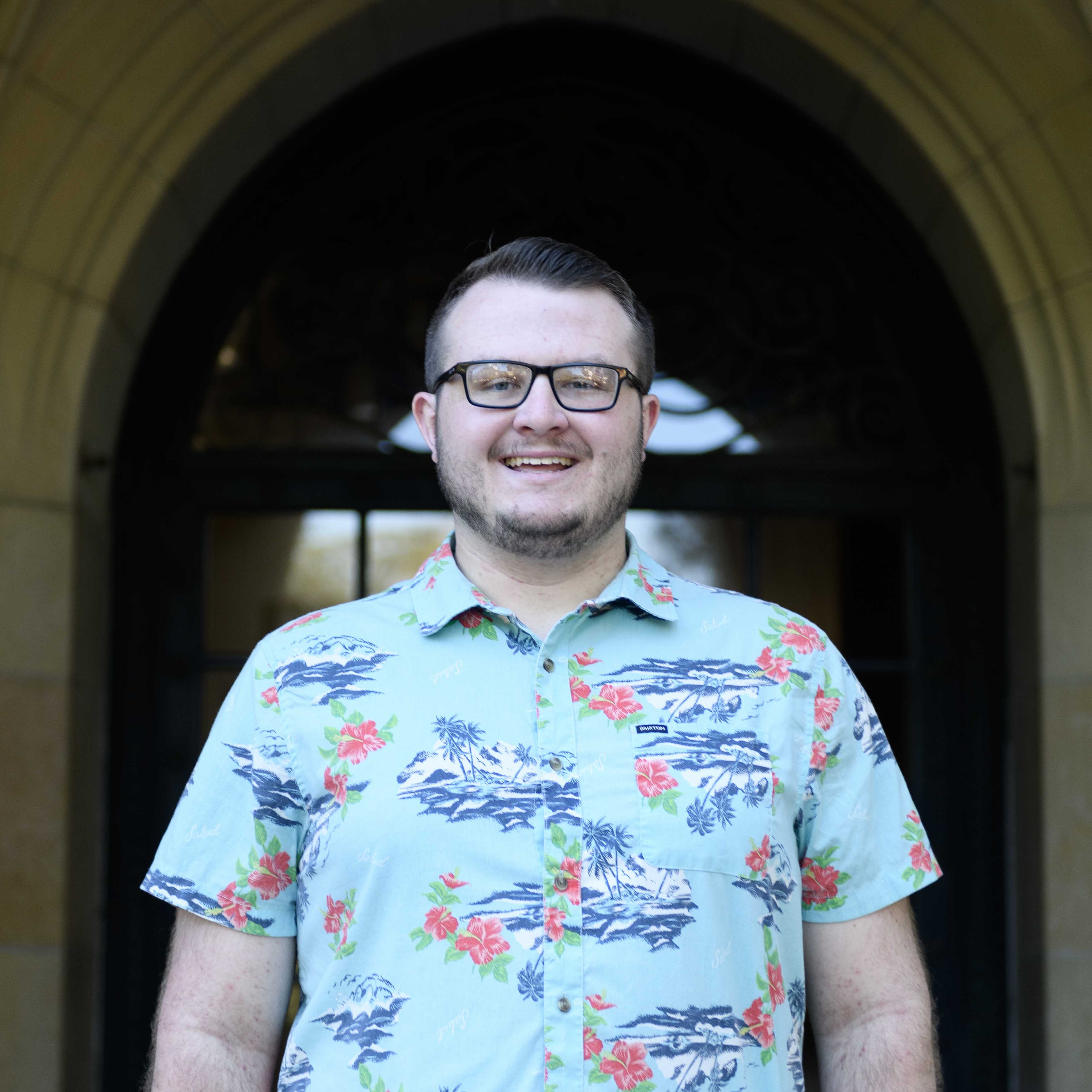 Joseph Crosby
Sports editor
Prediction: UCLA 35, Utah 31
I watched this matchup two years ago from the Mighty Utah Student Section – also known as the MUSS – and somewhere along the way ended up with nacho cheese in the hood of my jacket.
If there are two things I remember from that game, it was how unbelievably raucous Rice-Eccles Stadium was, and former Utes' running back Tavion Thomas rushing for four touchdowns.
Fortunately for my ears, I'll be in the confines of the press box this time around.
And fortunately for No. 22 UCLA football, its run defense is unlikely to let any Utah rusher tally four scores on their own.
But that doesn't solve the problem of how hard it is to play in Salt Lake City.
The Utes haven't lost at home in front of fans since 2018, and the Bruins haven't pulled off a win in Utah since 2015.
UCLA has a tough task ahead of it in the pursuit of a 4-0 start to the season.
Coach Chip Kelly is up to that challenge – and he's getting a little help from Utah in the process.
Quarterback Cameron Rising has yet to play in a game this season, and if he does see the field Saturday, it's hard to imagine he'll be at 100% in his recovery from the ACL tear he endured in the Rose Bowl. Beyond Rising, the Utes are dealing with a litany of injuries across the team, which could make things a bit easier for the Bruins.
This is going to be a close game, and UCLA will need everything to go right – particularly with freshman quarterback Dante Moore – if it wants to win.
But maybe when the lights are brightest, Kelly's team will be able to get that one final stop, or complete that one final scoring drive, and solidify itself as a true Pac-12 contender.
Cecilia Schmitz
Assistant Sports editor
Prediction: UCLA 30, Utah 28
Anyone in my family will tell you I'm a pessimist.
I prefer the term realist, but to their credit, I tend to believe the worst will happen.
Funnily enough, my line of work is the exception. I have always had exceptional belief when it comes to the underdog. I've seen Aaron Rodgers overcome the Cowboys with 70 seconds left. I witnessed UCLA women's soccer tie the national championship game with 16 seconds remaining.
I firmly believe in the human element that cannot be calculated or predicted, which is why I don't buy into the projections giving Utah a heavy chance of beating UCLA.
I've also written my first-ever scouting report for this week's game, so I know more now than ever about Utah's offense and the injuries their team is plagued with.
Rising is questionable to start, and if he does play, the Bruins have already beaten him once.
With an even stronger start than the year before, they should be able to do it again.
Therefore, I feel confident in saying that the Bruins can overcome the Utes.
This will not be an easy battle: Utah is a fearsome team, and Moore has yet to face real pressure before the eyes of Utah's loud and loyal fans.
Moore has become stronger and stronger, however, and I believe he will rise to the task and deliver the points necessary to put the Bruins on top by the final whistle.
Benjamin Royer
Assistant Sports editor
Prediction: UCLA 24, Utah 48
Moore could be the most talented UCLA quarterback the Rose Bowl has witnessed since Josh Rosen suited up as a true freshman.
And now, he's set for his first conference battle Saturday afternoon.
Playing in the bright lights of Rice-Eccles Stadium – a place where the Bruins have not won since 2015 – I have no doubt the Michigan local will shine, showing off his brilliant accuracy and pocket presence.
So far, it seems all is well for the visitors – right?
Well, Rising will surely have something to say about that.
The senior quarterback, who is a former All-Pac-12 First-Teamer and – when healthy – sits in the upper echelon of the conference's signal callers, led Utah to the 11th-best offense in the FBS in 2022.
Yes, the numbers haven't materialized yet this season, with the Utes ranked 86th in total offensive yardage per game. But now, with Rising tracking to return from injury and emerge back under center, the Bruins are in trouble.
UCLA's secondary has yet to be tested against a top offense, and against a Utah squad with Rising at the helm, the defense has an early make-or-break moment in their season.
It's a test I don't think they can pass.
Even if Moore keeps UCLA in the game, the defense has to keep Utah from getting on the board – a task which may have been difficult even with the backup-tandem of Bryson Barnes and speed-threat Nate Johnson taking charge of the Utes.
Either way, this game will teach us something about the Bruins.
Can UCLA hang against a high-octane offense?
Or will this just be the appetizer for a bigger bruising against reigning Heisman Trophy-winner Caleb Williams and USC in November?
Matthew Royer
Daily Bruin senior staff
Prediction: UCLA 23, Utah 15
Can freshman quarterback magic strike twice for the Bruins on Saturday?
I'm inclined to think so.
During 2015's contest between UCLA and Utah – the last time the Bruins scraped themselves out of Salt Lake City with another tally in the win column – then coach Jim Mora entrusted Rosen with the offense.
Now, eight years later, Kelly has to make up his mind and entrust his offense to the true freshman in his quarterback room – Moore.
Moore has arguably had one of the most impressive and consistent starts to a collegiate career, including seven touchdowns and a 62.7% completion percentage, at times only needing one play on his drives to lead the Bruins into the end zone.
However, it is foolish to count out Utah's defense or the potential season debut of Rising heading into this contest, especially when backed by the almost 52,000 fans in Rice-Eccles Stadium – a cathedral for football and battles with altitude.
Winning a game in Salt Lake City is no joke, and it will not be easier with the Bruins' running back core of junior Carson Steele and sophomore T.J. Harden likely to be stifled by the Utes' elite rushing defense.
This game will certainly come down to the second half of football – just like it did in 2015 – when a better team will rise to the top of the Pac-12 standings: Moore's Bruins.