Yukai Daiko drums up cheer and culture through taiko community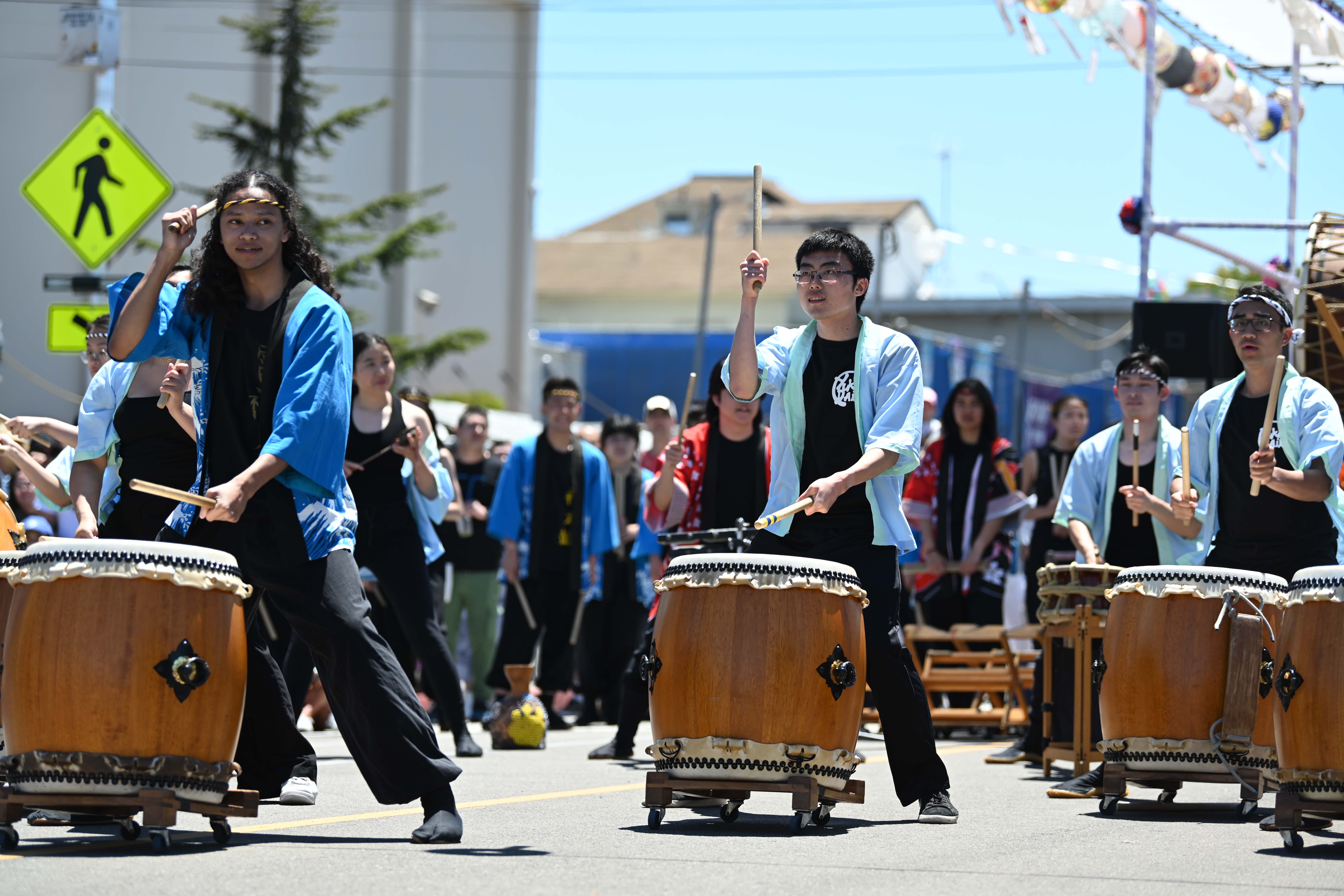 Dressed in turquoise-colored traditional wear, members of Yukai Daiko practice the Japanese art of taiko at the San Jose Obon Festival. Nearly two decades old, the club seeks to embrace a blend of modernity and tradition within its musical performances. (Courtesy of Riley Stokes)
Yukai Daiko is drumming up cheer, culture and community.
Founded in 2004, the organization offers Bruins the opportunity to participate in the Japanese art of taiko drumming. Yukai Daiko welcomes anyone, irrespective of their background or musical experience, and seeks to teach them how to play taiko, as well as the history of the art form. This open and inclusive attitude is reflected in the club's name, which means "cheerful drumming" in Japanese, said external director and fourth-year biology student Michelle Duong.
"Our spirit is all about welcoming everyone who wants to try taiko out," Duong said. "We just want to have fun while we're doing it."
Members of the club partake in numerous activities, Duong said, including thrice-weekly practices, live performances on- and off-campus, workshops and traveling to various taiko events. Additionally, the group incorporates aspects of Japanese culture into its operations while also adopting a contemporary playing style. Ultimately, the organization emphasizes both tradition and modernity in different ways, said Barrett Koontz, a fourth-year global jazz studies student and the club's internal director.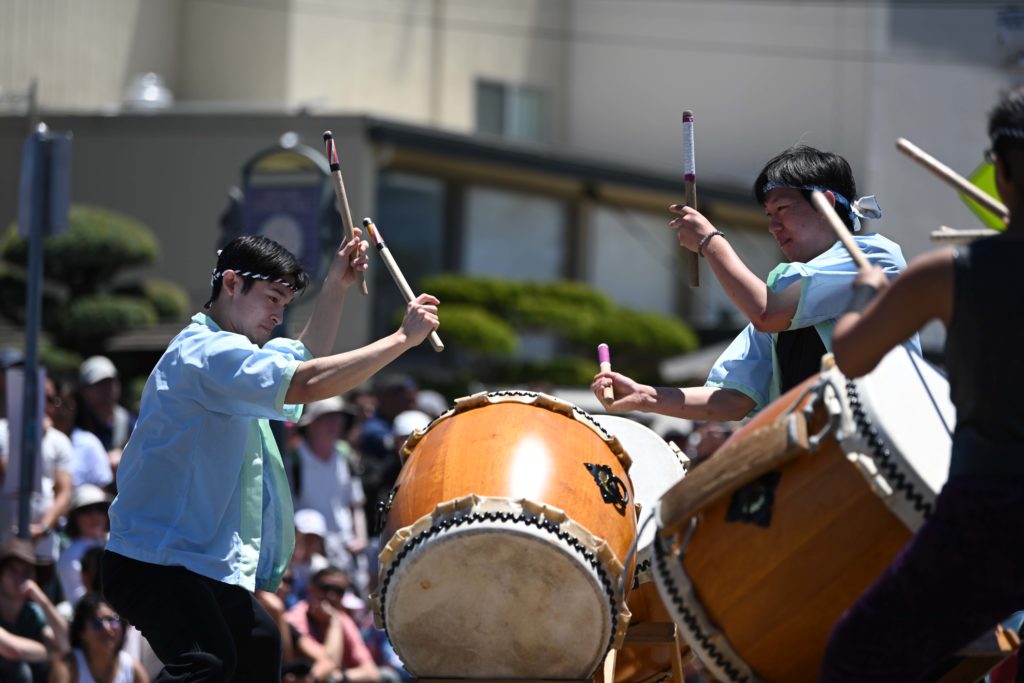 For instance, Koontz said many of the songs taught by Yukai seek to highlight fundamental sounds and hits in the art of taiko drumming. The group also honors Japanese culture, Duong said, by observing customs such as bowing and using Japanese phrases. Fifth-year history student and club member Trevor Fermin said participants wear traditional Japanese attire and yell specific Japanese vowels, or kiai, during performances.
On the other hand, the group also makes use of sounds that are uncommonly heard on a taiko drum, Koontz said. This can include hitting unusual parts of the instrument, Fermin said, such as the nails on the side of the drum or an attached wooden pad. He added that taiko drumming is an art form that allows people to take liberties with technique and choreography, leading to the incorporation of nontraditional musical styles.
"I've seen pieces that include a Korean drumming tradition, or Afro-Latin or Afro-Cuban rhythms," Fermin said. "In North America, taiko is a very open art, so you'll see people playing big Japanese drums with other musical traditions from other countries."
[Related: How dance team ROOT[D branches out while staying true to South Asian roots]
Duong said this combination of cultures is evident in the pieces written by the organization's members, who make use of a diversity of musical styles. Yukai's repertoire includes songs that are specific to the club, such as "Showtime," a flashy, vaudeville-esque piece, she said. Another is "Yukaina," which Fermin said was written by the group's founder, Yuta Kato, and represents one's journey through taiko from hesitant beginnings to becoming integrated into the community.
The club encourages community among its members by holding social events after practices and participating in joint practices alongside taiko groups from other colleges, Fermin said. The organizations of the collegiate taiko community, he added, often attend each other's performances and workshops with professional taiko players. Koontz said this closeness affords Yukai the opportunity to learn about other schools' different taiko styles.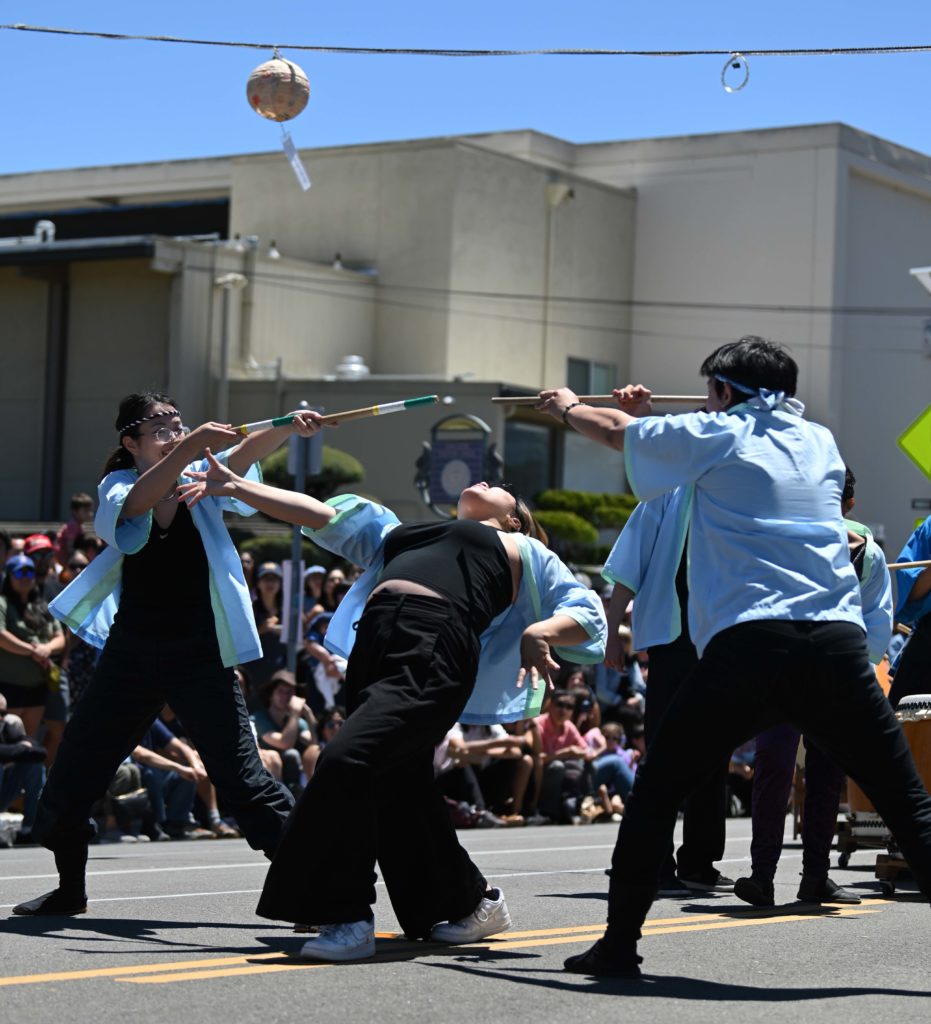 During the COVID-19 pandemic, Fermin said, much of the collegiate taiko community experienced a steep decline in membership, including Yukai. Additional challenges faced by the group included coordinating practices amid quarantine orders, as well as having to cancel its spring 2022 concert after a member tested positive for COVID-19, he said. However, Koontz said that while the organization's numbers were reduced because of the pandemic, its remaining members have not lost their sense of community or love of music.
"Our club has gone down in numbers, … but I would say we're still relatively close," Koontz said. "We're more passionate about the art of taiko itself and expressing our musicality through music and through the drum."
In light of the club's pandemic-era changes, Duong said, its spring 2023 concert felt long overdue. Being Yukai's first spring concert in four years, it was also a new experience for many of the group's members, she added. Because of this, Koontz said, the process of planning the performance was work-intensive and difficult, making it a learning experience for the club. Moreover, Duong said the concert served as a test of endurance, as most of the performers had never participated in such a long event before.
[Related: Jazz-fusion band Super Groove Technology seeks to spread joy to listeners]
However, Duong said, the spring concert was also a gratifying experience because it enabled members of the club to reconnect with the rest of the taiko community and experience support from those who showed up to see the performance. Fermin said the concert acted to celebrate both the members of Yukai Daiko and the audience.
"Spring concert, especially, was a celebration of how we overcame these hardships, (and) a celebration of our love for taiko," Fermin said. "It was very rewarding to see that all our hard work and endurance had paid off."
Through such performances, Koontz said the club seeks to build community, allow members to feel safe stepping out of their comfort zones and engender passion in both taiko drumming and music as a whole. Duong said she hopes club members and audiences alike will leave Yukai's performances feeling excited about watching or playing taiko. Additionally, she said she hopes to communicate the group's philosophy of being cheerful, fun and inclusive.
"Taiko, we feel, is for everyone," Duong said. "Whether that means anyone who's passing by, anyone who's mildly curious about Japanese culture (or) people who are veterans in the taiko community – we really feel like it's for everyone."