Startup BruinRent streamlines apartment searching with student-centric metrics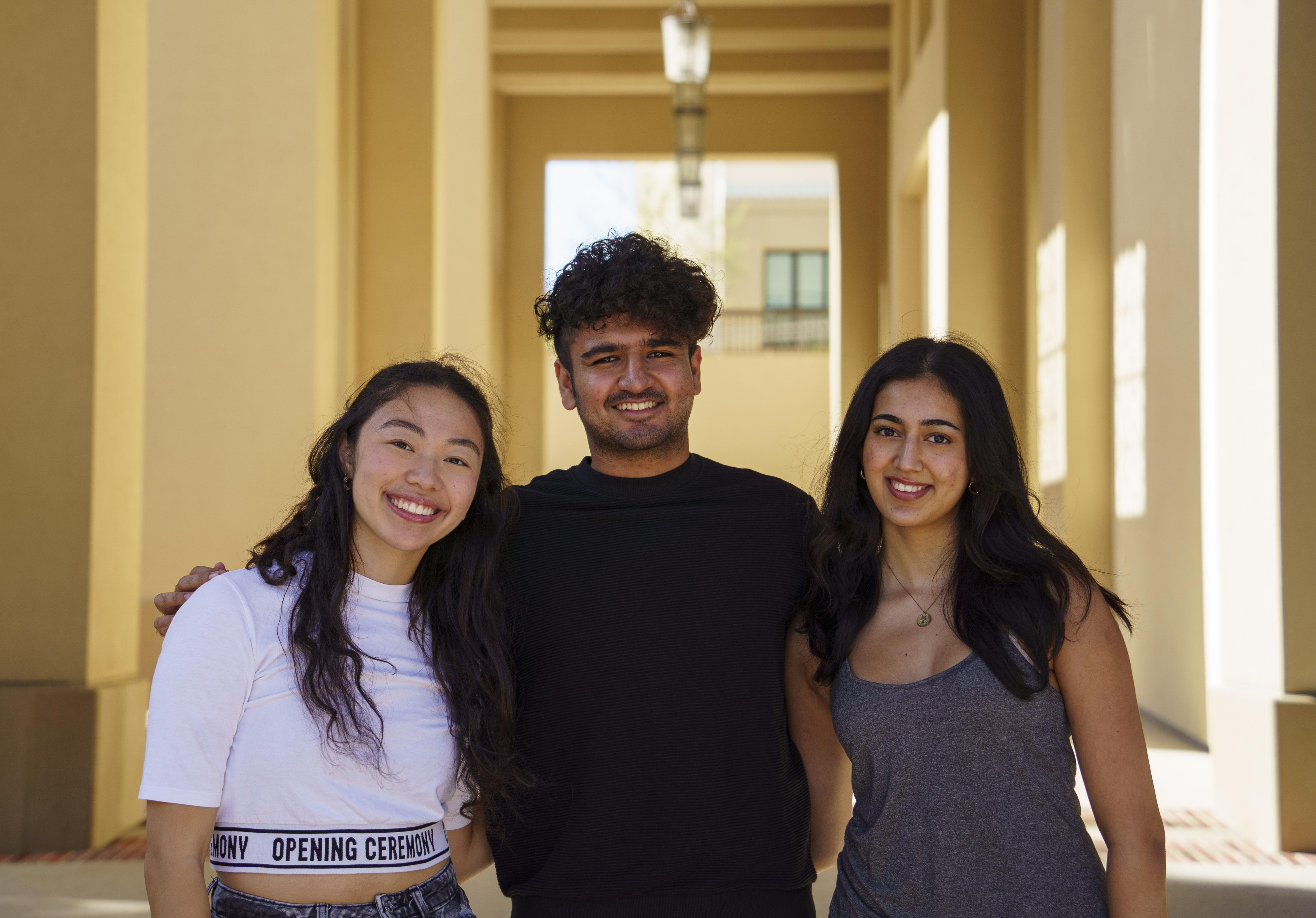 (From left to right) Natasha Cheung, Janak Sunil and Sana Indap stand together. The three students are members of BruinRent, a new startup dedicated to making apartment hunting easier. (Julia Zhou/Assistant Photo editor)
BruinRent holds the key to apartment hunting.
Tailored specifically to the UCLA community, the student-built platform provides listings of rental properties as well as features of each place, such as amenities and noise level, to simplify the rental process. As a number of Bruins have already gone through the experience of searching for housing, product managers Natasha Cheung and Janak Sunil recognized the value in compiling the information to foster a streamlined approach for fellow students, Cheung said.
"We think about things from the perspective of, 'What would a student need to know? What would a student need to consider when looking for housing?'" said Cheung, a fourth-year business economics student.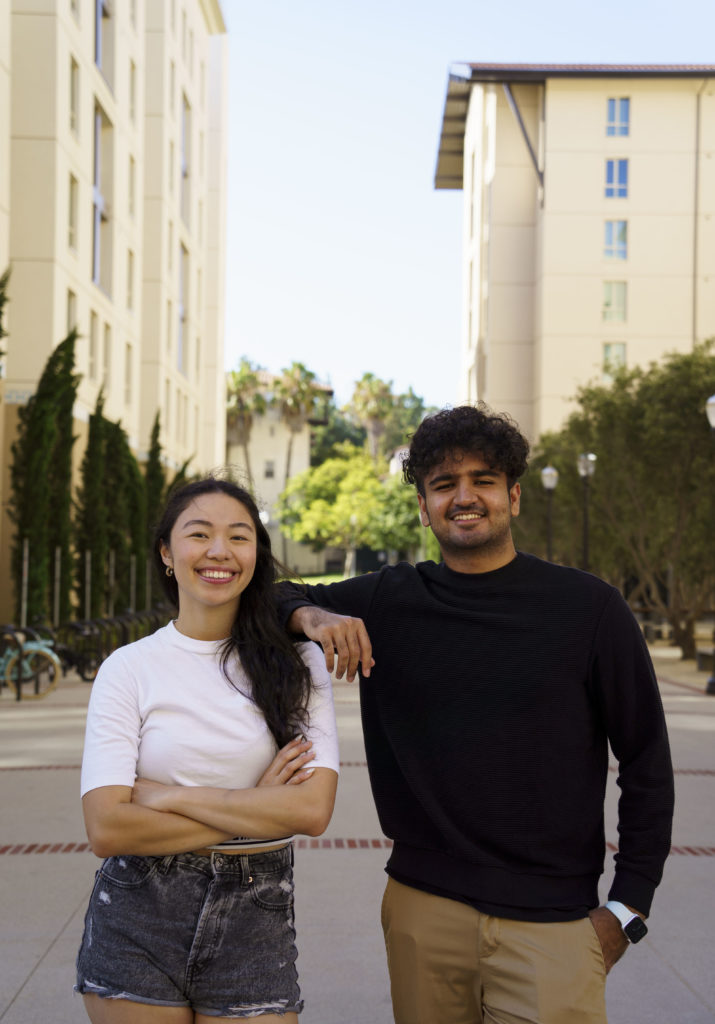 [Related: Student-created website Roomble helps UCLA students find ideal roommates]
Cheung said her personal experiences searching for an off-campus apartment during the summer between her second and third year supplied the spark of inspiration to create BruinRent. Third-year economics student Sunil, who decided to partner with Cheung in May, said he also had difficulty finding a well-priced place. Reflecting on her own search, Cheung said she wished she had access to a website similar to Zillow but for Bruins that would have shown her different options around Westwood and their respective prices.
Sunil said although there are other platforms that offer similar services to look for homes, BruinRent's utility derives from how it caters to UCLA attendees, many of whom are participating in the apartment search for the very first time. Its metrics, such as the distance from campus or Target, are based primarily on student interest, which is what makes the platform different from Zillow or Redfin, said third-year computer science student Vikram Puliyadi.
"There isn't a platform that does this already – that condenses everything into one place for UCLA students," Puliyadi said. "If you were to make an analogy, it's like how Bruinwalk is just Rate My Professors but for UCLA."
As the development lead, Puliyadi said the team's process consists of weekly meetings to discuss upcoming implementable tasks. During the beginning of summer, the development team designed the frontend – what the user sees – based on sketches of the vision for the site, Puliyadi said. He added that they initially used sample data to simulate the flow of navigation, but now the team is bringing in actual apartment listings.
The website currently features a map of Westwood, Puliyadi said, with pins on available properties. He said students can click on individual apartment listings, which display additional details of the place, including photographs given by the landlords. To showcase the most accurate data, the lessors directly upload information about the apartments, Cheung added.
Cheung said students can also explore verified reviews by former or current residents of the place. Although platforms that aren't student-centric often lack such a system, Cheung said she felt the student perspective was crucial for BruinRent. The comments left by those who have lived in the building can impart unbiased opinions that a landlord may not, helping others decide if the place is a good fit for them, Puliyadi added.
"From a tangible standpoint, the way it (BruinRent) would impact student life is three ways," Sunil said. "It would save people time and hassle from searching for apartments. It saves people money because it makes the rent prices more accessible. And in general, it makes people more happy because if you're living in a place that suits your personality, suits your lifestyle – you're generally happier."
Being a student himself, Sunil said it hasn't been easy to juggle the creation of BruinRent with other commitments. However, collaborating with other students and sometimes managing different skill sets and opinions have been valuable learning experiences, he added. Similarly, Cheung said through the connections and friendships she has fostered, she's learned the team isn't only there to work together but also to learn from each other.
[Related: Student-run startup MySchoolMarket promotes online commerce for UCLA community]
While the website was being built, BruinRent also temporarily became a platform to match subletters and sublessors, Cheung said. In the long term, Cheung said she hopes to increase the tools that BruinRent offers by permanently adding subleasing alternatives, in addition to other options such as roommate pairing. But regardless of the eventual direction BruinRent takes, its core mission will always stay firm in supporting those at UCLA in the search for housing, she said.
"I've always loved being part of the community and giving back to the community," Cheung said. "I think all of us find a lot of fulfillment, being able to use our skills, learn new skills, then take those to make an impact to the UCLA community, which we believe will … help generations of students in the future."
Wang is the 2023-2024 Enterprise editor. Previously, she was the 2022-2023 Opinion editor, and prior to that, an assistant Opinion editor. She is Quad staff and also contributes to Arts, News, Sports, Photo and Video.
Wang is the 2023-2024 Enterprise editor. Previously, she was the 2022-2023 Opinion editor, and prior to that, an assistant Opinion editor. She is Quad staff and also contributes to Arts, News, Sports, Photo and Video.