Scouting report: UCLA football vs. Utah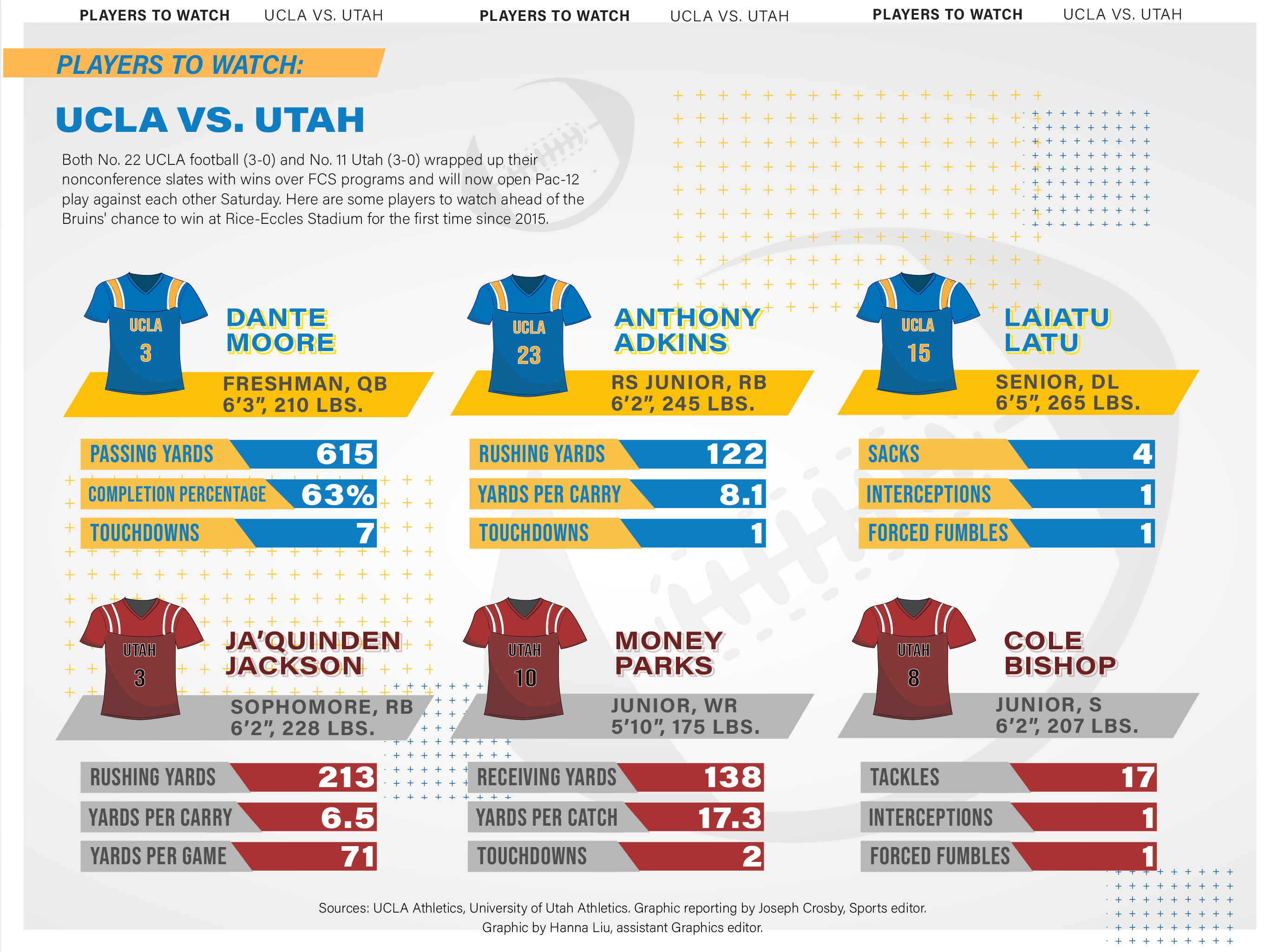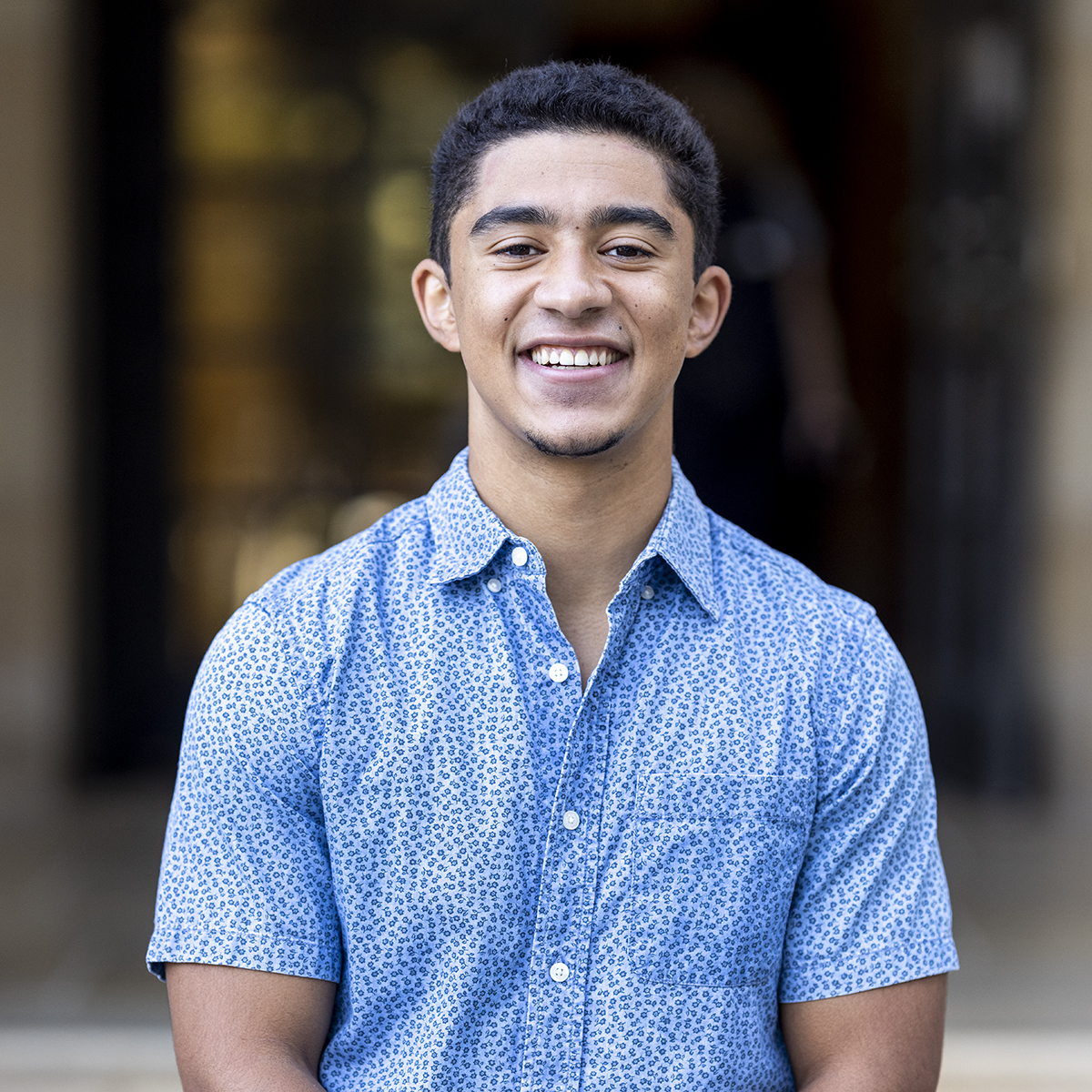 Sept. 21, 2023 11:41 a.m.
No. 22 UCLA football (3-0) is opening Pac-12 play at Rice-Eccles Stadium against No. 11 Utah (3-0). The Bruins will have the chance to win in Salt Lake City for the first time since 2015, while the Utes will be chasing down revenge after losing at the Rose Bowl last season. Here is this week's scouting report from assistant Sports editor Cecilia Schmitz and staff writer Gavin Carlson – who are both looking for some clarity on whether Utah quarterback Cameron Rising will play.
Utah's Offense
Offensive scheme: Spread
Run-pass percentage: 64.8% run, 35.2% pass
Strength: Experience under pressure
Weakness: Injuries
X-Factor: Ja'Quinden Jackson
Utah is one of the strongest teams in college football.
In back-to-back weeks, it defeated Florida and Baylor to kick off its season and continues to push for more. This rhythm is how Utah operates – steady, consistent and under the radar until the time comes to step up.
Like UCLA, Utah is undefeated so far. However, the Utes have played considerably more challenging foes than the Bruins and are regarded by many to be one of the top contenders of the collapsing Pac-12.
Last season, UCLA defeated Utah as the underdogs, shocking the college football world. That was against a full-fledged, healthy Utah offense. Now, the double-digit injury count for the Utes calls into question their readiness to take on the Bruins, with at least 15 players injured, according to Utah coach Kyle Whittingham.
Rising, the quarterback who guided the Utes to a Pac-12 championship win over USC and a Rose Bowl appearance last season, suffered an ACL tear in said bowl game. He is questionable to play in Saturday's game alongside parts of his receiving corps, including wide receivers Devaughn Vele, Mycah Pittman and Munir McClain.
This spells out trouble, or at the very least necessary rearranging for the Utes, as their usual spread formation relies on multiple pass catchers in the open field.
The numerous injuries suggest that Utah will lean heavily into their run game, with fewer options to catch deep throws.
Running back Ja'Quinden Jackson leads Utah's run game and has already found early success as a starter, rushing for 129 yards on the road against Baylor. Jackson will need to be at the top of his game to help drive his team downfield.
Utah's two starting quarterbacks this season in lieu of Rising are Nate Johnson and Bryson Barnes, both of whom have shown ease in the pocket and an ability to stay collected to make plays.
Both Barnes and Johnson have seen the field this season, with Johnson starting in the Utes' most recent game against Weber State and Barnes starting against both Florida and Baylor. Johnson, a redshirt freshman, ranks second among Pac-12 quarterbacks in rushing touchdowns.
The Bruins are better equipped to defend against the pass rushing they will face under the guidance of defensive coordinator D'Anton Lynn. UCLA will need to apply pressure on Johnson – assuming Rising is unavailable – to put a damper on the Utah offense.
UCLA's defense has excelled at stopping the run, and with Utah's projected starting center yet to appear in a game this season, the Bruins can continue to leverage a strong pass rush, potentially forcing bad throws out of Rising or Johnson.
Although Utah is missing many of the key players that led them deep last season, this squad is definitely one UCLA must prepare heavily for. The Utes may not receive the same attention as other flashier teams, but they are still favored to defeat the Bruins with their roster depth, consistency and home-field advantage.
Utah's Defense
Defensive scheme: 4-3
Strength: Stopping the run
Weakness: Up-and-down secondary
X-Factor: S Cole Bishop
Many will credit the presence of Rising at quarterback for turning Whittingham's program from a solid team to the best in the Pac-12.
But the 19-year coach has built up the Utes, especially in recent times, because of his ability to consistently have an elite defense.
In four of the past five seasons, Utah's defense has allowed fewer than 23 points per game. And the one season it gave up more was the five-game season in 2020 shortened by COVID-19, so that hardly counts.
In simple terms, the Utes' defense has been consistently elite. Despite battling injuries to start this season, things look the same in Salt Lake City in 2023.
Utah has given up just 31 combined points through its first three games of the campaign. Sure, Baylor and Weber State are not elite opponents, but Whittingham's defense did hold Florida to only 11 points – the same team that just put up 29 points to beat then-No. 11 Tennessee. The Gators rushed for 183 yards against the Volunteers but were held to a shockingly low 13 rushing yards against the Utes.
Utah's defense has historically found success controlling the line of scrimmage like an SEC team would, and the Utes appear to play the same way in 2023 with a top-10 run defense in the country.
They've given up just 65 yards per game on the ground thus far. The argument could be made that Utah appears to be closer to its 2018 and 2019 teams that ranked eighth and third in the entire country in rushing defense, respectively, after ranking 21st in 2021 and 19th in 2022.
That's a scary thought, given that those most recent defenses won back-to-back conference titles.
But if Whittingham's defenses have had a weakness the past few seasons, it's stopping the pass.
The Utes rank 59th in the nation by allowing 205.7 passing yards per game, and they've ranked outside the top 50 in the same stat in every season since 2020.
That being said, this year's Utah secondary did hold Baylor to only 218 yards through the air. Even Florida's 333 passing yards came with an asterisk given the Gators' awful performance on the ground.
This unit has very few question marks – at least when its players are healthy.
Cornerback JaTravis Broughton, who started 11 games in 2022 and the first two games of 2023, missed the most recent contest and is questionable for the upcoming matchup. Key defensive end Connor O'Toole has yet to play a game this campaign, and it's unclear if he'll make his season debut this week.
The availability of standout defensive lineman Junior Tafuna is another huge unknown, as he missed Utah's first and third games of the season. He would be the X-factor for this defense – especially against coach Chip Kelly's stellar run game – if he is able to go.
To make matters worse for the Utes, his backup – Simote Pepa – has not played a single game in 2023 and could be out once again.
It's not just Rising who is questionable for Saturday.
And yet, regardless of who is active for Utah's defense in Rice-Eccles Stadium, UCLA will be in for a battle on every offensive possession.
Carlson is currently a staff writer on the football, men's basketball and women's basketball beats. He was previously a reporter on the softball and men's golf beats.
Carlson is currently a staff writer on the football, men's basketball and women's basketball beats. He was previously a reporter on the softball and men's golf beats.