Alumnus-founded company Gourmais celebrates diversity in brand leadership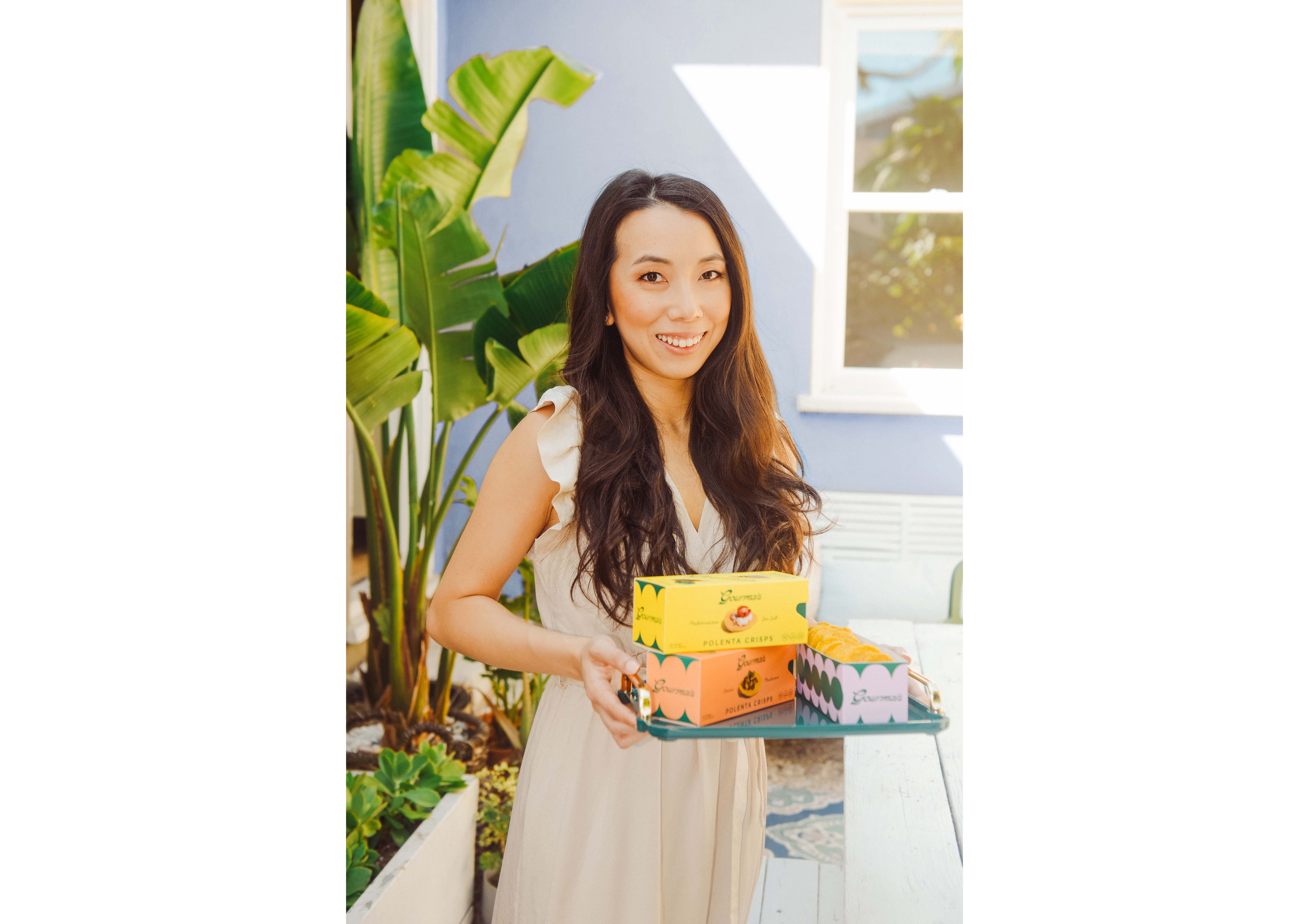 Smiling into the camera, Stephanie Chui holds a tray with three boxes of Gourmais crackers. The alumnus launched the polenta chip brand Aug. 1. (Courtesy of Stephanie Chui)
This post was updated Oct. 10 at 7:45 p.m.
Gourmais has plans to crunch down on cravings.
Owned by founder Stephanie Chui, the premium cracker brand Gourmais crafts polenta crisps baked into three flavors: Porcini Mushroom, Mediterranean Sea Salt and Herbs de Provence. The UCLA Anderson School of Management alumnus said she accidentally discovered the crispiness of the ingredient when cooking a polenta-crusted pizza during the pandemic, then decided to create the plant-based cracker product upon the realization that there had been little innovation within the cracker industry recently.
"They (A lot of products) don't really speak to a younger consumer," Chui said. "68% of Gen Zs and millennials want to believe their purchases are a reflection of their personality, their values and their beliefs. If you look at the cracker aisle today, there are a lot of white boxes … really focused on the product and not the brand itself."
[Related: Q&A: CEO Tori Brodsky shares how Besa mi Vino is redefining the wine industry]
In contrast to other competitors, Gourmais markets with bold colors such as coral, yellow and purple, which allows the organization to resonate with consumers, Chui said. In particular, Gourmais, whose crackers can be served at special occasions or to celebrate everyday moments, highlights building community by deliberately showcasing diverse faces, she said. The company strives for buyers to create connections, Chui said, as friends and family enjoy each other's presence.
After launching Aug. 1, one of the foremost goals was to increase awareness and support for the brand, Chui said. The startup approached an array of Los Angeles micro-influencers she handpicked herself, and they were sent free kits that consisted of a variety pack of flavors for them to try, she said. The influencers would then post on social media, Chui added, displaying the package for followers and opening the gates for younger generations to learn about the product.
Gary Leibowitz, Chui's mentor through the UCLA ONE program, said the polenta crisps use all-natural ingredients to deliver a taste that satisfies a range of occasions. Chui said in addition to being a healthy snack, the savory flavors pair well with toppings such as soft cheese to provide a balanced texture. In order to find the ideal taste, Chui participated in dozens of rounds in the test kitchen, experimenting with countless recipes in this quest, Leibowitz said.
"There are a lot of people that are really focused business analysts, … and conversely, there are a lot of people that are passionate about creation," Leibowitz said. "Some of the only entrepreneurs that really succeed are those that can bring both of those two together, and Stephanie has that rare combination."
Sparking Gourmais into existence hasn't been easy but has instead been a series of ups and downs, especially as a woman of color, Chui said. Despite sometimes feeling like the odds were stacked against her, she said she has learned to overcome self-doubt. In doing so, Chui said she has joined communities that focus on uplifting each other, including Project Potluck – a group for people of color who work in the consumer packaged goods industry – and (included) CPG, a similar collective of BIPOC executives. With an ever-resilient attitude, Chui sees the joy in her work, said Beatina Theopold, the senior program manager at the Venture Accelerator at UCLA Anderson.
"From day one, she (Chui) just had this 'won't take no for an answer' type of attitude." Just kept on showing up, kept on figuring out what the next step was, kept on breaking through barriers," Theopold said.
[Related: UCLA student Rose Aguilar empowers entrepreneurship with podcast series]
The core values of Gourmais will always be represented by her experience as a woman and BIPOC founder, Chui said. The brand places an emphasis on community by forging relationships with retail partners, customers and other founders alike, as well as on inclusion by celebrating the representation of marginalized groups in positions of leadership, she said. Because of this code of ethics, Chui said she has built an authentic brand that she can be proud of.
Within the span of a year from the inception of the business, Chui managed to put her product on store shelves, Theopold said. Leibowitz said since the startup is still in the early stages, Gourmais will pursue depth over breadth, focusing exclusively on creating crackers for a younger demographic in LA and California before potentially expanding its product line across the nation in the future. Theopold said she eventually hopes to see Chui continue to broaden Gourmais' horizons too, adding that she anticipates seeing the business in many of the big grocery markets.
Through the entrepreneurial journey, Chui has learned to appreciate everything she has accomplished, she said. Even though she has a long way to go, Chui said she ensures she takes time to express gratitude for the small wins, such as extending to a new store, instead of immediately jumping to the next problem in her path.
"Having now brought it (Gourmais) to life and having such a positive response has just been so incredible," Chui said. "It's just the starting point for us, so that's something that I continue to celebrate."
Wang is the 2023-2024 Enterprise editor. Previously, she was the 2022-2023 Opinion editor, and prior to that, an assistant Opinion editor. She is Quad staff and also contributes to Arts, News, Sports, Photo and Video.
Wang is the 2023-2024 Enterprise editor. Previously, she was the 2022-2023 Opinion editor, and prior to that, an assistant Opinion editor. She is Quad staff and also contributes to Arts, News, Sports, Photo and Video.