Act III Theatre Ensemble discusses representing the queer experience on stage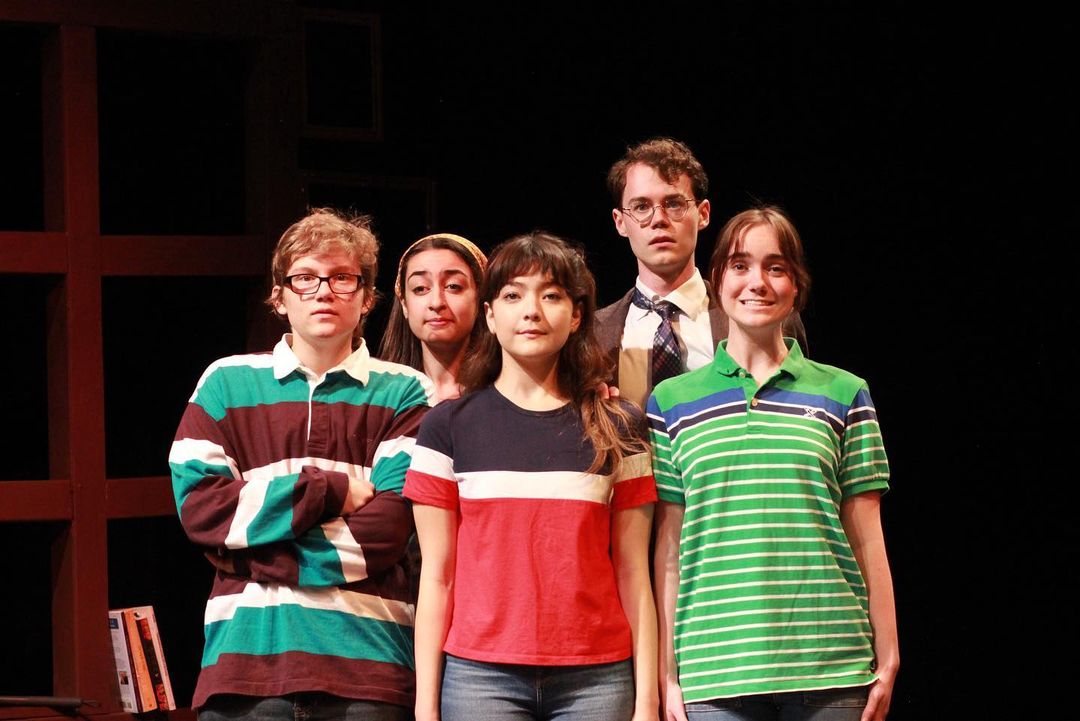 Members of Act III Theatre Ensemble perform onstage for their student-driven production of the musical "Fun Home." The campus organization aims to welcome students in professional theater spaces while uplifting queer artists. (Courtesy of Gwenn Hope/Act III Theatre Ensemble)
Act III Theatre Ensemble is stealing the show with its take on the queer experience.
The theater ensemble Act III strives to provide the student demographic with a platform to explore their passion for theater on a professional level. Sophie Stiker, a third-year communication student and co-executive director, said their vision hones in on queer theater to uplift artists who often go unheard. Prioritizing safe and welcoming spaces for the LGBTQ+ community and beyond, the club pursues high caliber theater to expose audiences to the previously unknown, said third-year theater student Hall McCurdy.
"A major part of our mission is cultivating safe spaces for queer people, both to explore their identities, but also just to exist and feel like they have an opportunity to be stimulated artistically," McCurdy said.
[Related: 'We can be powerful': Bimbos Theatre Co. creates female-led space in theater]
Despite the plethora of theater groups on campus, Act III takes pride in its identity as an ensemble, McCurdy said – the organization goes beyond production, direction and acting to affirm the value of every member. Furthermore, their mission of representing the queer experience on stage has made them an inclusive and inviting zone for writers, actors and audiences alike, fourth-year theater student Michael Guarasci said.
To validate the complexity of gay existence, Act III has embraced the multiplicity of queerness, McCurdy said, depicting dark incidents of queer suppression alongside the pure joy of thriving in an accepting community. The club's authentic, nearly paradoxical presentations accentuate its mission to challenge the boundaries of the theater world, McCurdy added.
Emulating the professional experience, the club promotes student-driven productions from script writing to curtain call, as seen in last spring's show "Dreamverse," McCurdy said. Furthermore, Stiker said the organization also dabbles in adaptations of well-known musicals such as "The Rocky Horror Picture Show" and "Rent."
In the spirit of representation, Stiker added that they are diversifying their productions to reach a wider audience and ensure that all feel seen and heard. As Act III's artistic director, McCurdy said he chooses content that reflects the current moment and provides audiences with a fresh outlook on what is happening outside the theater walls.
"What it's always about is responding to the moment that we are currently in (and) putting work in front of people that has pertinence right here right now," McCurdy said. "With queer work, there is a complete assault on queer people going on in this country, … that being on a stage and being yourself or playing a character has now become a political act in itself."
Theater stands alone in its ability to create a deep, human connection between all those in the room, leaving an impact that lasts for years, Guarasci said. The art form's communal spirit and the sheer immediacy of experiencing a live performance, McCurdy said, pair to make theater a compelling medium to impart critical messages. Be it a realistic setting or a quirky, imaginative one, McCurdy said theater takes people to places they have never been before, thus intuitively opening their minds to new experiences. Furthermore, the power of seeing oneself represented in a character onstage is unmatched and conveys that their lives are equally important – a key goal of Act III, Stiker said.
"It's really just the power of telling stories that have gone untold," Stiker said. "The voices of people who haven't historically been the ones who get to speak in theater, those are the voices of the future. And those are the voices that are going to be telling the stories as we're getting older. So (it's) sort of a recognition that they can tell those stories and that it's important to."
Though student theater is often unpredictable, Guarasci said Act III honors its professional foundation by hosting weekly board meetings, beginning performance preparation months in advance and keeping each participant updated on itineraries. By empowering students with theater roles regardless of prior experience or even chosen majors, the club has strived to redefine student-run theater, McCurdy said. Furthermore, placing emphasis on cooperation, Guarasci said the board has established a smooth-running, comfortable environment for every theatrical individual to thrive.
[Related: 'Spamalot' aims to find 'Holy Grail' with irreverent musical rendition]
Alongside their professional attitude, Act III works to provide accessible theater spaces to students, McCurdy said. Oftentimes, expense can restrict a show's audience, Stiker said, which propelled Act III to make all its shows free and thus financially accessible. Drawing in people from all walks of life has enriched their reach and impact as a club, she said.
Taking accessibility further, McCurdy said a major part of their vision includes fostering safe and empowering spaces for queer students. For instance, their crew includes an intimacy coordinator to educate participants on the boundaries of theater and the importance of consensual collaboration, he said. Furthermore, McCurdy added that they have attempted to nullify any power dynamics in the club by recognizing that everyone is learning and growing together.
Ultimately, the most meaningful aspect of working with Act III has been its community of welcoming, passionate students, Guarasci said. The club's spectrum of members – from theater to computer science students and queer to non-queer individuals – has facilitated incredible friendships, McCurdy said. Growing up in a Catholic school, Stiker said her time with the organization gave her a novel chance to explore her own queer experience with people who can relate. McCurdy added that Act III trusted him with a co-director's role as early as his freshman year, a faith he hopes to cultivate for generations of queer students and theater enthusiasts to come.
"Once you've been in one show, you're in the Act III family for life," McCurdy said. "Doing a scene, doing an exercise, singing a song, there's a sacredness to it and to be a part of it, … it's always such a joy. It really is."