Broxton Nights debuts in Westwood with roller disco-themed pop-up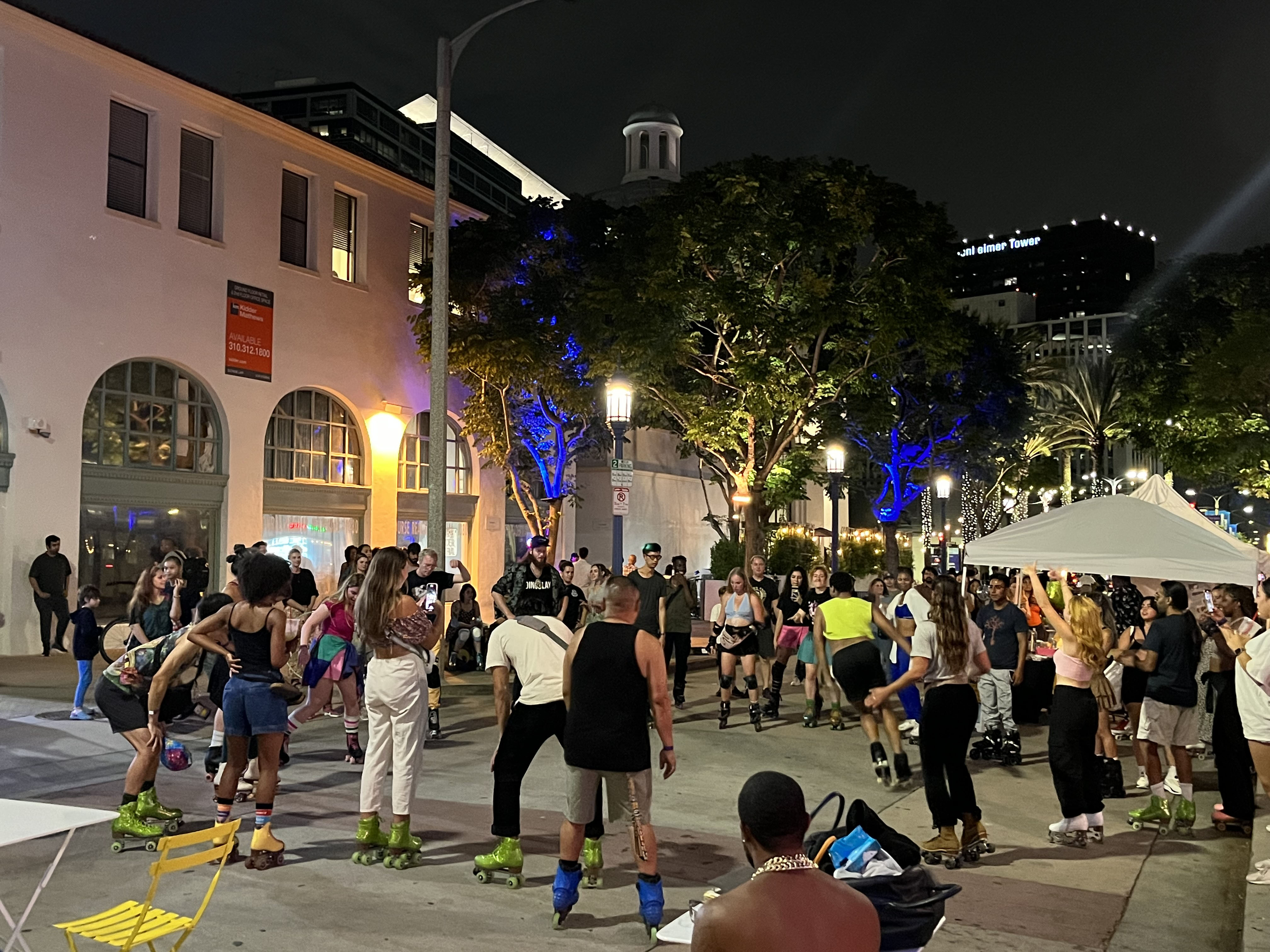 Pictured is Broxton Nights, a new monthly event on Broxton Avenue. September was roller disco-themed and community members enjoyed free roller skate rentals and skate lessons. (Courtesy of Sharla Steinman)
Broxton Nights, a new monthly event on Broxton Avenue, launched Sept. 9 with an evening market and roller skating.
The pop-up, which will occur on the second Saturday of each month, will have a different theme, vendors and activities each time, according to a Westwood Village Improvement Association newsletter.
For the first Broxton Nights, the WVIA partnered with the LA Skate Hunnies—a female-founded skate community, to bring free roller skating lessons and skate rentals from The Basics of Happy, a roller skate rental company, to Westwood community members.
Michael Russell, the executive director of the WVIA, said his organization will use Broxton Nights to encourage people to enjoy the community in Westwood.
"The idea is to create something that's reoccurring, that people know is going to happen and you'll come out to Westwood for that and then maybe go to other businesses and restaurants while you're here," Russell said.
He added that partnering with the Skate Hunnies was a good way to kick off the monthly pop-up because roller skating is a fun and healthy activity that is growing in popularity.
Madison Garcia, an incoming first-year civil engineering student, said she enjoyed the Broxton Nights because of how unique it was.
"Where I'm from, I have none of this—nothing like this. So it's so brand new," Garcia said.
At the event, there were many experienced skaters showing off their skills. Some created a dance circle, while others skated down Broxton Ave. Amy Do, an incoming first-year chemical engineering student, said the pop-up was a chance to get back into the activity.
"Roller skating was really fun, but I haven't done it in a while," Do said. "So getting to do that again was nice. Even though I fell a lot, it was still fun."
Jennifer Yonda, founder of the Skate Hunnies, said the event was a great chance to showcase roller skating to everyone.
"They (The WVIA) were able to sponsor free skates and free skate lessons so we were really able to introduce people to roller skating and rollerblading who have never skated before," Yonda said.
Yonda added that the pop-up was received very positively, and that she noticed lots of community members smiling.
The pop-up also included vendors selling handmade goods, including jewelry, clothes and cookies.
CEO and founder of One Fresh Cookie Co. Autumn Reaghard said Broxton Nights was an opportunity for her company to continue connecting to UCLA students and the Westwood community.
"I thought that this would be a really cool opportunity," she said. "I do the Thursday markets, so I thought that this would be a cool extension."
Reaghard added that as a former teacher, she enjoys connecting with college students and participating in Westwood markets.
Russell said the event was created in preparation for Broxton Plaza, a permanent pedestrian-only walkway on Broxton Ave. that is expected to be open in November.
"We want people to get familiar with using Broxton as a fun event space and outdoor space," Russel said. "(It) will then create an environment where people can always come out and sit, and there'll be maybe some music."
He said Westwood can expect to see different themes, including carnival, Halloween and holiday focuses. There will also be a tree lighting and menorah at the holiday themed pop-up.
The event was aimed to bring out UCLA students, kids and families, Russell added.
"I think that this is the kind of event that people hope to stumble upon when they're out walking on the street and that people look forward to when they find out about it," Yonda said. "It's a dream to see it (Broxton Nights) come to life today."
Steinman is the 2023-2024 city and crime editor. She was previously a city and crime contributor. She is also a fourth-year political science student.
Steinman is the 2023-2024 city and crime editor. She was previously a city and crime contributor. She is also a fourth-year political science student.