Five Things: UCLA vs. San Diego State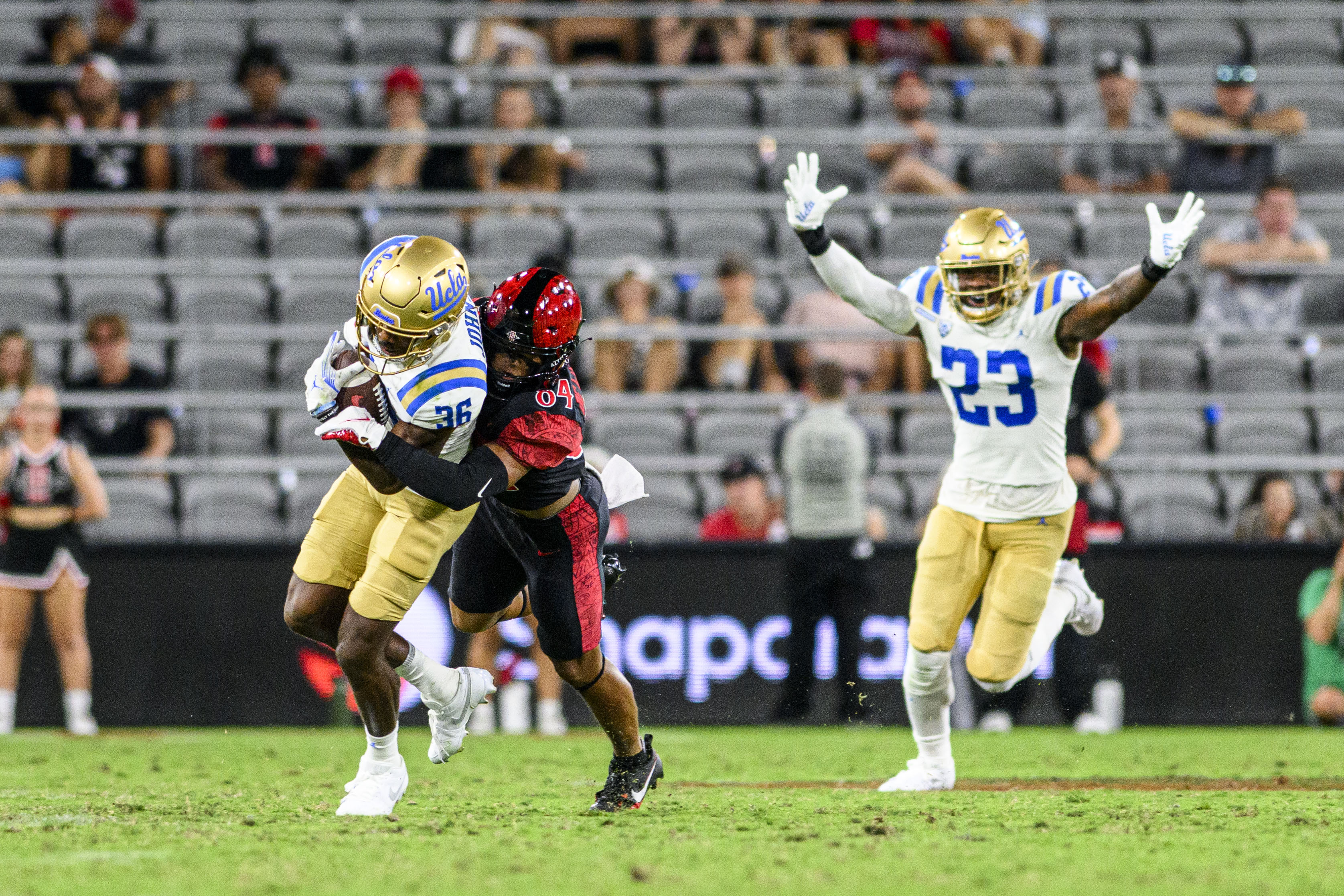 Redshirt senior defensive back Kenny Churchwell III celebrates redshirt senior defensive back Alex Johnson's interception. (Christine Kao/Daily Bruin staff)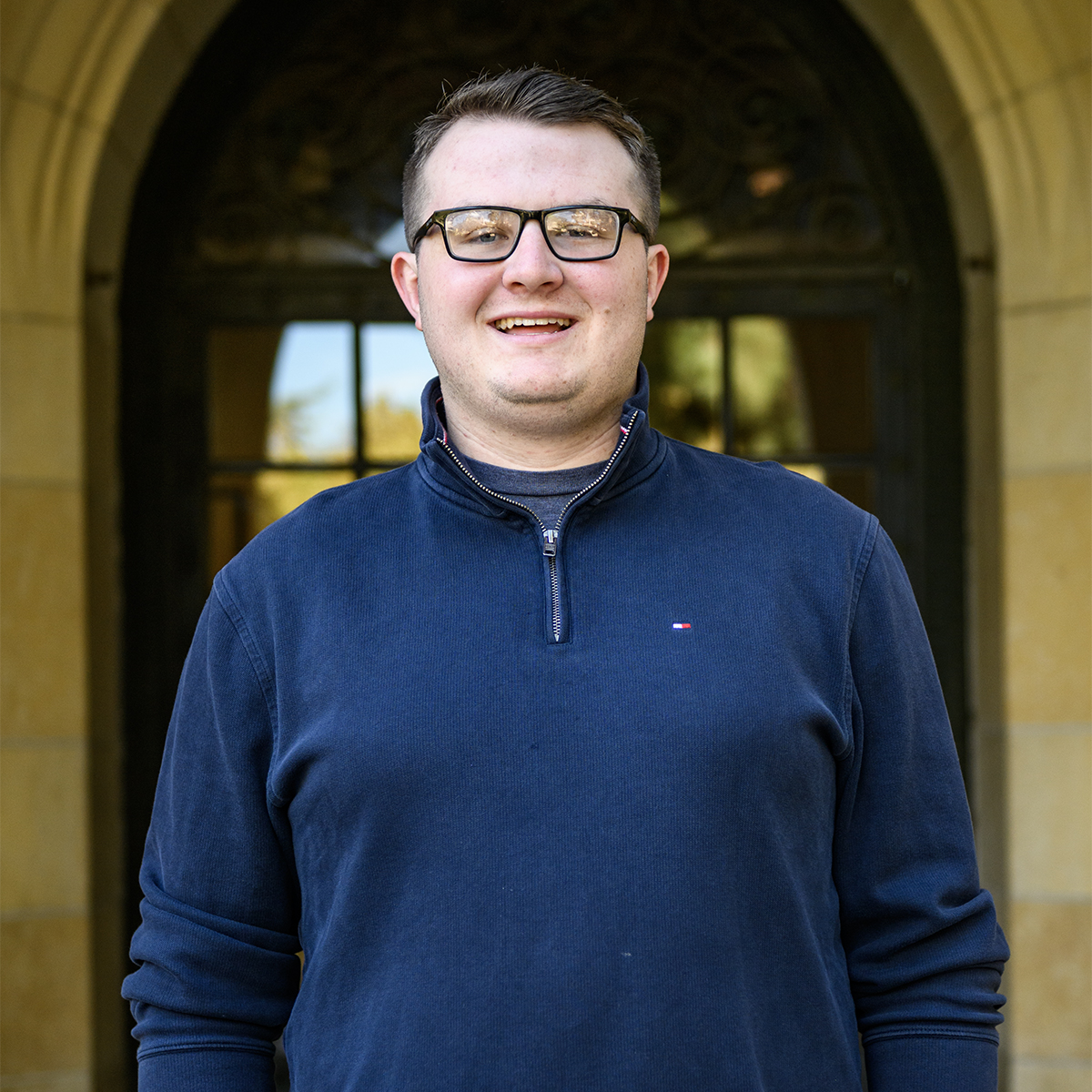 Correction: The original version of this article's headline incorrectly stated that the article was about UCLA football's game against North Carolina Central. In fact, the article is about UCLA's game against San Diego State.
This post was updated Sept. 16 at 2:10 p.m.
No. 24 UCLA football (2-0) won its first road game of the season against San Diego State (2-1), winning 35-10 in its first nonconference away game since 2019. Sports editor Joseph Crosby gives his five main takeaways from the Bruins' second win of the season.
Dante Moore, QB1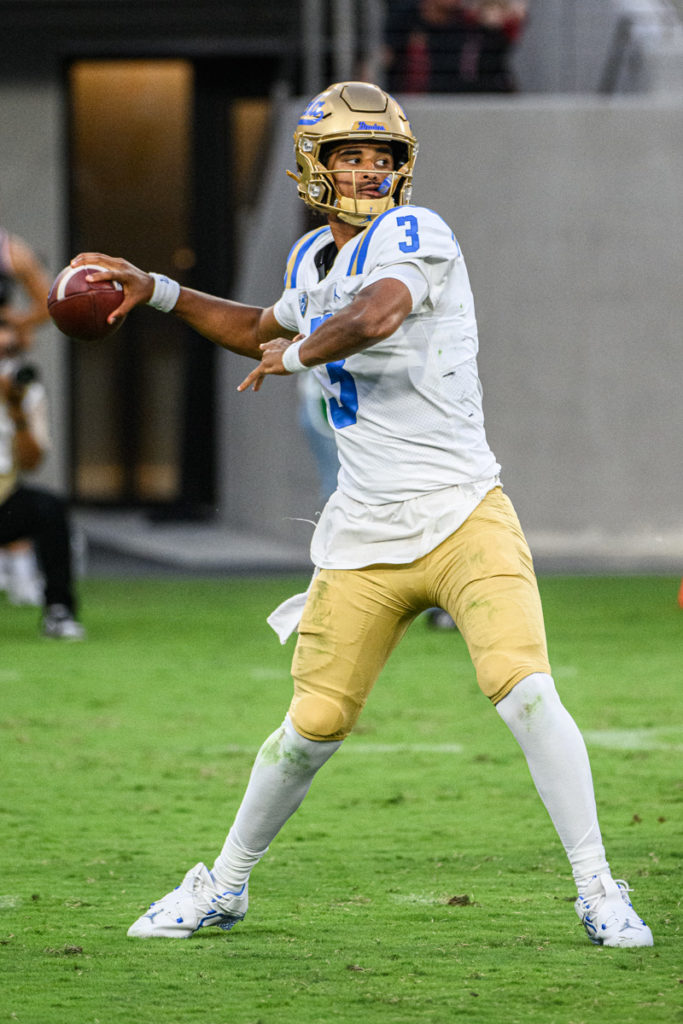 If there were still any doubts about who UCLA football's starting quarterback would be, they were put to bed Saturday.
Or at the very least, they should have been.
Coach Chip Kelly was once again adamant after the game that the team has three strong quarterbacks and will continue to evaluate ahead of its next game against North Carolina Central.
But actions speak louder than words, and freshman quarterback Dante Moore's three uninterrupted quarters of play against San Diego State may have been the loudest message sent at Snapdragon Stadium.
Moore earned Saturday's starting nod over Week 1 starter redshirt junior Ethan Garbers but couldn't quite find the same opening-drive spark he had against Coastal Carolina.
After two unceremonious drives – in which Moore went 2-4 for 13 yards – the burgeoning star was back.
Moore found redshirt senior wide receiver Josiah Norwood over the middle for a one-play, 81-yard touchdown drive.
196 yards and two more touchdown passes later – with a pair of rushing touchdowns from running backs junior Carson Steele and sophomore T.J. Harden – Moore exited the game to the tune of a 25-point lead and a 189.9 passing efficiency rating.
Moore showed off his five-star talent against the Aztecs, but senior wide receiver Logan Loya said the freshman has plenty left to display.
"Oh, we've seen all this, and we've seen more," Loya said after the game.
Expect to witness more Moore on the first snap against NC Central.
Chip Kelly, clock commander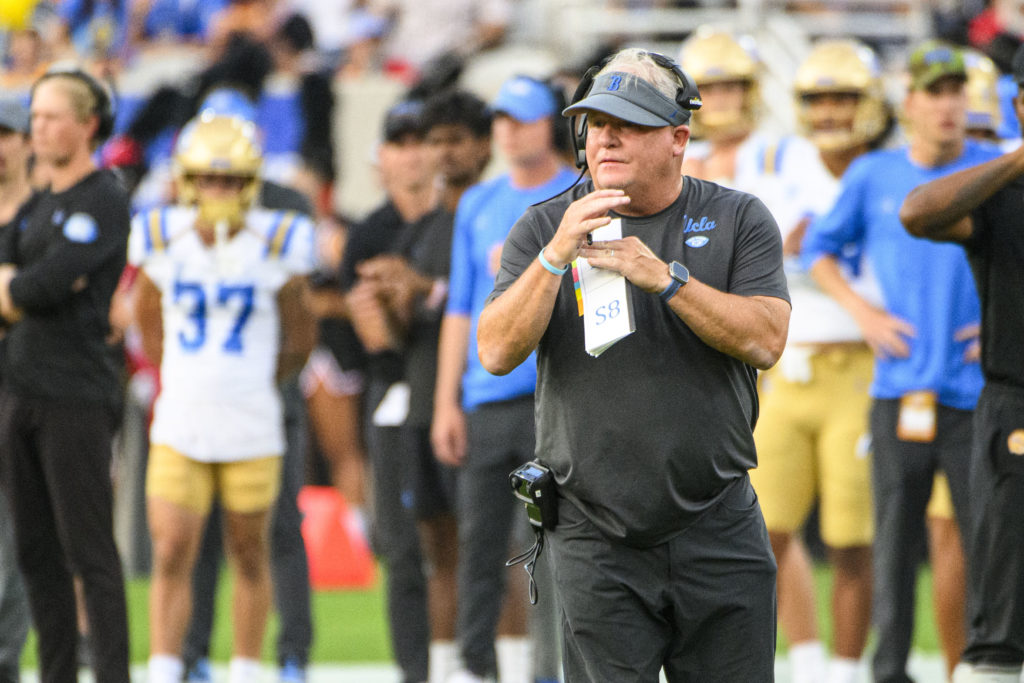 After scoring their fourth touchdown of the first half, the Bruins gave the ball back to the Aztecs with 1:20 remaining on the clock.
Kelly only had two timeouts left, but he still used one in an attempt to get the ball back once more before needing to kick off to start the third quarter.
He called another timeout after the second down, knowing the clock would run down to no more than 25 seconds after the third down.
The offense retook the field with just 16 seconds left in the half after a dribbling punt shaved seven valuable seconds off the clock. Regardless, the sixth-year coach drew up two quick passes to march 33 yards down the field and onto SDSU's 32-yard line.
The Bruins didn't end up scoring that drive. An apparent miscue – with visible confusion on the field and UCLA's sideline – with one second on the clock saw Moore throw the ball out of bounds to end the half rather than run one final play.
But regardless of the outcome on the field, Kelly was aggressive with his clock management at the end of the half. He could have accepted that 16 seconds may not have been enough time to run enough plays to reach field goal range, but he instead chose to make use of the timeouts he did have and try anyway.
The decision could have been a response to the NCAA's new clock rule, an attempt to capitalize on any available opportunity or a shift into a more aggressive coaching style focused on putting points on the board.
The why of the matter aside, Kelly demonstrated that he trusts his offense to move the ball down the field – and fast.
Saturday's first half may not have ended in the field goal Kelly was aiming for, but his aggressive clock management likely signals a relentlessness that UCLA will embrace for the duration of the season.
Cornerback trio conundrum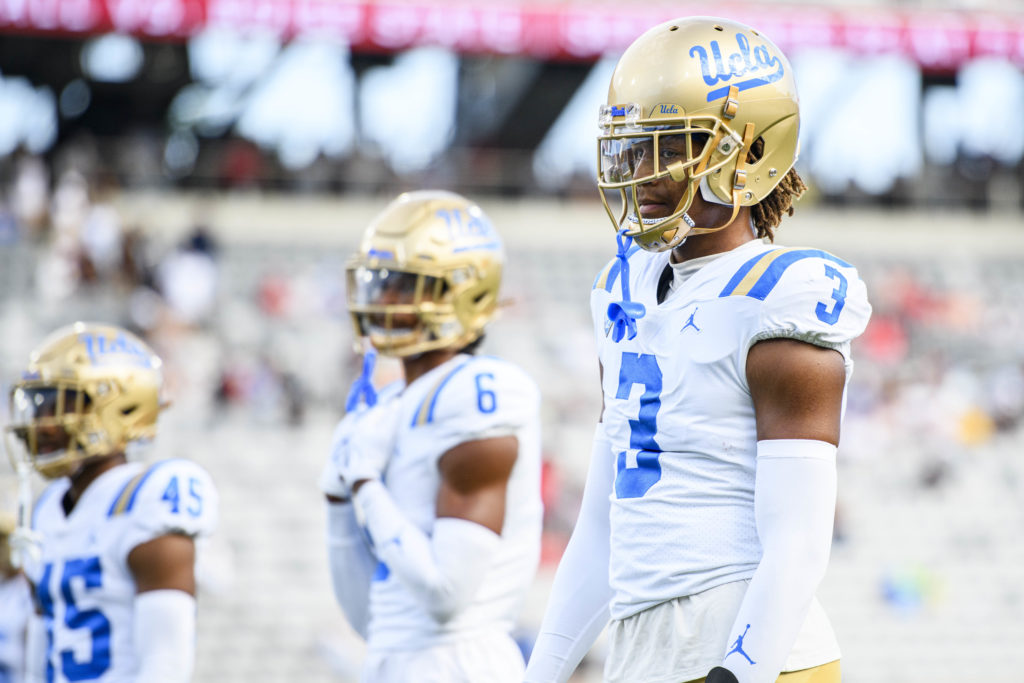 At the start of the season, there were questions surrounding the secondary, primarily with regard to who would replace safeties Mo Osling III and Stephan Blaylock.
But two weeks into the season, the trio of returning cornerbacks is turning more heads than safeties redshirt freshman Kamari Ramsey and redshirt senior Kenny Churchwell III.
Senior John Humphrey, junior Devin Kirkwood and redshirt sophomore Jaylin Davies have rotated as the primary cornerbacks for UCLA's defense, with a combination of two of the three on the field for practically every defensive snap.
Davies has quickly proven himself as the strongest of the three, recording five tackles, two pass breakups and an interception across two games.
Kirkwood and Humphrey, on the other hand, have struggled.
Both were burnt over the top in the Bruins' season opener against the Chanticleers, and Kirkwood was once more picked on down the sideline against the Aztecs. The most glaring mishap was one that would have resulted in a touchdown if not for SDSU quarterback Jalen Mayden overthrowing his wide receiver.
Humphrey recovered with an interception in Week 1 and didn't make any glaring mistakes in Week 2, but the ever-present potential for lapses in coverage is still a concern.
Redshirt senior Alex Johnson has thrived in the nickelback role – recording two interceptions off Mayden on Saturday – making his versatility as the fifth defensive back a boon for defensive coordinator D'Anton Lynn.
But until the primary corners settle in more, UCLA's pass defense will continue to struggle, especially when it faces quarterbacks such as Colorado's Shedeur Sanders and USC's Caleb Williams.
Offensive line question marks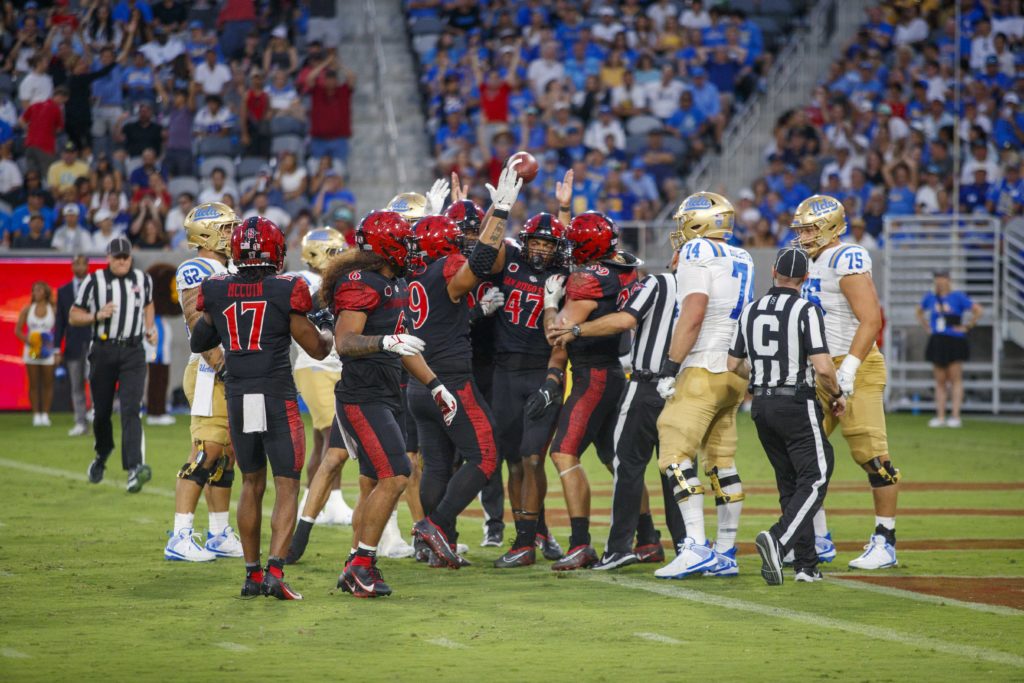 The Bruins' offensive line impressed in one facet of the game.
On the other, they left something to be desired.
UCLA marched for 254 rushing yards against what was a top-25 rushing defense, at least before the Bruins' backfield ran roughshod all over the Aztecs.
The front five frequently opened big holes and posted a performance highlighted by Steele's 13-yard touchdown on a fourth-and-1 and Harden's 59-yarder.
But in pass protection, it wasn't quite as pretty, particularly on the blind side.
SDSU sacked Moore twice: once on a complete pocket breakdown and a second time on a blitz from the left side, resulting in a fumble. In addition, the Aztecs generated three quarterback hurries, with Moore scrambling three times throughout the game.
Saturday's offensive line performance was similar to Week 1, where protection breakdowns contributed to Moore's pick and one of Garbers' interceptions.
With a young quarterback in the backfield, it's imperative that the offensive line maintain a clean pocket for as long as possible. As Moore grows more comfortable in the offense, his pocket presence is sure to improve. But until then, Kelly will need to rely on the line to help his quarterback.
The problems they face are certainly solvable, but the Bruins will need the offensive line to translate some of that run-blocking success to pass protection moving forward.
Time of possession doesn't win games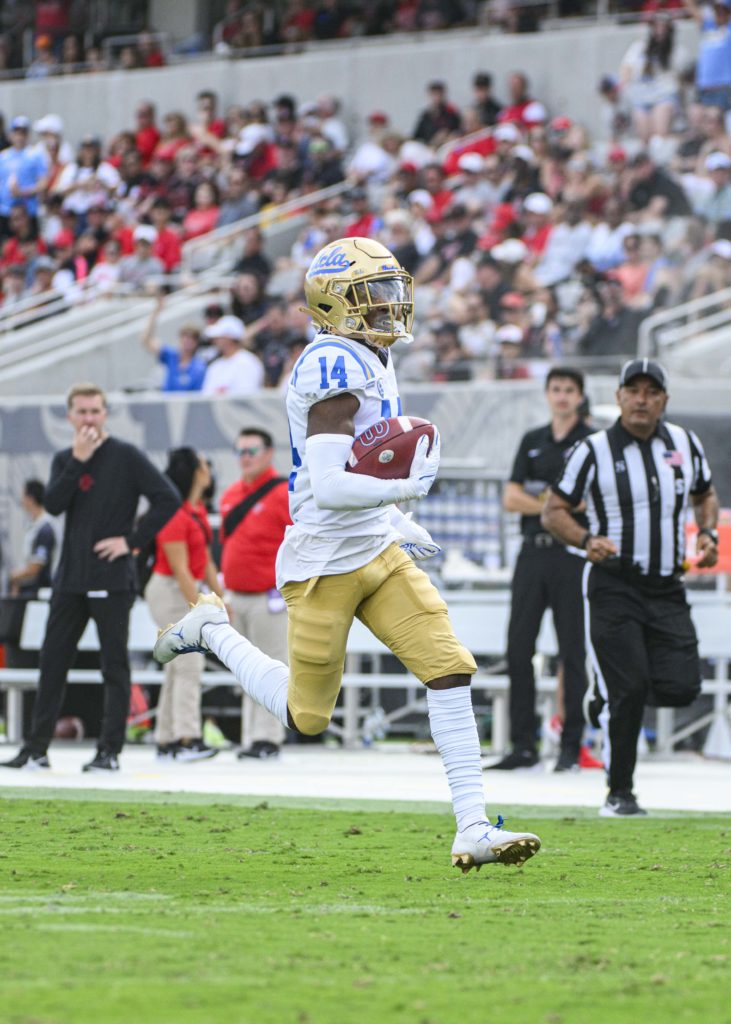 Through nearly the first three quarters of play, UCLA didn't have a drive longer than two minutes and 37 seconds.
It wasn't until their final drive of the third, which resulted in their fifth and final touchdown of the game, that the Bruins exceeded the three-minute mark, running a four-minute and 20-second series.
SDSU controlled the clock for nearly two-thirds of the game through the first three quarters, racking up 28 minutes and 28 seconds of possession against UCLA's 16 minutes and 32 seconds.
But as the Aztecs dominated possession, the Bruins dominated the scoring, tallying five touchdowns against SDSU's lone touchdown and field goal.
In short, UCLA can score quickly, and it doesn't even need one big play to march down the field in under a minute.
Moore led the Bruins' offense 85 yards downfield in seven plays – four completions, two incompletions and a scramble for a first down – in just 56 seconds. That drive was five seconds shorter than the three-play series that culminated in Harden's 59-yard touchdown run.
Tempo is nothing new to a Kelly-led offense, and this year's iteration of UCLA is no different. Whether it's a drive peaking with one big play or a seven-play and two-minute drill that finishes in the end zone, the Bruins' offense is starting to show that it can drive down the field at will.
Crosby is a 2022-2023 assistant Sports editor on the baseball, women's golf, men's water polo and women's water polo beats. He was previously a contributor on the baseball and women's golf beats. He is also a third-year statistics student.
Crosby is a 2022-2023 assistant Sports editor on the baseball, women's golf, men's water polo and women's water polo beats. He was previously a contributor on the baseball and women's golf beats. He is also a third-year statistics student.