Gameday Predictions: UCLA vs. San Diego State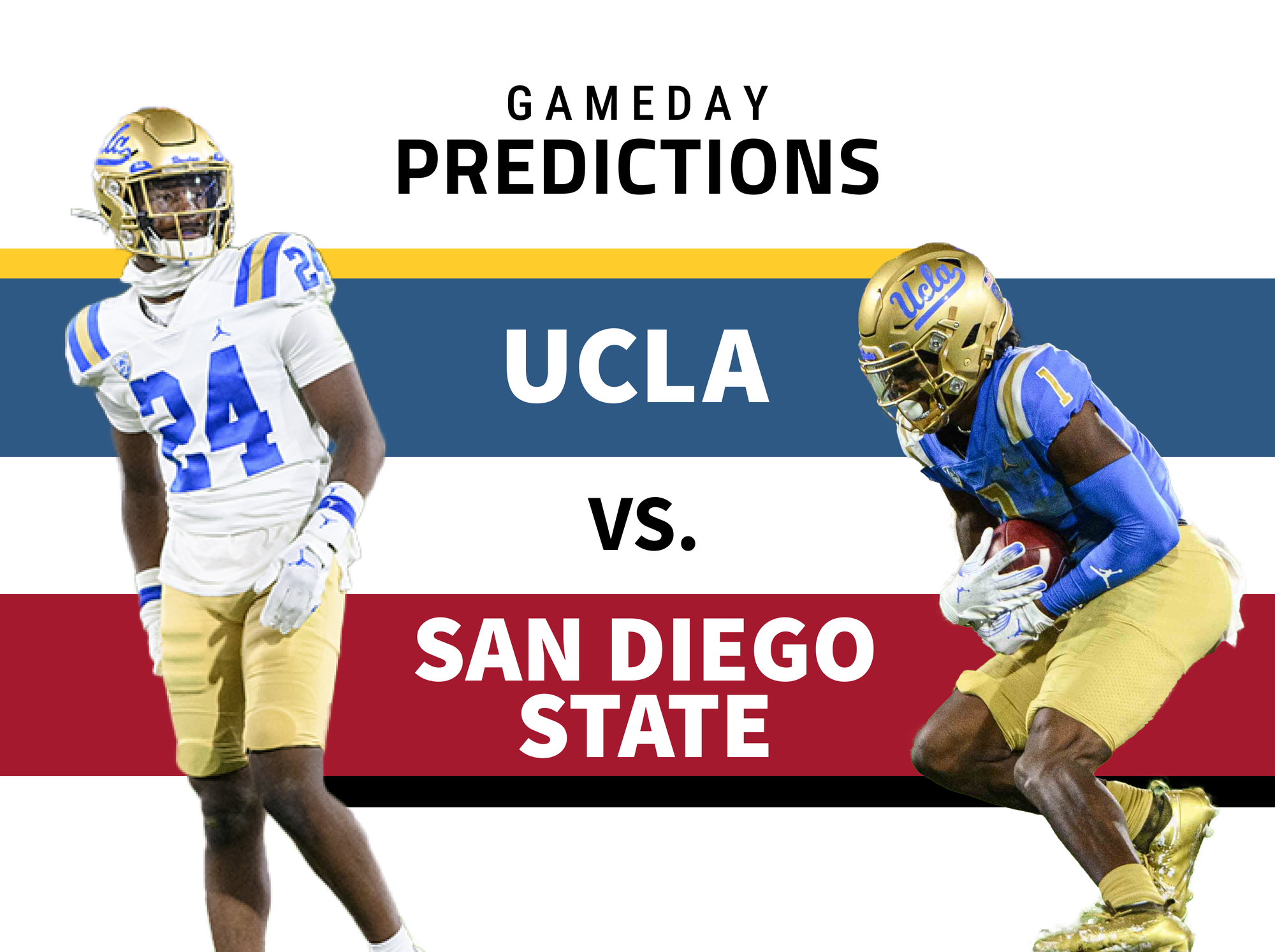 Pictured are redshirt sophomore defensive back Jaylin Davies (left) and redshirt sophomore wide receiver J.Michael Sturdivant (right). (Photos by (left to right): Daily Bruin file photo, Jake Greenberg-Bell/Daily Bruin. Photo illustration by Helen Quach/Design director)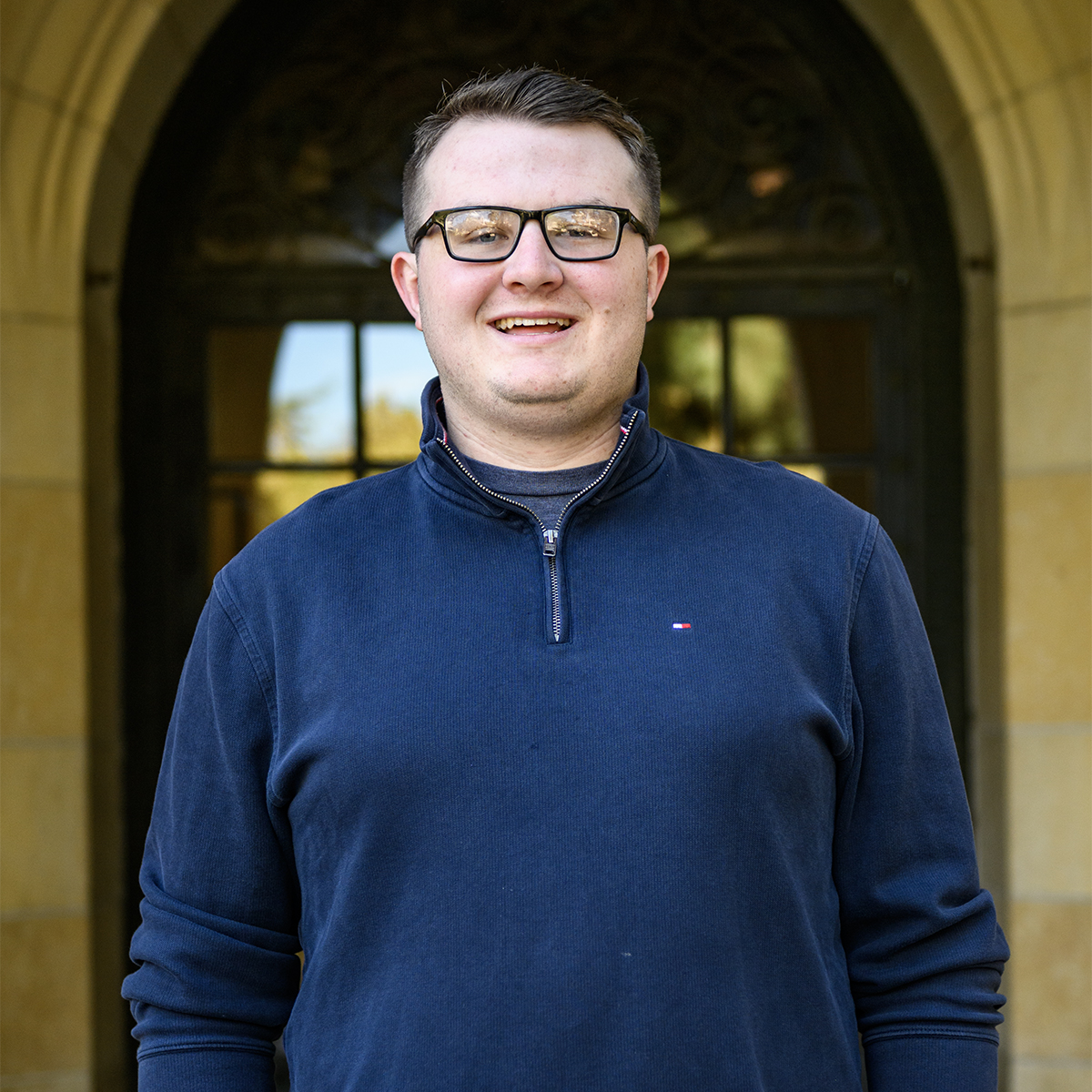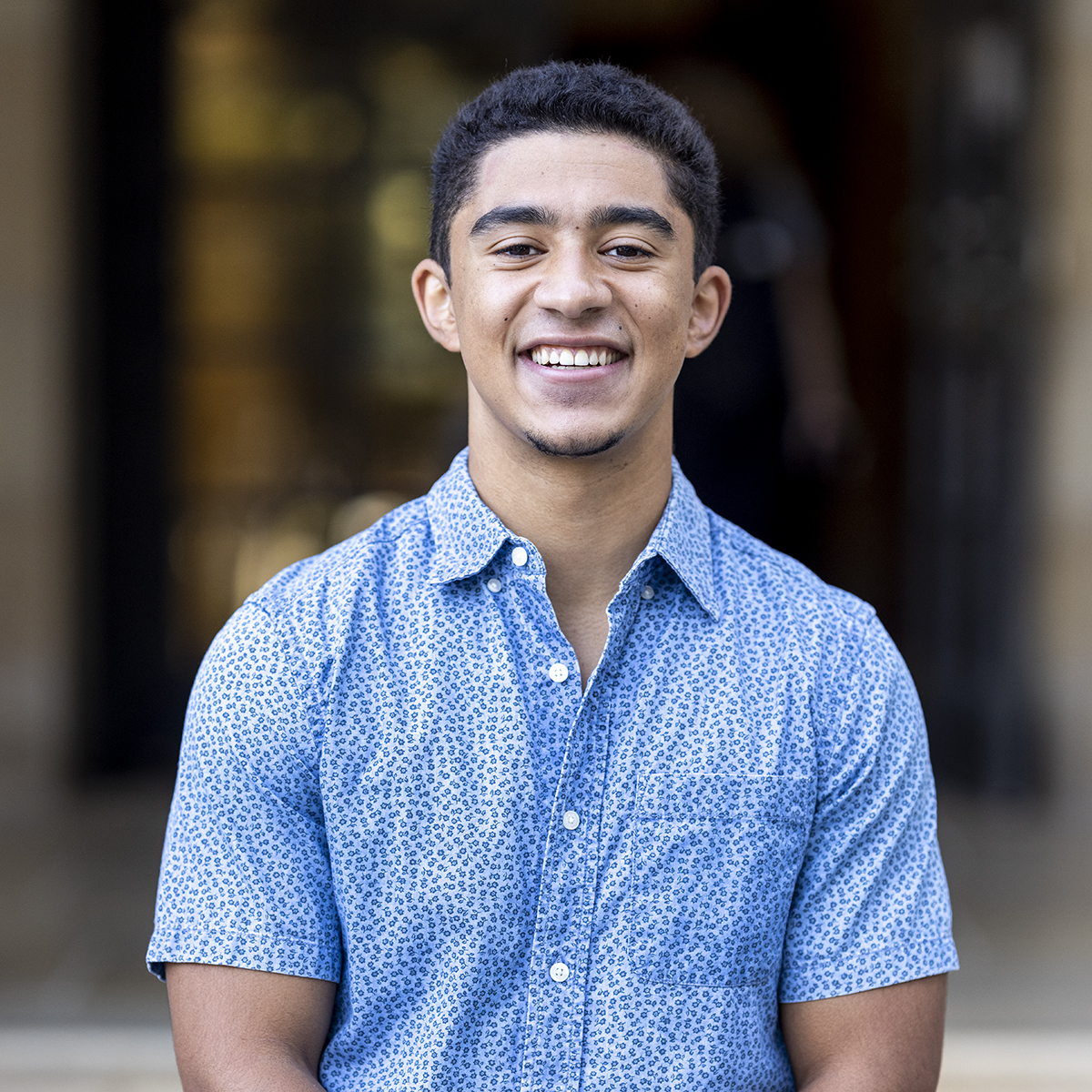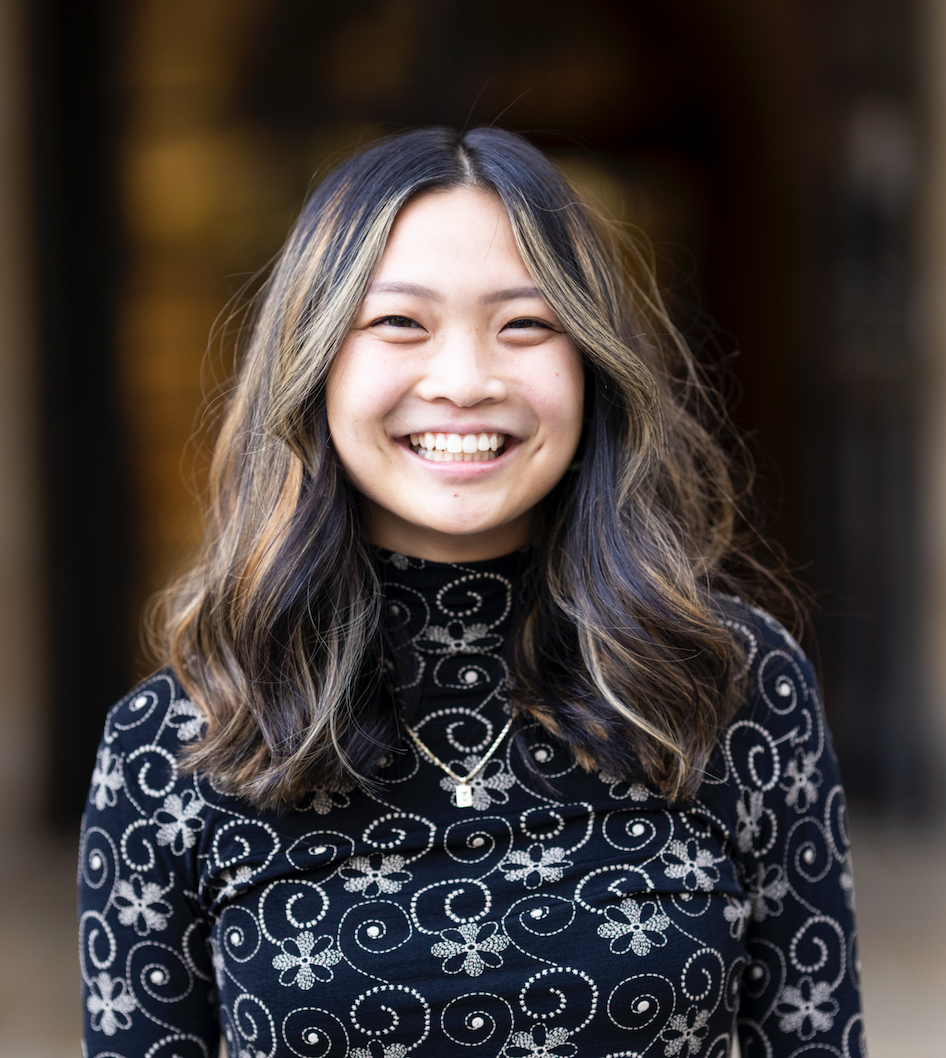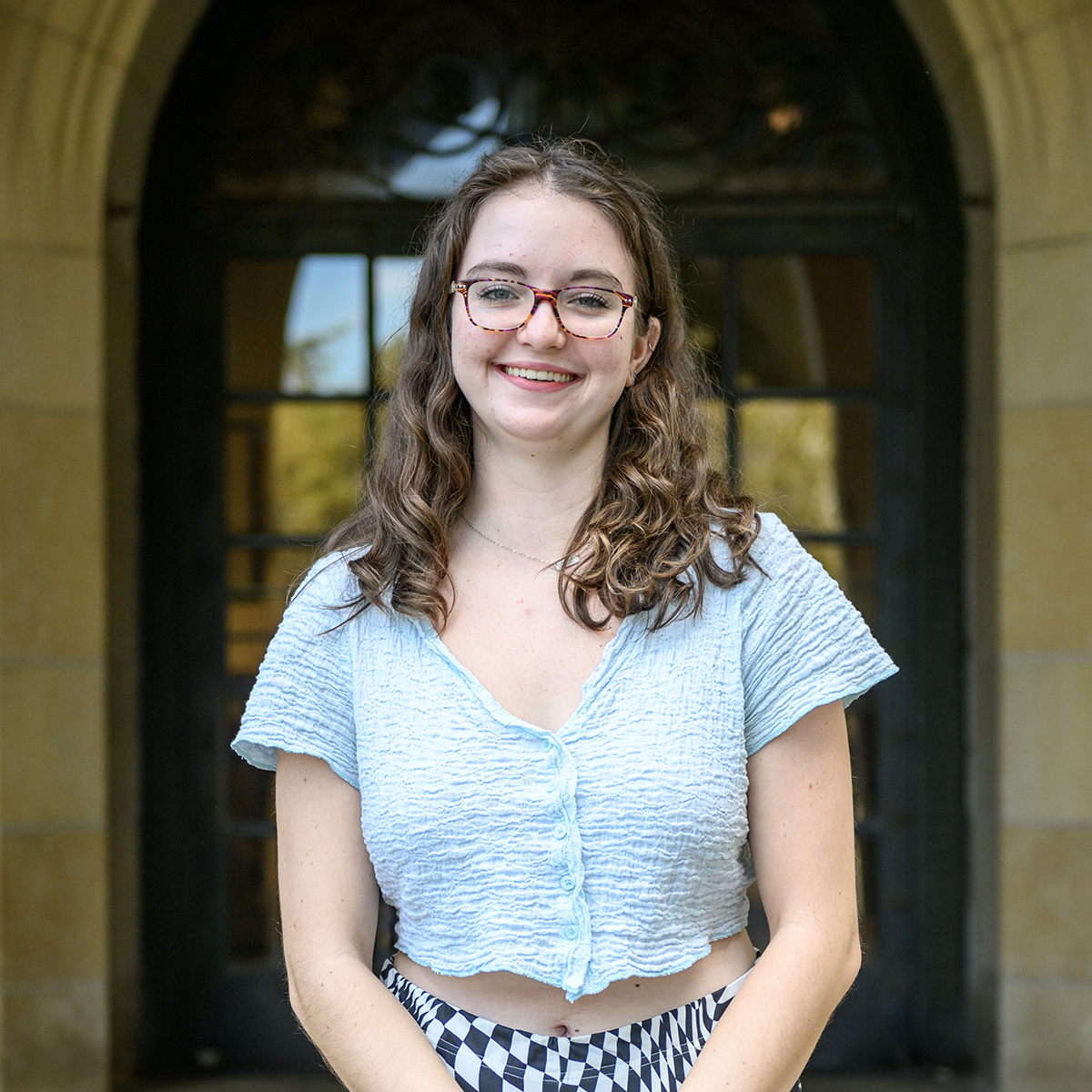 Joseph Crosby
Sports editor
Prediction: UCLA 34, San Diego State 17
UCLA football's players are students.
They are, after all, called student-athletes.
But last week, the students became the teachers, instructing their first lesson to anyone watching the team.
Whether it be on TV, online or at the Rose Bowl, an observer of the game would've picked up a thing or two about the 2023 Bruins.
So, what were some of those takeaways?
Offensively, redshirt sophomore J.Michael Sturdivant is a talented wide receiver, and the offensive line likely shares equal blame with UCLA's quarterbacks for two of the three interceptions thrown Saturday.
Defensively, it became evident that the front six can stop the rush and get pressure, while the secondary still has some room to grow.
Fortunately for UCLA, its strengths match up well with those of San Diego State.
The Aztecs are good at running the ball, while the Bruins have found early success in jamming the line of scrimmage. SDSU is lacking in the passing game, which means UCLA's defensive backs will have considerably more margin for error than they did against Coastal Carolina.
Thus, the Bruins should have no trouble keeping the Aztecs out of the end zone. The game just becomes a matter of how many points UCLA will score against a mediocre defense.
Three quarterbacks are likely to see the field. With redshirt junior Collin Schlee being promised playing time – something he didn't get during the season's first game – building a precise rhythm may be hard with the fluctuations under center.
Nonetheless, UCLA's offense shouldn't struggle to put points on the board with the players feeling more comfortable after Week 1; a seven-point improvement over last Saturday feels like a safe bet.
Gavin Carlson
Daily Bruin staff
Prediction: UCLA 31, San Diego State 17
Welcome to another week of the quarterback carousel at UCLA.
Last Saturday, freshman quarterback Dante Moore had the better performance between himself and redshirt junior Ethan Garbers.
Statistically, Moore threw for more yards and more touchdown passes on fewer attempts, the Bruins scored more points with him under center, and the freshman turned the ball over less than Garbers.
Subjectively, the former five-star recruit also made more impressive throws, showed more versatility in the pocket and appears to have special chemistry with Sturdivant.
Moore was supposed to be the high-risk, high-reward option in the quarterback competition, but he already appears to have as high a floor as the veteran Garbers suggested with his performance in the season-opener.
Competition over then, right?
Wrong.
Rather than committing to Moore in Week 2 against SDSU, Kelly is vowing to add a third quarterback into the mix in Schlee.
Instead of more drives for the freshman, and likely future of the program, Kelly is choosing to make things more chaotic than they need to be.
The Aztecs should be thrilled.
SDSU will likely need messy quarterback play from UCLA to even have a real shot. Both teams excel at stopping the run and having a strong ground game of their own, but the Bruins appear to be better at both.
Plus, a legitimate argument could be made that UCLA's pass offense is clearly better than SDSU's regardless of who Kelly has under center.
Kelly's handling of the quarterback situation gives me pause in making my prediction, but I believe Moore will get the first shot on Saturday and won't be replaced until the Bruins are already in control as they win by two touchdowns.
Lauryn Wang
Daily Bruin senior staff
Prediction: UCLA 37, San Diego State 21
Ticketmaster, SeatGeek and Vivid Seats would all have you thinking this is a highly-anticipated matchup.
Nosebleed seats are currently valued upwards of $60, and $74 student guest tickets are sold out.
But Saturday's game likely won't be as exciting as the fanfare suggests.
Admittedly, football is not my specialty. I have not scouted SDSU, nor studied their strengths and weaknesses in comparison to UCLA's. However, after attending a few practices and witnessing UCLA's performance in the Coastal Carolina game last week, I predict that the Bruins will nurse a comfortable, two-touchdown lead for a majority of the contest against the Aztecs.
Maybe there will be a third-quarter scare after the sun goes down and the newly-constructed Snapdragon Stadium provides a shade haven for the first time, but the Bruins will put the game away in the fourth.
While UCLA will post a wire-to-wire win, I don't anticipate it being a runaway contest. If Kelly rotates between Moore and redshirt Garbers again – and potentially offers Schlee the honor – I doubt the offense will muster the momentum to rattle off more than five touchdowns.
The defense has likely addressed the unnecessary penalties from last week, so that shouldn't be an issue come Saturday. And the seniors who suffered a nine-point loss to the Aztecs in 2019 at the Rose Bowl have officially entered their redemption arc.
While UCLA can't restore the previous 22-game unbeaten streak it held over SDSU prior to the 2019 contest, the veterans are presented with an opportunity Saturday to reiterate the Bruins' storied dominance over the Mountain West Conference.
Catherine Hamilton
News editor
Prediction: UCLA 31, San Diego State 21
My best friend thinks Saturday's game is a volatile situation.
My cat happens to agree.
Now, I don't actually think my cat understands football. But she told me through a series of strongly worded meows that UCLA is going to barely win this game. I know enough about football to assume that's a slight exaggeration, but well on the way to the truth.
My best friend, on the other hand, knows more about sports than my cat and me combined, so her consensus speaks for itself.
I personally don't understand football statistics enough to scour through last week's matchup against Coastal Carolina, and certainly not enough to look into what SDSU was up to last week. However, I can totally understand that a 9-4 record last year from the Bruins versus a 7-6 record from the Aztecs is not too promising for total domination.
When the Daily Bruin football insert printed two weeks ago, I was one of the people proofreading everything, causing my brain to turn into football mush. What I gleaned from those countless stories is that Moore seems like a promising candidate for a new starting quarterback. I think if given the opportunity to shine the whole game, there would be some serious uptick in offensive prowess.
Additionally, if the Bruins can replicate and improve on last week's defensive effort that held the Chanticleers to only 13 points, they should have no issue shutting down the Aztecs offense.
Using the pertinent information – from my best friend and my cat – I think UCLA will have a strenuous one touchdown and one field goal victory.