Between Two Bruins: Daily Bruin Sports answers your questions about the 2023 season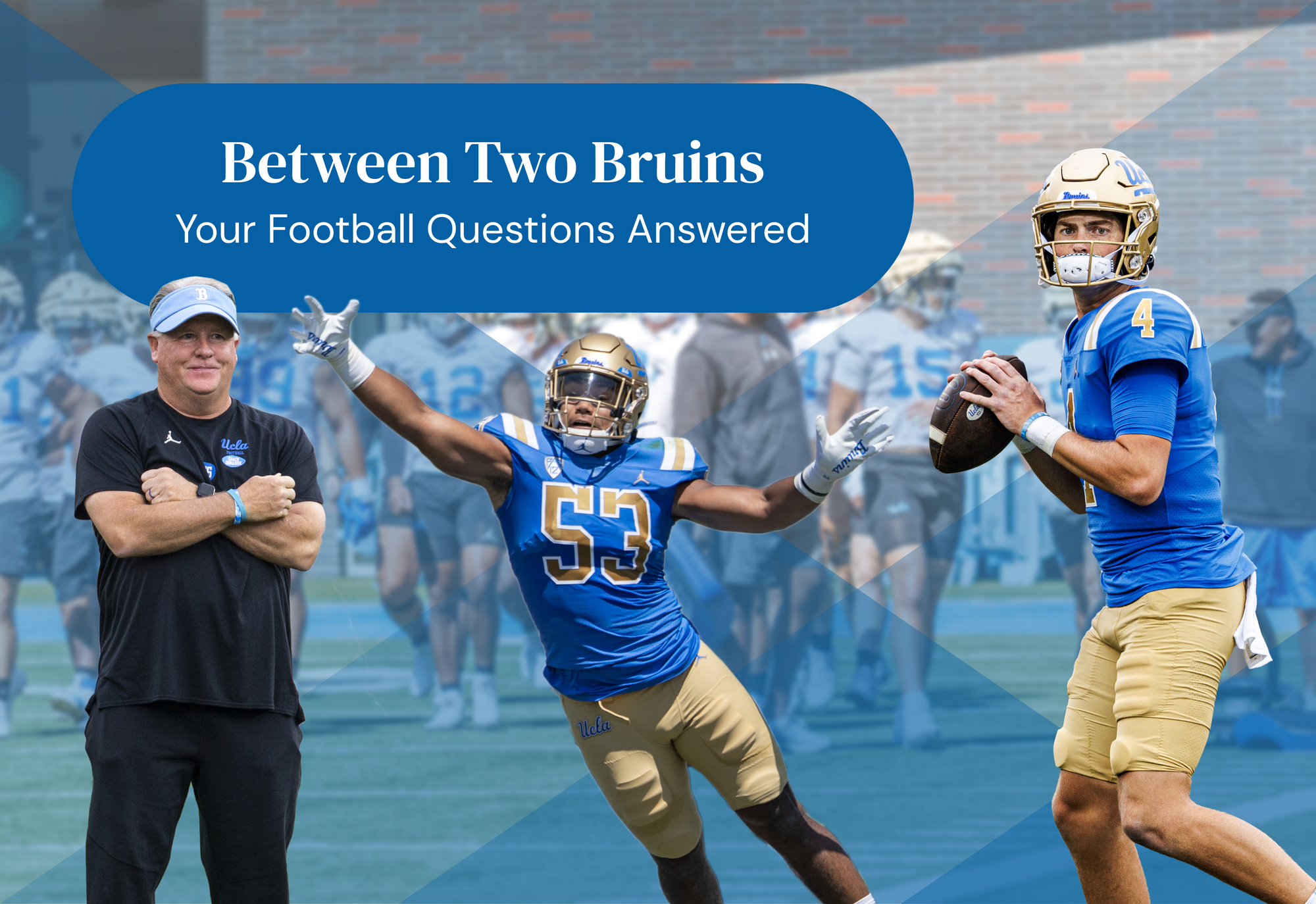 (Helen Quach/Design director; Photos (left to right): Daily Bruin file photo, David Rimer/Daily Bruin senior staff, Joseph Jimenez/Photo editor)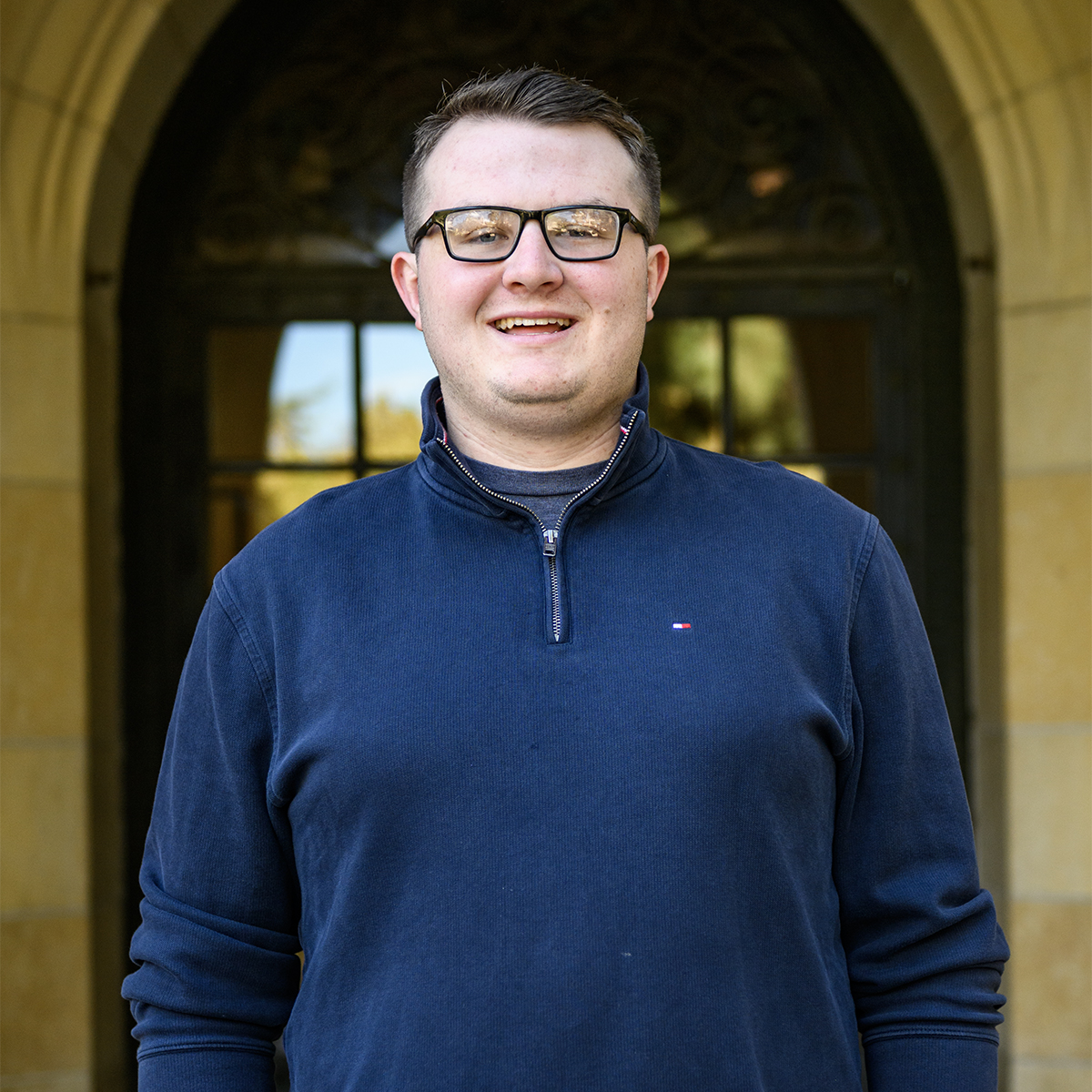 This post was updated Aug. 29 at 12:00 p.m.
UCLA football's season is starting in less than a week, so the Daily Bruin collected questions from Bruin fans about the year ahead. Sports editor Joseph Crosby answers some of them in this edition of "Between Two Bruins."
Does anybody have any idea who our starting quarterback is going to be?
In one word, no.
But that doesn't mean there aren't front-runners for the job.
Of the six UCLA quarterbacks, the three that are most likely to start week one are redshirt junior Ethan Garbers, freshman Dante Moore and redshirt junior Collin Schlee.
Garbers is the most recognizable name of the bunch for Bruin fans. He's been Dorian Thompson-Robinson's backup for the past two seasons since transferring from Washington and has seen some playing time across both years – most recently in the 2022 Sun Bowl after an injury forced Thompson-Robinson out of the game.
Then there's Moore, the five-star recruit from Michigan whose eleventh-hour flipped commitment from Oregon to UCLA put a roadblock between Garbers and the starting nod. The freshman gunslinger's high school statistics jump off the page, and the two-time state champion certainly has big-game experience.
But the switch from high school to the Rose Bowl isn't the easiest leap in the world. For all his talent, Moore has yet to take a collegiate snap, and no one can know how that transition will go until he's thrown into the fire.
And when it comes to experience, neither Garbers nor Moore match Schlee, who transferred from Kent State after starting in 11 of the Golden Flashes' 12 games last season. However, Schlee is closer to being a dark horse than he is to narrowly trailing Garbers or Moore in the race.
If I had to make a prediction, I'd say Garbers will be under center for the first snap Saturday. His experience in coach Chip Kelly's system could prove all the difference between him and Moore.
But until Kelly announces his decision, your guess is as good as mine.
Who will be the go-to RB's this season or will there be a heavy rotation? The talent pool is deep.
Even with the loss of Zach Charbonnet, the Bruins' running back room is brimming with talent.
Fortunately for Kelly and running backs coach DeShaun Foster, it's much easier – and even preferred – to have too many running backs rather than too few.
Sophomore T.J. Harden is the first name to know. He was the Bruins' third-leading rusher in 2022 – trailing only Charbonnet and Thompson-Robinson – and is poised to breakout in his second year with the program.
Junior Carson Steele figures to be co-first string running back with Harden. The Ball State transfer finished ninth in the nation last season with 1,556 rushing yards, and while he is unlikely to reach that figure a second time, his potential makes him a threat to any team's rushing defense.
If the Bruins want a ground-and-pound look, the duo of redshirt junior Anthony Adkins – a transfer from Army West Point – and redshirt senior Colson Yankoff could be Kelly's answer. Adkin's size and experience in a run-first offense make him an asset for barrelling the ball right into a defense, while Yankoff's athleticism allows him to slot in just about anywhere.
Beyond those four is a wild card. Senior wide receiver Keegan Jones is set to fill a Kazmeir Allen-sized hole as both a dynamic rusher and pass catcher, showing off his versatility in Kelly's offense.
Long story short, Harden and Steele are lined up to be the two primary ball carriers in a more balanced version of the distribution that Charbonnet and Brittain Brown experienced in 2021.
But in the case of the running backs, there's no such thing as too much of a good thing, so expect to see Kelly make liberal use of the talent that Adkins, Yankoff, Jones and the rest of the running back room bring to the table.
If Ryan Day is fired from Ohio State, do you see UCLA making a run for him before the Big Ten move?
I just don't see this happening.
In fact, I'll go one step further and say Kelly's job security has never been higher.
As for the Ryan Day part of the equation, it's hard to picture him getting fired from Ohio State.
His teams have lost six total games during his four-year tenure, and in the three years under Day that the Buckeyes have made the College Football Playoff, twice they lost to the eventual national champion.
Ohio State has been a powerhouse in college football for the last decade, and even this year, they clock in at No. 3 in preseason polling. For the struggles he's had beating Michigan, Day has still been a wildly successful coach.
As for the Kelly factor, I think it's even less likely that he'd be on the outs after 2023.
Contract extension aside, Kelly's teams have amassed 17 wins in his last two seasons, a stark contrast from the losing performances of his first three years at the helm of the Bruins. The six-year coach is riding the wave of success, and he's in prime position to make another run at a nine-win – or more – season.
The other big reason is that UCLA is highly unlikely to want to bring a new coach into the fold in the middle of a massive shift for the program.
Reshaping a football program takes time, and joining the Big Ten is sure to bring enough chaos on its own without throwing a new coach in the mix. The consistency that Kelly would bring as the Bruins transition out of the Pac-12 and into the Big Ten shouldn't be understated.
Kelly isn't going anywhere anytime soon, and if Day does get fired, he'll have a dozen other Power Five teams clamoring for him to lead their team.
When are the games?
All of UCLA's games this season are scheduled for Saturdays, with home games at the Rose Bowl in Pasadena. The first game is this Saturday at 7:30 p.m. against Coastal Carolina.
Crosby is a 2022-2023 assistant Sports editor on the baseball, women's golf, men's water polo and women's water polo beats. He was previously a contributor on the baseball and women's golf beats. He is also a third-year statistics student.
Crosby is a 2022-2023 assistant Sports editor on the baseball, women's golf, men's water polo and women's water polo beats. He was previously a contributor on the baseball and women's golf beats. He is also a third-year statistics student.